Another of our series of Blogs called "Ask the Experts" and this one is by Amanda Pollard (Houzz Contributor)
Don't forget these essential items to ensure your family bathroom works well for the whole household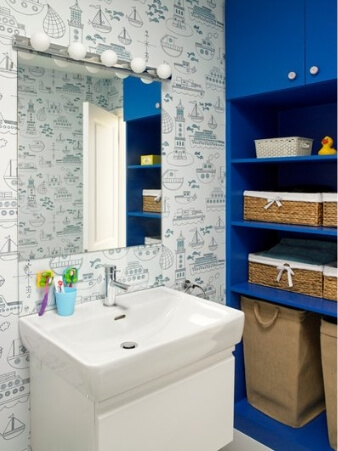 Install easy-access storage
When a number of people are using a bathroom, there will inevitably be more stuff to accommodate. With children, there's the added challenge of mixing safe, out-of-reach storage with some they can access easily.
Place open shelves or a cupboard at ground level, where kids can take out and tidy away toys or fresh towels. Combine this with higher-level storage for toiletries and medicines that could be unsafe for young children.
Here, the designers have also incorporated linen baskets – a good way to encourage everyone to throw in their dirty laundry.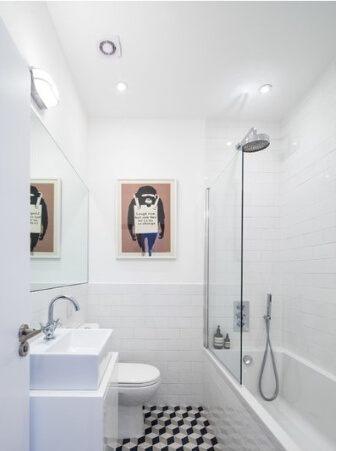 Consider your bathing options
If space isn't an issue, it makes perfect sense to have a separate bath and shower enclosure. However, there isn't always room for both, so many homeowners choose to ditch the bath in favour of a shower.
Before you decide, though, it's important to think about how your family uses the bathroom. For example, it's often easier to wash smaller children in the bath, while older kids might prefer a shower.
You don't have to compromise on style if you combine the two, as this compact space shows. The rose and hand-held shower head combination have a minimal design, and the frameless door adds to the streamlined look.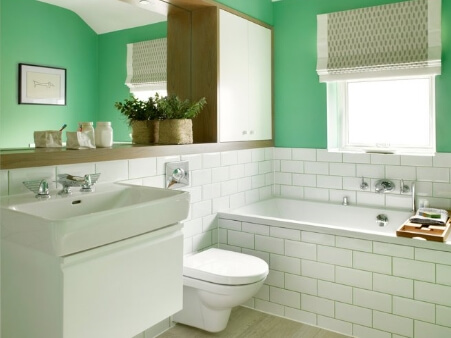 Avoid bath time arguments
If your children share bath time, it's worth considering a tub with a tap and plug positioned centrally. This should avoid any squabbles about whose turn it is to sit next to the plughole.
This design has wall-mounted taps and a pull-out shower head, which help to keep the bath clutter-free.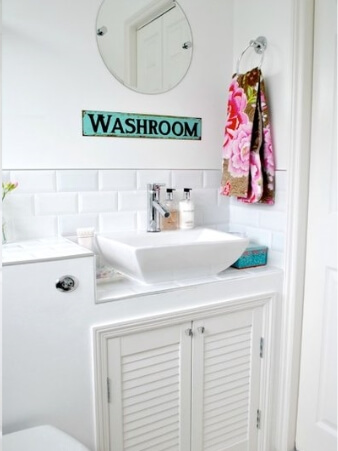 Tap into safety
When it comes to choosing taps, go for a single mixer design rather than separate hot and cold fittings. This will help to prevent children scalding themselves by turning on a very hot tap.
Lever taps, like this one, are ideal, as they're easy for children to operate. Small hands can pull up the lever and keep it set in a central position.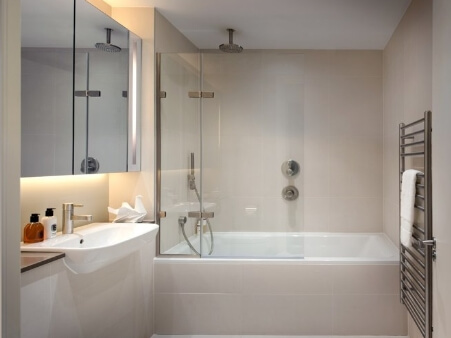 Make cleaning easy
In a busy household, the bathroom will probably see some wear and tear, so choose surfaces that are easy to keep clean and well maintained.
Go for flat-fronted, handless cabinets, so dust and grime doesn't gather around small details, and opt for wipeable tiles on the walls. Grout has a tendency to show up dirt, so large-scale tiles with minimal joints are a good option.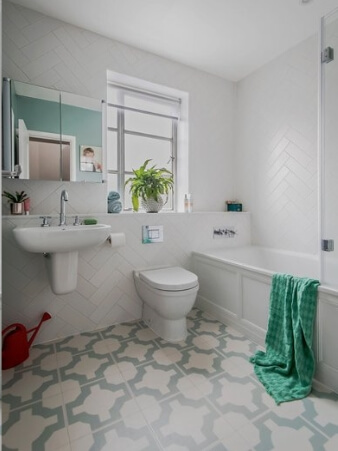 Focus on flooring
Floors, too, should be simple to clean, so choose a surface that's water-resistant and easy to mop. If you're after a wooden floor, for example, go for wood-effect porcelain tiles that won't be ruined by damp.
If you have small children, it's worth opting for a softer surface to avoid any injuries if they fall. A vinyl floor like this one is ideal, as it's cushioned and has the added bonus of being easy to clean.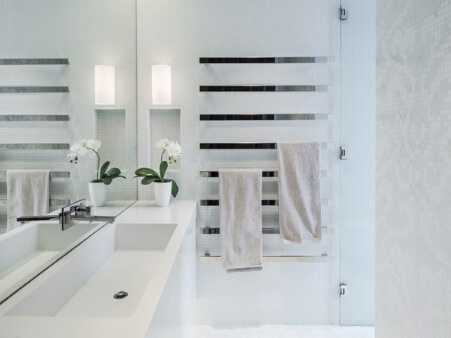 Include hanging space
If you want to avoid tripping over wet towels in your bathroom, ensure you have sufficient hanging space to dry them. The key to a tidy family bathroom is to make it easy for children to hang their bath linen up, rather than leave it strewn at ground level.
Install hooks at a height they can reach, or go for a heated towel rail with bars at different levels.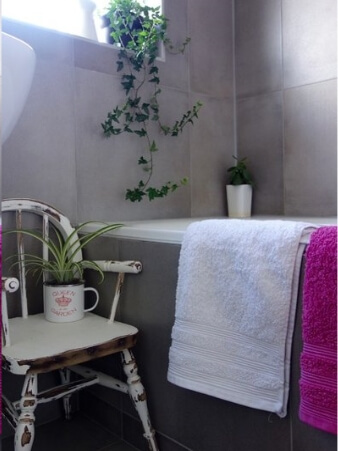 Squeeze in a perch
If you want to avoid sitting on the floor or the loo lid while your kids have a soak, it's a good idea to have a seat handy in your bathroom.
An extra piece of furniture like this can also present an opportunity to bring in some vintage character to your space. Here, the chair gives a shabby-chic look to the sleek, grey bathroom.
Just a word of caution with wall mounted bath taps. If things go wrong, getting to the pipework can be extremely difficult, if not impossible to access, without removing the bath, which in turn affects tiles… Make sure that the bathroom designer incorporates some form of access and that the installing plumbers have checked, double and triple checked the pipework.
Similarly, beware of deck-mounted hand showers. We never put these at the back of the bath – always on the front side edge so they can be accessed. One of our clients, over a decade ago, had a tenant who inadvertently disconnected the hand-shower from the hose; the hose dropped down into the bath void, which she was unaware of, and she accidentally turned the valve on whilst operating something else. The result – mains-pumped water under the bath for several hours before it was realised, and a flood which ruined four floors of flats below! It was an unmitigated disaster costing thousands in repairs with a real insurance headache. We had to break the tiles to get the bath out simply to reach the hose and screw the hand-shower back in. Never, ever again!
I love all of these suggestions however I couldn't live without the kids having their own bathroom! It's a total luxury I know, but amazing what you can squeeze into a cupboard. It gives them a shower, loo and cloakroom sized sink which is perfect. We've done it in two houses and it keeps everyone happy. Ideal for when they are old enough to have a shower by themselves.
Agree, always have a seat in there somewhere, even a little stool. Different lighting schemes (a high level bright one and a low level night time/calm one) are also valuable.
Being picky I'd say the mirror in the third pic is a bit high – little people like to see themselves too!