Kitchen Taps and Sinks
by MBK Design Studio, Maidstone, Kent

CHOOSING your Kitchen taps and sink
The Quooker tap is a 100% Dutch invention that appears to be taking over the world.
The beauty of this tap is that it will immediately dispense boiling water which allows you to make hot drinks in a fraction of time compared to the conventional way with a kettle.
The tap goes on top of the worktop and the tank will go underneath the worktop and you can choose between a separate boiling water tap with accompanying mixer tap, or the Quooker Flex or Fusion: a single tap for hot, cold and boiling water.
To find out more about this option please don't hesitate to get in touch.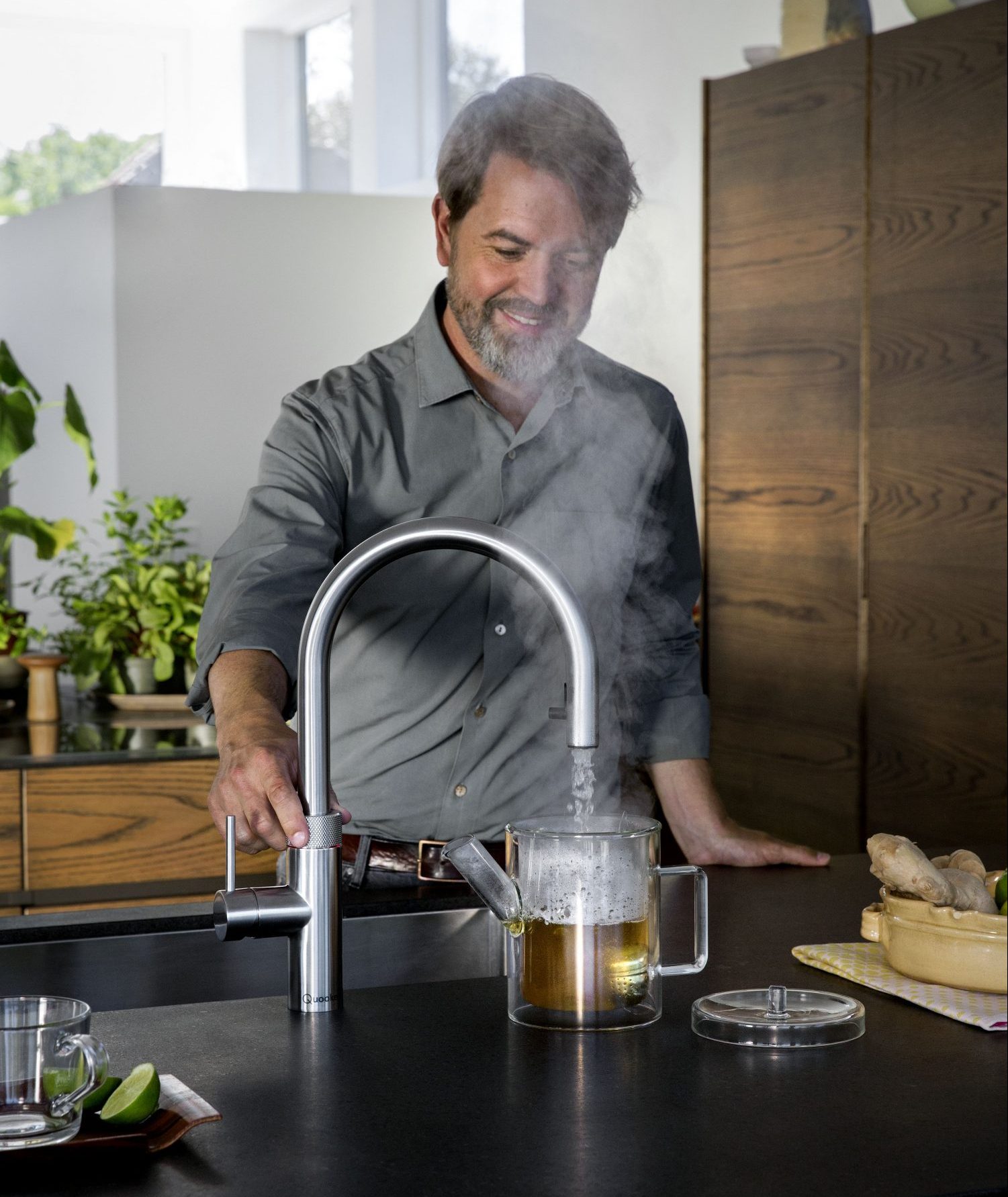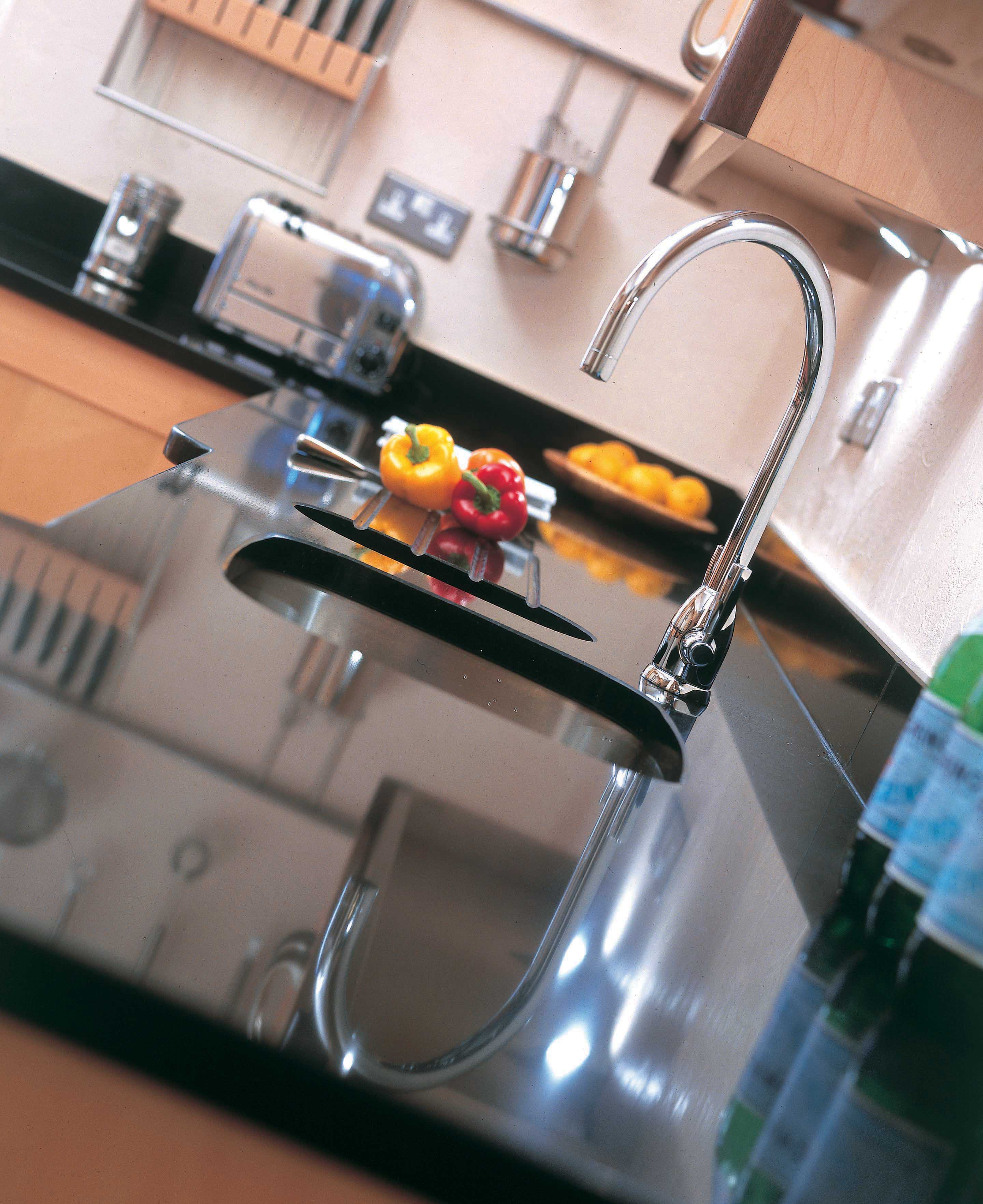 When it comes to kitchen taps, there are so many different designs to choose from that it can be a difficult decision to make. The kitchen tap is a hard-working household essential that always has to be at its best. It will need to be durable and hard-wearing while suiting your kitchen's needs. Traditional or classic, or modern and contemporary it needs to be the ideal addition to your kitchen.
To get the best performance from a new tap, it is also critical to choose one that suits your home's water pressure so check that your selection is compatible with your water pressure.
A mono mixer tap includes one single faucet which makes it look sleek in contemporary spaces, however there are many different variations of these taps on the market.
If you're after a more traditional look you could go for a design which has separate hot and cold taps and a wide spout.
However if space is an issue why not consider a wall-mounted set as they are plumbed into the splashback and they will free up your valuable worktop area.
The kitchen sink needs to be practical and suitable for your family's own particular needs. If you have a dishwasher you may decide that you only need a single-bowl design for rinsing, rather than doing lots of washing up by hand. If you don't have a dishwasher you may prefer to go for a larger, double-bowl sink that can handle all of your washing up needs.
You need to give some thought as to how the material you choose for your sink will fit in with the overall style of your kitchen. From super-shiny ever-stainless steel, to classic white fireclay or a design in contemporary black or grey, each material has its own distinctive look and it needs to compliment the rest of your kitchen.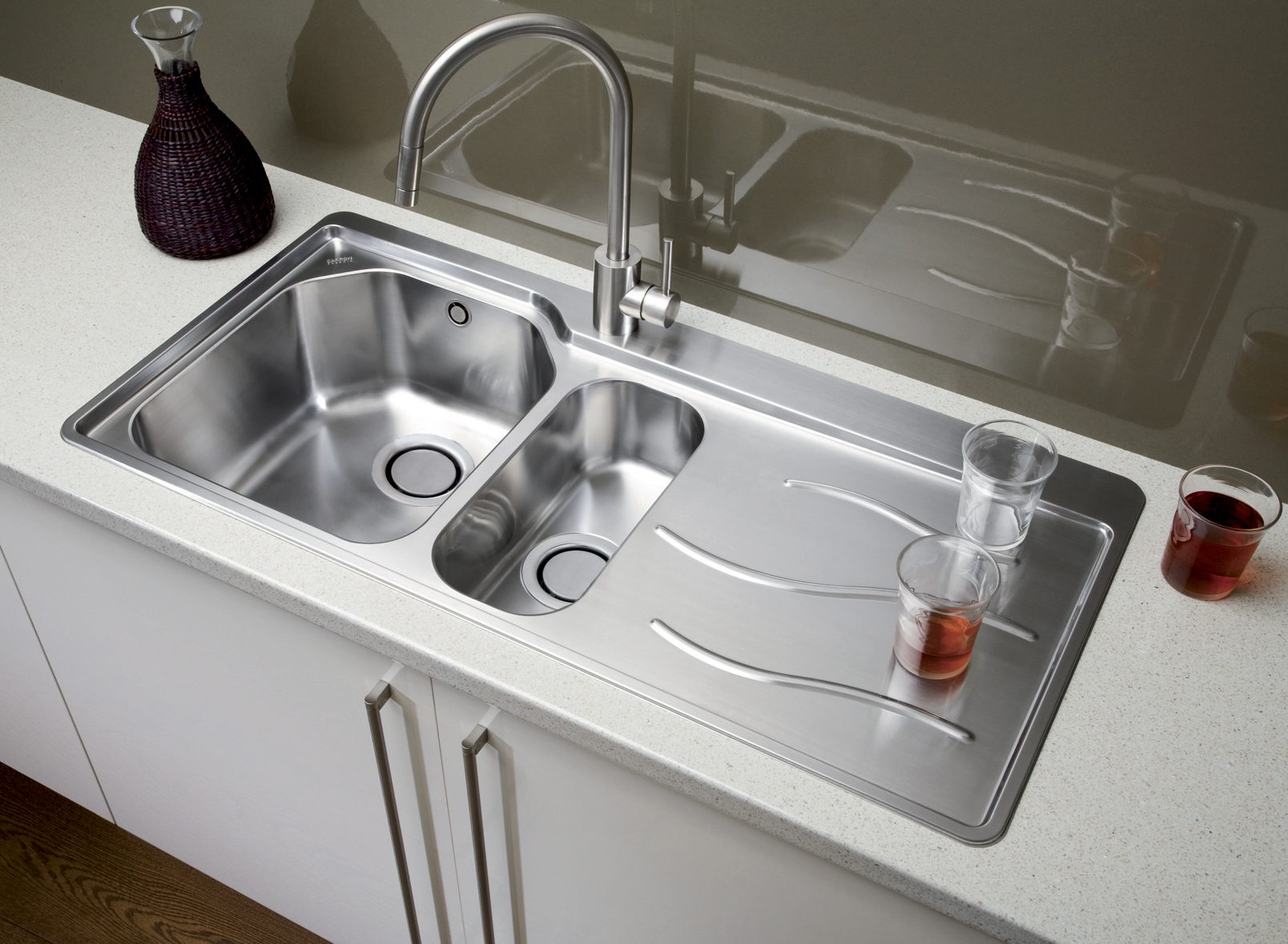 PROS
Very durable – corrosion and rust resistant.
Reasonably priced.
Many options available – top mount, flush mount and under-mount
Low maintenance
CONS
Noisy – the thinner the steel the noisier the sink
More prone to scratch
Can get damaged if heavy object is dropped on it
PROS
Very durable – most granite sinks are heat, stain and scratch resistant
Anti-bacterial surface which is also easy to clean
Long guarantees
Wide range of colours, sizes and styles available
CONS
Requires careful maintenance
Heavier than stainless steel so need a more sturdy worktop to support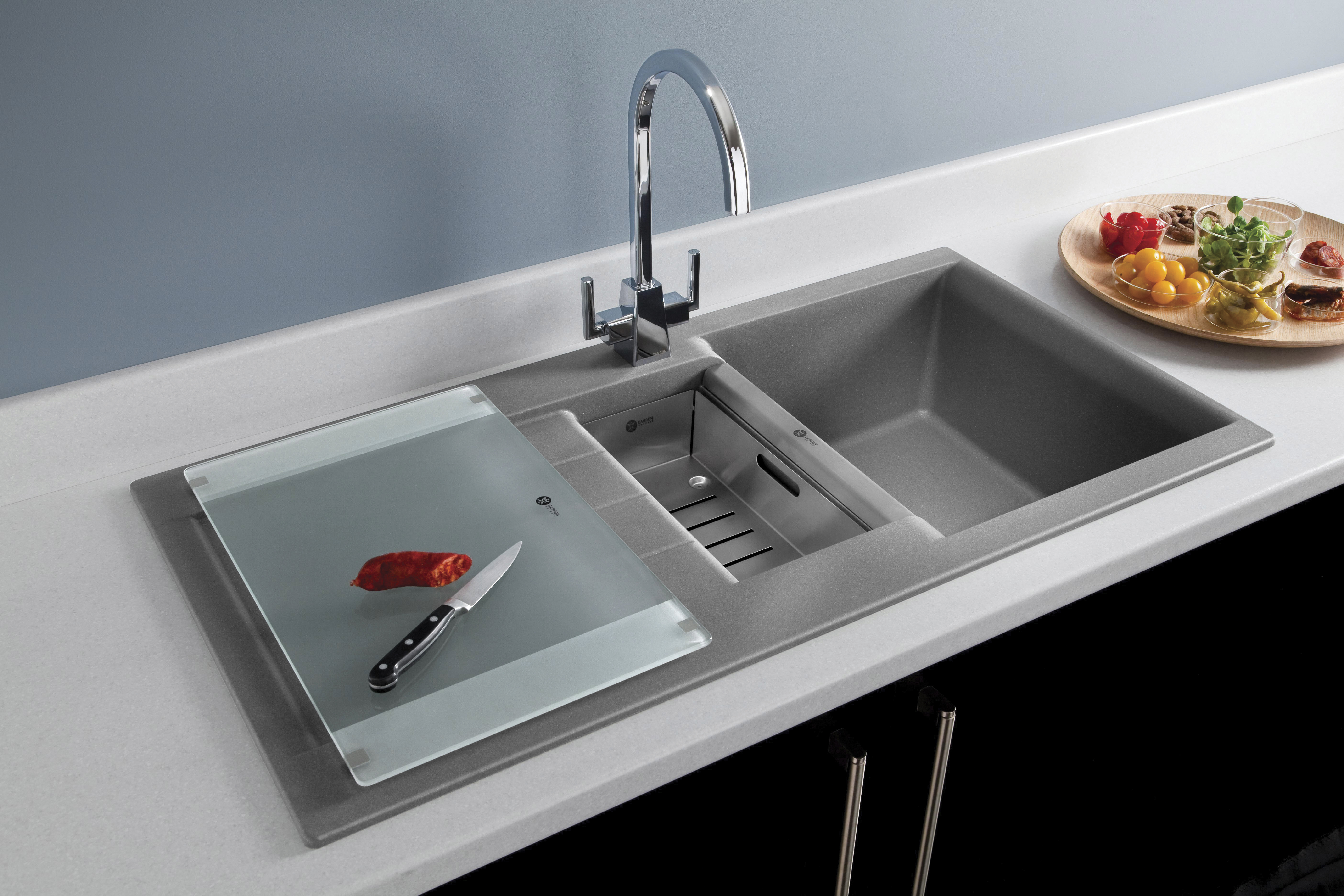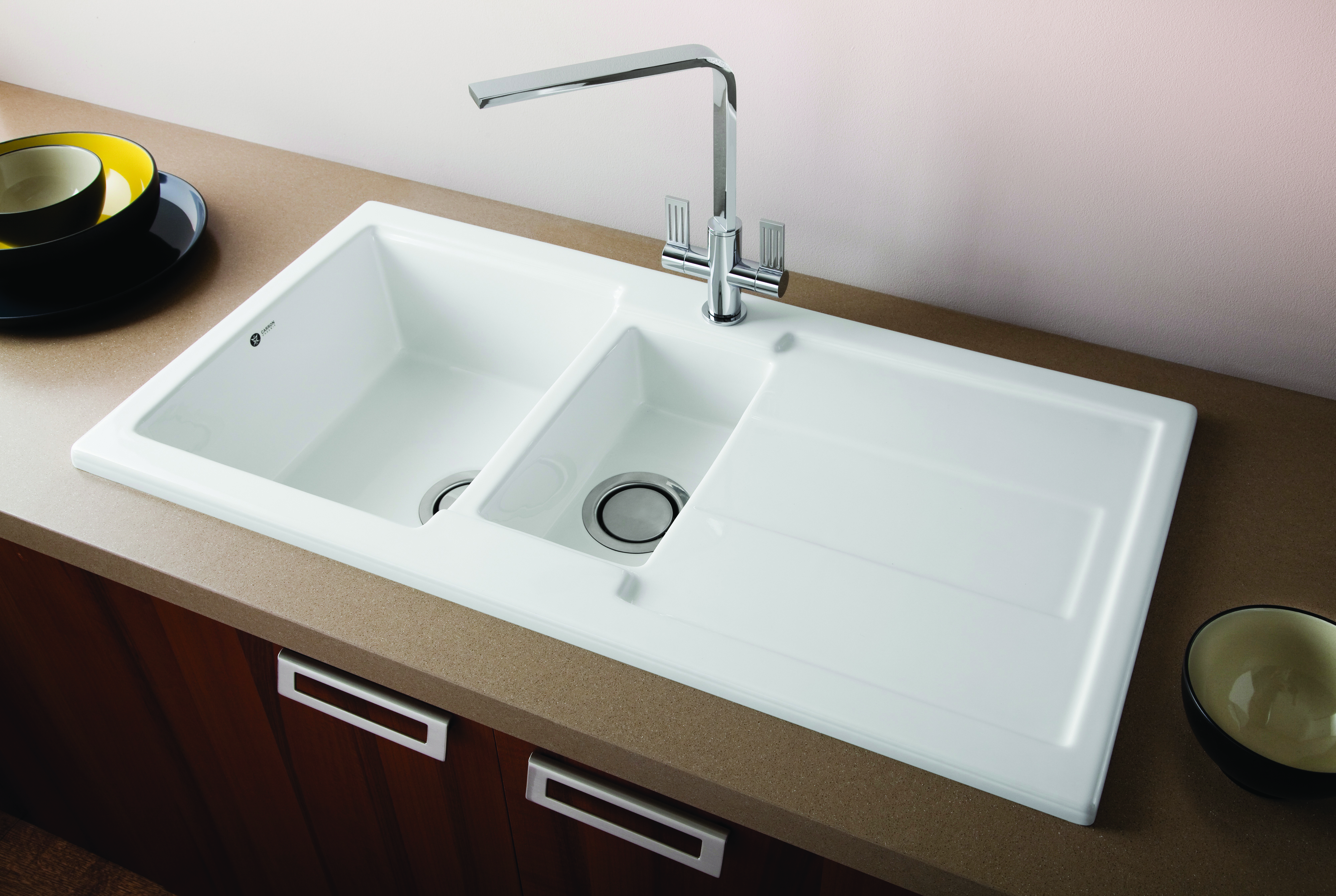 PROS
Very durable – corrosion and rust resistant.
Reasonably priced.
Many options available – top mount, flush mount and under-mount
Low maintenance
CONS
Noisy – the thinner the steel the noisier the sink
More prone to scratch
Can get damaged if heavy object is dropped on it
To speak to Stewart about your design ideas call 01622 616065 to book a free no obligation design consultation.
7 Essential Elements of a New Kitchen That Will Add Value to Your Home
Investing in a new kitchen in your home is one of the best ways to add value to your home.  As you'll know, a great-looking kitchen helps sell a property.
Even if you're not thinking about moving for a while, you can make simple choices about the design of your new kitchen that allows you to enjoy it AND maximise the value of the kitchen for the day when you do choose to sell.
Download this free guide to discover:
What brands of appliances are highly desirable and fashionable. Additionally, learn what type of hob and oven you should be putting into your new kitchen.
What colour schemes, materials and effects give an attractive finish to your kitchen that will appeal to most potential buyers of your home.
What type of worktop is the most durable and easiest to maintain, so that your worktops stay looking clean and new, yet still giving a 'wow' factor to your kitchen design.
PLUS even more, packed into a simple and quick-to-read eBook...
A home design project can transform your home.  Here at MBK we take great pride in bringing your dreams to life, from what was an idea in your head to a reality within your home.
We have transformed over 3000 plus homes (install & supply only) and our team work closely with you each step of the way to ensure your vision is achieved. We enjoy nothing more than seeing our customers satisfied.
Knowledge Centre
Please find below a number of Kitchen blogs which should answer some of your questions. We want to provide you with additional information about products and services that are available plus give you some useful tips to help you on your journey.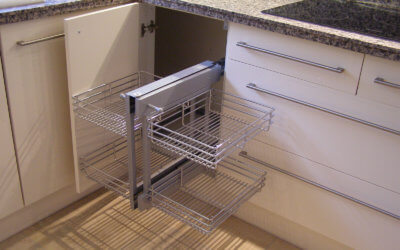 Most people would let the designer prepare your project for you, but remember this is your house and it must suit your needs, so although the designer may have years of experience designing kitchens they have never worked in your kitchen, so with your input you can...
We have over 200 doors and displays over two floors.
MON – FRI
09:00am – 7:00pm

SAT

Closed until further notice
Because we are closed Saturdays at present, we are keeping the Showroom open during the weekdays for appointments up to 7pm
SUN & Bank Holidays
We are closed
MBK Design Studio
The Oast, Clock House Farm
Heath Road
Coxheath, Maidstone
Kent, ME17 4PB
Book a Free No Obligation Design Consultation
We offer:
3D Designs to help you visualise
Over 30 years of experience
96% Review Rating
Simply click below and provide us with your contact details and we will schedule in a chat.