Modern and Traditional Kitchens
by MBK Design Studio, Maidstone, Kent
Are you looking for a new kitchen?
MBK Design Studio is the leading supplier of Modern and Traditional kitchens in the Maidstone and surrounding area. We have over 35 years' experience and are experts at creating beautiful bespoke kitchens that fit your space perfectly. In partnership with our factory in Scotland we are able to provide you with a wide choice of traditional styles both in-frame and lay-on shaker style doors and modern kitchens both standard and true handle-less designs. Our team will work with you to create your dream kitchen to provide a unique look that reflects your style and personality – no matter how big or small it may be. You can choose from a wide range of styles, colours, materials and finishes. Whether you want an old fashioned country in frame painted kitchen or a High-Tec true handle-less kitchen with high gloss doors, we can make it happen. You can trust us to deliver on time and within budget every single time! Even if you have an existing kitchen and you just want it updated, doors, sink, worktop, handles etc., we can arrange that too.
Don't forget about installation – our expert partners in installation can do everything for you so that all that is left for you to do is sit back and enjoy the new space.
Contact us today for a free consultation about your next kitchen renovation!

Wide range of colours and textures
Full Design Service Avaliable
Large variety of timber, painted, melamine or Gloss finishes
Premier Serivce with Single Point of Contact Available
Bespoke Options Available
Over 200 Doors to View at our Showroom
mODERN kITCHEN Door styles
A handleless kitchen is a kitchen which offers style and a streamlined finish which give a clean and contemporary appearance.
The smooth lines allow for a transition between rooms making it perfect for open plan living. Without the presence of handles the kitchen is allowed to flow throughout the room giving it an uncluttered look with a very sleek finish.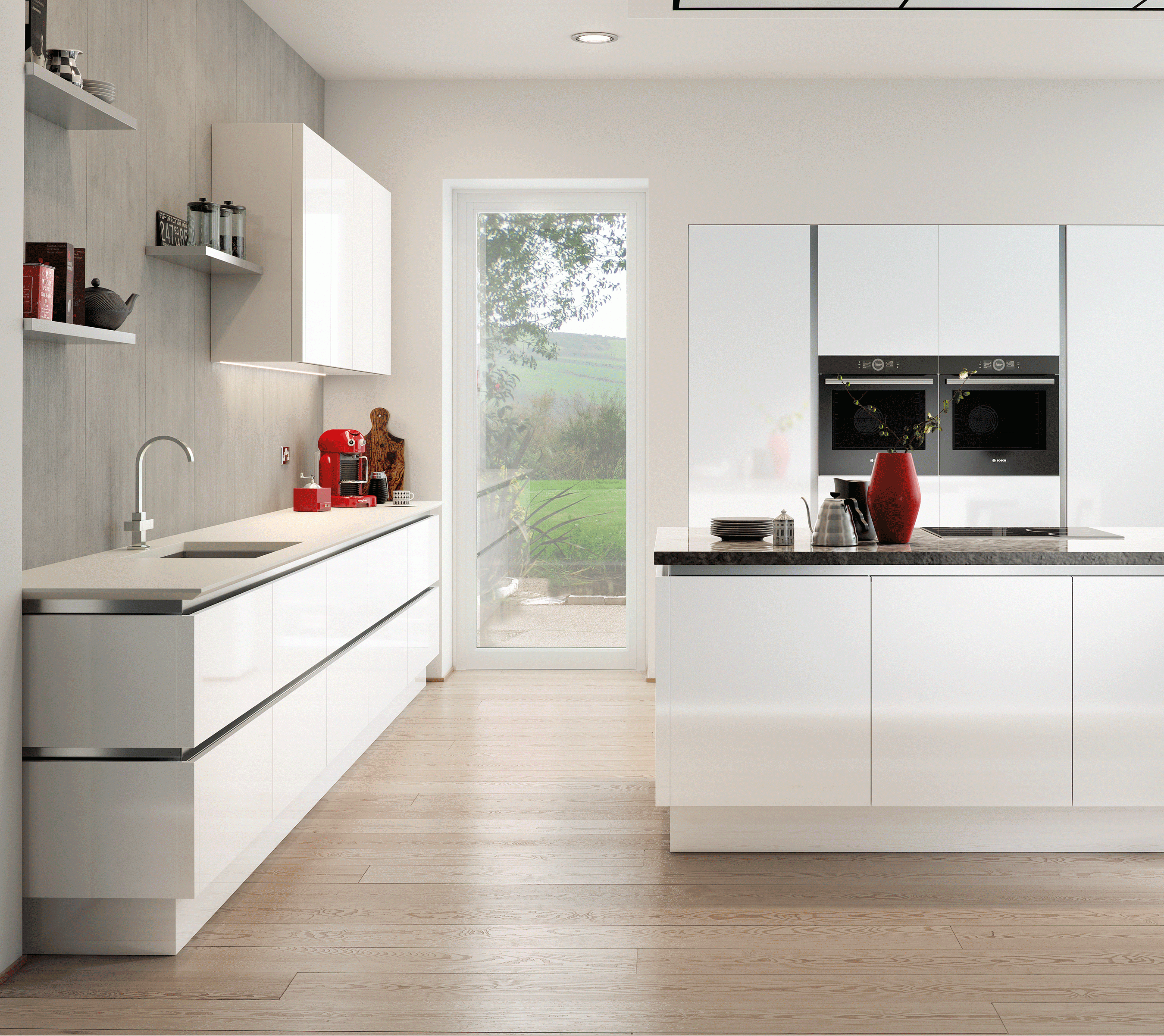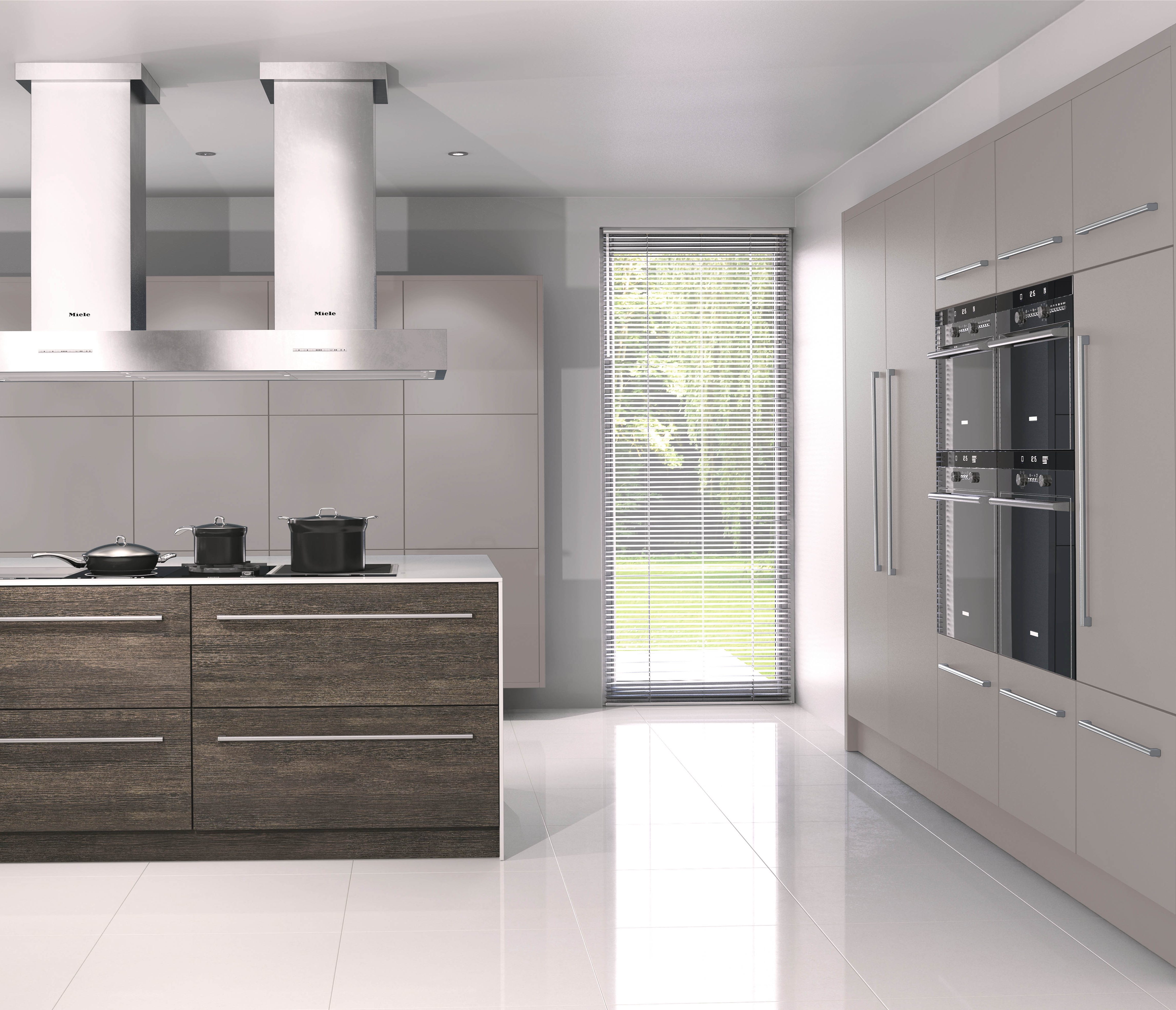 Slab door designs, ie: a flat door, are a smooth canvas that can be customised to suit a range of environments. Whether it is a simple functional budget kitchen, or a high-design aesthetic look in vibrant colours. For low maintenance choose matt finishes over gloss and they are easy to keep clean, & look very sleek.
Modern designs have moved on from the once clinical white or red gloss. We have noticed a sway towards the many beautiful neutral shades (champagne, mushroom, cream or grey to list a few). When choosing soft colours it will bring character to your kitchen, and dependant on the colour can be very easy on the eye. New engineering techniques have also helped give new life to a material that was previously out of favour with melamine face doors in many different finishes including wood grain and stone effects.
A handle-less kitchen has no handle projecting from the front but it still needs to have something you can pull on to open the door or drawer or a mechanism which will open the door when you push on it.
This J Profile door has a shaped top so that you can pull it open. It has the advantage of being simple, giving you clean lines and is relatively inexpensive.
We have a wide variety of finishes and colours to browse at our showroom.
To speak to Stewart about your design ideas call 01622 616065 to book a free no obligation design consultation.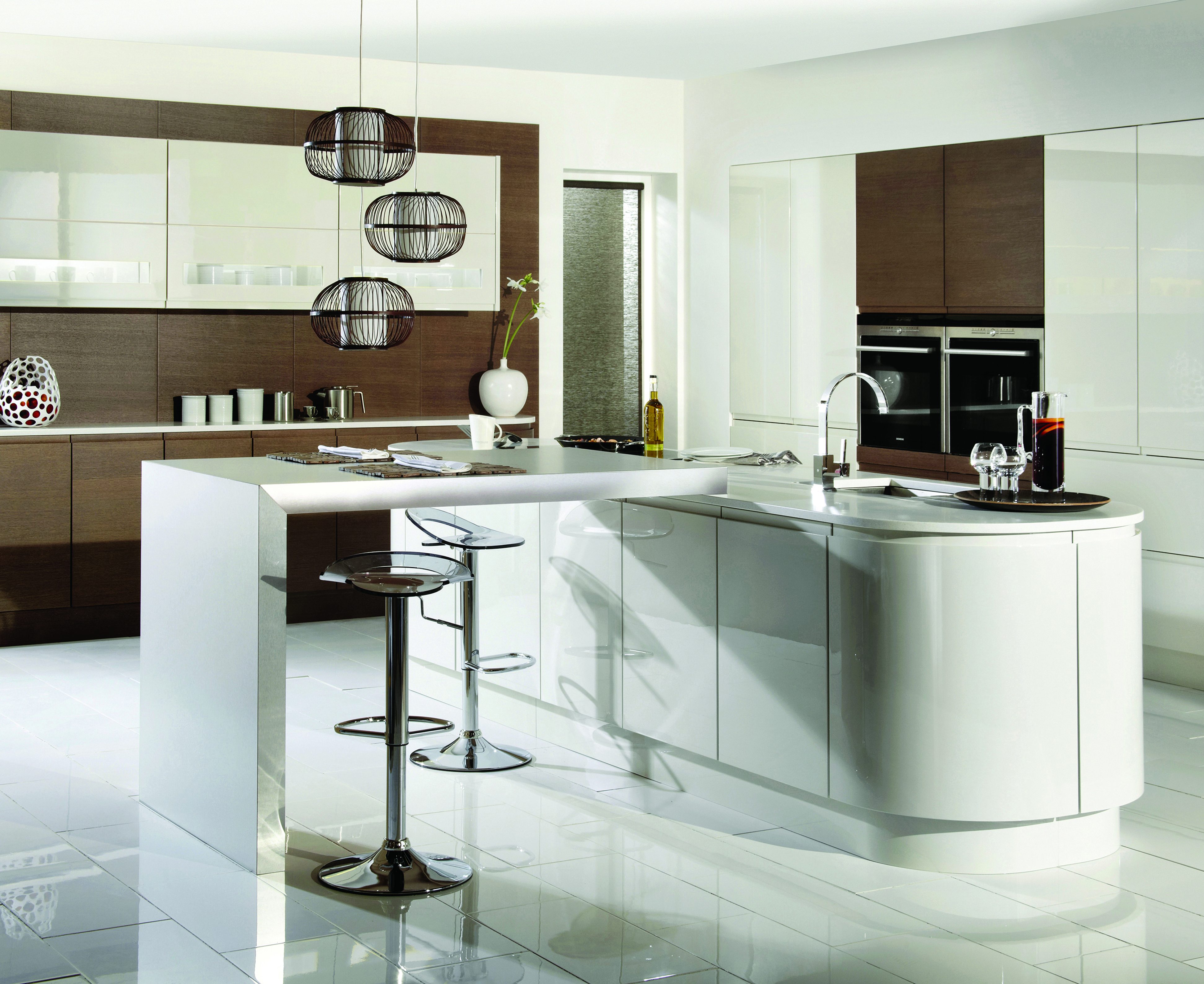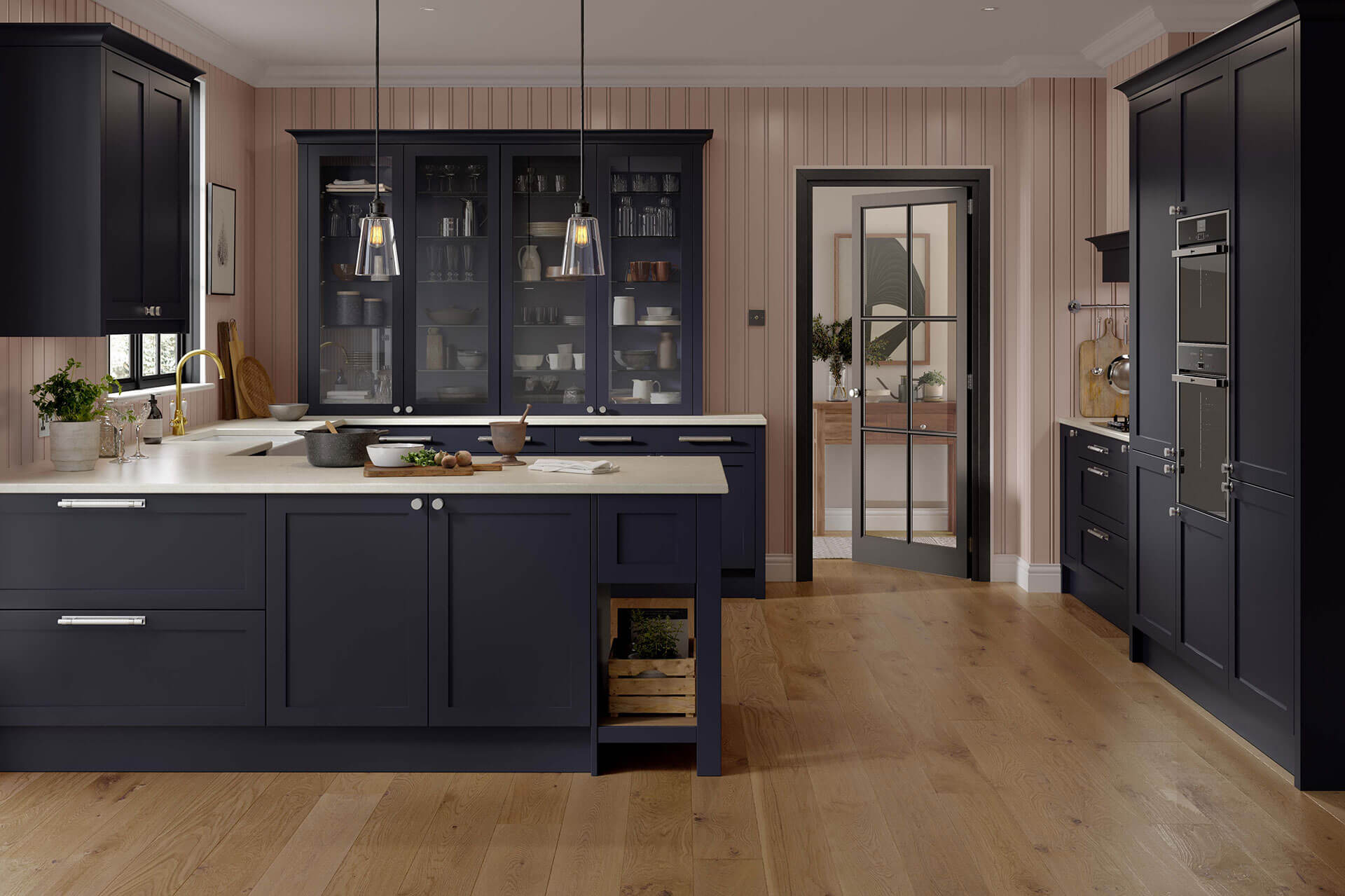 Solid doors with a framed feature and centre panel continue to be a very popular winner. They are known for being a timeless and versatile choice however depending on the finish you choose you can create some dramatically different looks.
Shaker doors predominantly come in timber, painted or stained, however there is a movement towards imitation timber effect and smooth finishes. Fresh whites and pretty pastels are fresh and cool. Navy blue and slate greys can be quite dramatic while sage greens and creams are classic.
An in-frame kitchen is where a frame is attached to the front edge of a kitchen unit and the doors are then placed inside the 36mm frame so that they open within it. They are a classically created and instantly recognisable by its design. The appearance of a door enveloped by a frame instantly conjures images of traditional time-served craftsmanship.
To speak to Stewart about your design ideas call 01622616065 to book a free no obligation design consultation.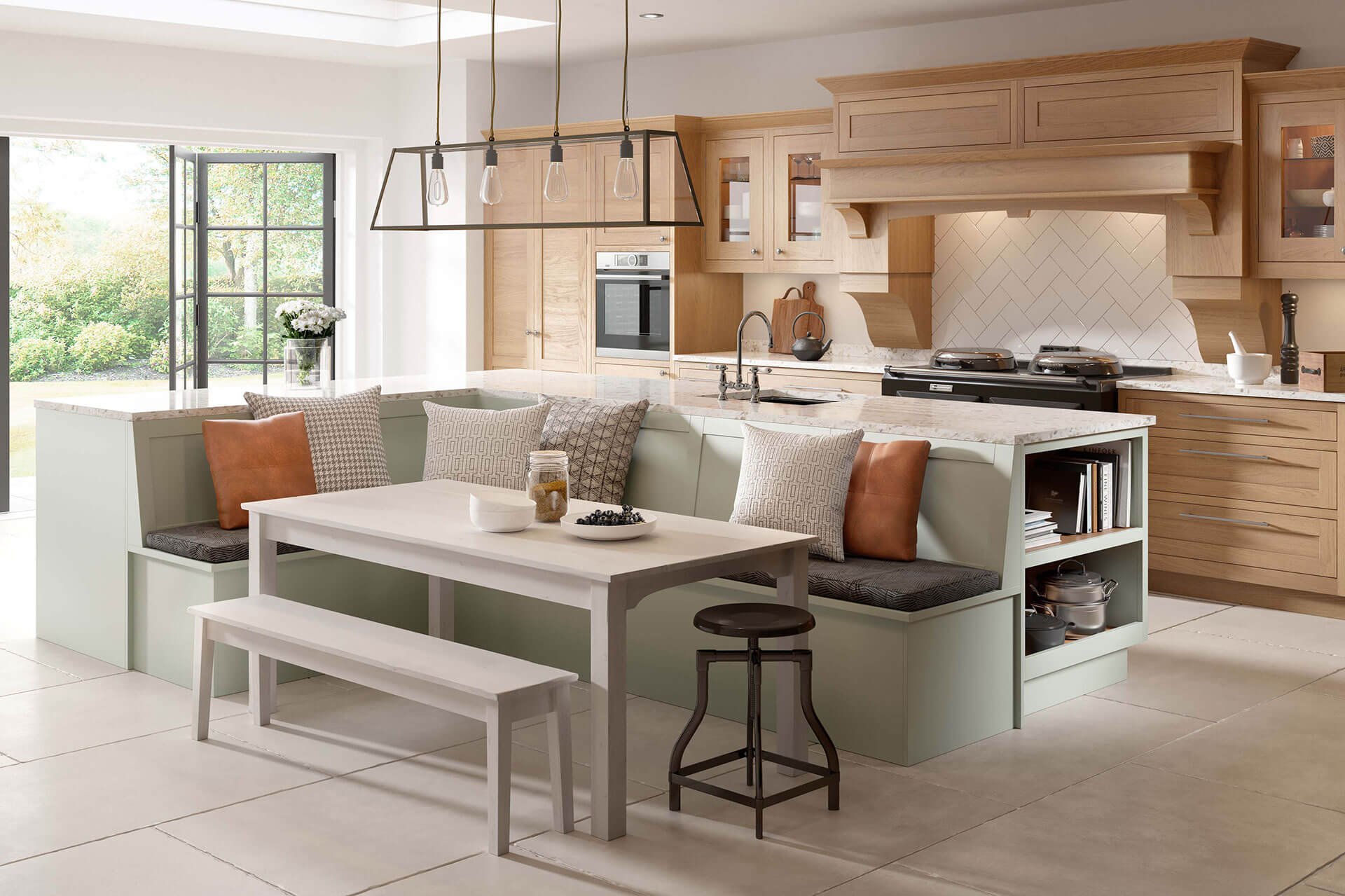 7 Essential Elements of a New Kitchen That Will Add Value to Your Home
Investing in a new kitchen in your home is one of the best ways to add value to your home.  As you'll know, a great-looking kitchen helps sell a property.
Even if you're not thinking about moving for a while, you can make simple choices about the design of your new kitchen that allows you to enjoy it AND maximise the value of the kitchen for the day when you do choose to sell.
Download this free guide to discover:
What brands of appliances are highly desirable and fashionable. Additionally, learn what type of hob and oven you should be putting into your new kitchen.
What colour schemes, materials and effects give an attractive finish to your kitchen that will appeal to most potential buyers of your home.
What type of worktop is the most durable and easiest to maintain, so that your worktops stay looking clean and new, yet still giving a 'wow' factor to your kitchen design.
PLUS even more, packed into a simple and quick-to-read eBook...
Optional Premier Service Avaliable
Our 'Done for You'  Service
Our Premier Service serves to reduce the stress to YOU by givng you a single point of contact. As the work is carried out by a CPA Approved Craftsman we will also guarantee your improvements for up to 3 years.
With our years of experience we will be able to guide YOU through the various designs and styles available with ranges to suit all budgets.
To speak to Stewart about your project call 01622 616065 to book a free no obligation design consultation.
A home design project can transform your home.  Here at MBK we take great pride in bringing your dreams to life, from what was an idea in your head to a reality within your home.
We have transformed over 3000 plus homes (install & supply only) and our team work closely with you each step of the way to ensure your vision is achieved. We enjoy nothing more than seeing our customers satisfied.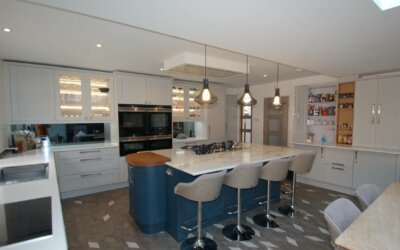 From concealed breakfast stations to playful pink hues... Pink kitchens, reeded glass cabinets and freestanding furniture are some of the biggest kitchen trends for 2023/2024. As the role of the kitchen continues to evolve, bespoke designs, colour preferences and a...
We have over 200 doors and displays over two floors.
MON – FRI
09:00am – 5:00pm

SAT

Closed until further notice
Because we are closed Saturdays at present, we are keeping the Showroom open during the weekdays for appointments up to 7pm
SUN & Bank Holidays
We are closed
MBK Design Studio
The Oast, Clock House Farm
Heath Road
Coxheath, Maidstone
Kent, ME17 4PB
Book a Free No Obligation Design Consultation
We offer:
3D Designs to help you visualise
Over 30 years of experience
96% Review Rating
Simply click below and provide us with your contact details and we will schedule in a chat.