Kitchen Storage
by MBK Design Studio, Maidstone, Kent
Scroll down for to read more information, our recommendations and considerations.

For Flexible Access……
Access from three sides: Thanks to full extension, all of your provisions can be conveniently accessed from the left, right and even the front.
Direct access: Half-height design elements allow provisions stored at the front to be accessed directly.
Light operative forces: Only light opening forces are required, as you only have to open the pull-out containing the item you need.
Removal from above: Pull-outs that can be opened individually provide a good view. Provisions can be conveniently removed from above.
For Flexible Storage …….
Ample storage space: SPACE TOWER makes the best possible use of the space available, meaning a large number of provisions can be stored inside.
High, closed drawer boxes: High, closed drawer boxes ensure that provisions are stored securely.
Flexible interior organisation: High, closed drawer boxes ensure that provisions are stored securely.
High load bearing capacity: Each and every pull-out boasts an impressive level of stability and high load bearing capacity, up to a total weight of 70 kg.
For Flexible Design…..
Flexible planning options:

 

PACE TOWER is flexible in its height, width and depth and can also be adjusted to your individual storage space requirements.
Narrow Version: SPACE TOWER truly is a space-saving miracle, even in smaller kitchens
Wide Version: If you have more space available for SPACE TOWER, there is enough room to store all the provisions a large family needs.
High ease of use: Various motion technologies, such as SERVO-DRIVE, increase the ease of use.
SPACE TOWER – colour options
SPACE TOWER

comes in a wide range of colours and materials to suit every taste.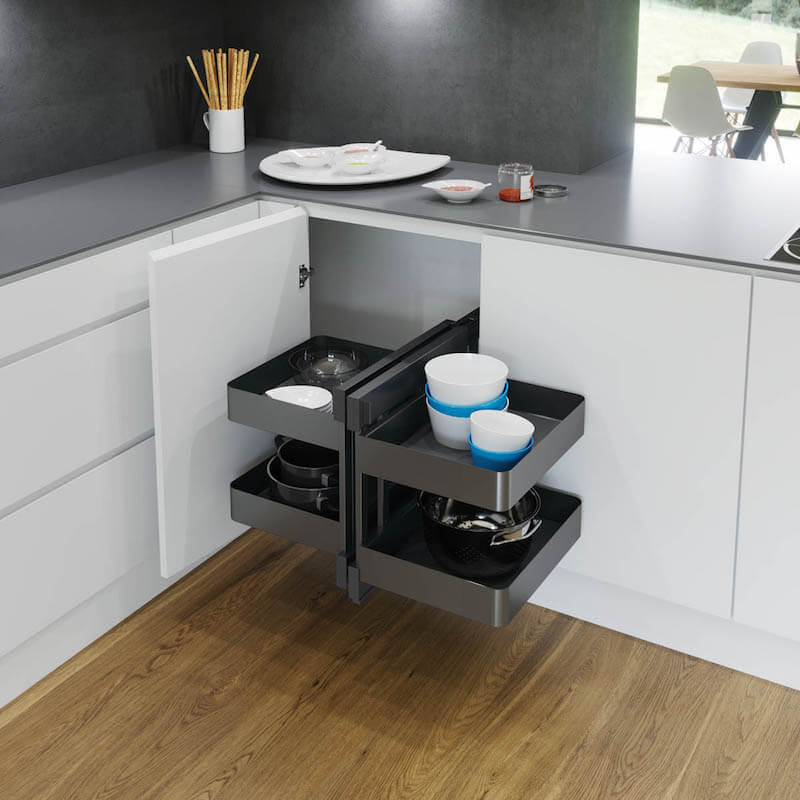 MAGIC CORNER BASKET SYSTEM
Vs Cor Flex – Even the largest storage space is useless if it's not accessible. That's why this system enables full access to the cabinet contents, transforming every corner into functional space. Installation is side independent: the frame is mounted on floor of the corner cabinet.
Cabinet widths: 900, 1,000 and 1,200 mm
Door widths: 450 – 600 mm
Installation depth: min. 480, 500, 575 mm
Installation height: min. 530 mm
Integrated soft-closing and self-closing on both pull-outs
Mounting pattern: no measurement required when installing in cabinet
Payload capacity: 8 kg per basket
System payload capacity: max. 32 kg
Storage versions: Classic, Saphir, Premea and Planero
WIRE BASKET & CAROUSEL STORAGE SYSTEMS
Tall Units
: Today, tall cabinets, often planned as a block, with appliances integrated at eye-level and storage space for groceries, have gained an important place in kitchen planning – and rightly so.
Not an inch wasted: The DISPENSA pantry pull-out allows up to 100 kg of stored groceries to glide smoothly out of the cabinet. It is installed very quickly, requires no maintenance and can be cleaned without a problem. These are impressive benefits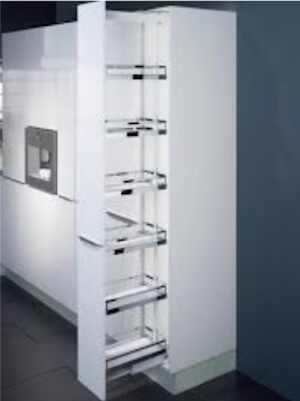 TANDEM offers completely new options
: for storing foodstuffs! Opening the cabinet door will trigger one of those thrilling moments. The intelligent pull-out technology draws the rear section automatically forwards, creating an impressive overview of easily accessible supplies.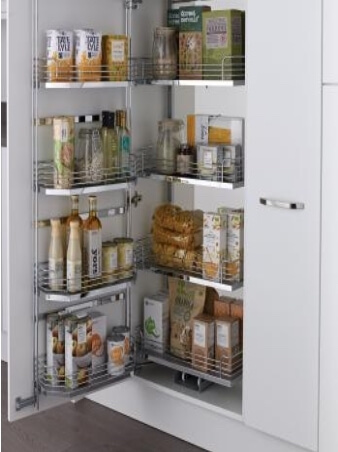 The CONVOY pull-out family: has the space to store all a household's groceries in one central unit with a very small footprint. A gentle pull brings the fitting with all the contents out in front of the cabinet giving you a clear overview from both sides and fast access to whatever you need.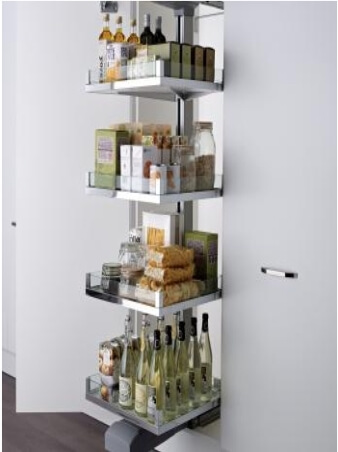 The LeMans is impressively flexible – up or down
: More efficiency and flexibility, users select tray heights to suit the contents and cut out wasted space. It will make perfect use of corner space, giving you optimal access all the time.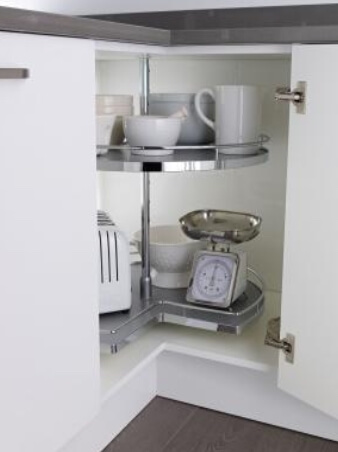 7 Essential Elements of a New Kitchen That Will Add Value to Your Home
Investing in a new kitchen in your home is one of the best ways to add value to your home.  As you'll know, a great-looking kitchen helps sell a property.
Even if you're not thinking about moving for a while, you can make simple choices about the design of your new kitchen that allows you to enjoy it AND maximise the value of the kitchen for the day when you do choose to sell.
Download this free guide to discover:
What brands of appliances are highly desirable and fashionable. Additionally, learn what type of hob and oven you should be putting into your new kitchen.
What colour schemes, materials and effects give an attractive finish to your kitchen that will appeal to most potential buyers of your home.
What type of worktop is the most durable and easiest to maintain, so that your worktops stay looking clean and new, yet still giving a 'wow' factor to your kitchen design.
PLUS even more, packed into a simple and quick-to-read eBook...
A home design project can transform your home.  Here at MBK we take great pride in bringing your dreams to life, from what was an idea in your head to a reality within your home.
We have transformed over 3000 plus homes (install & supply only) and our team work closely with you each step of the way to ensure your vision is achieved. We enjoy nothing more than seeing our customers satisfied.
Our Blog
Please find below a number of Kitchen blogs which should answer some of your questions. We want to provide you with additional information about products and services that are available plus give you some useful tips to help you on your journey.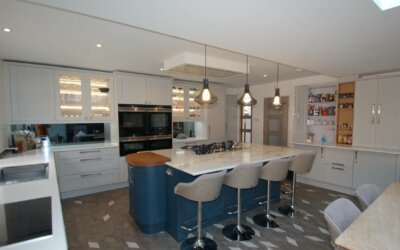 From concealed breakfast stations to playful pink hues... Pink kitchens, reeded glass cabinets and freestanding furniture are some of the biggest kitchen trends for 2023/2024. As the role of the kitchen continues to evolve, bespoke designs, colour preferences and a...