Flooring, Tiling & Heating
by MBK Design Studio, Maidstone, Kent

considering flooring, heating & tiles
It's easy to overlook kitchen flooring when you're busy thinking about which units, appliances and added extras you're going to choose. But your Kitchen floor is likely to be one of the largest surface areas in the room, so choosing the right floor deserves your undivided attention. It will need to give you top results on many levels from durability, safety and ease of cleaning and of course you will want it to look great also. The right choice of flooring can make or break the overall Kitchen look.
Most kitchens look better with a contrast in material and/ or colour to achieve the greatest impact. Your floor will need to work together with the rest of your kitchen so take the look and material of your units into consideration when picking flooring. Durable laminate and matt porcelain will look great in modern schemes, while natural stone tiles and warm wood suit traditional designs.
When selecting a tiled floor we strongly recommend that you "Dry Treat" your Kitchen floor to ensure it looks its best for years to come.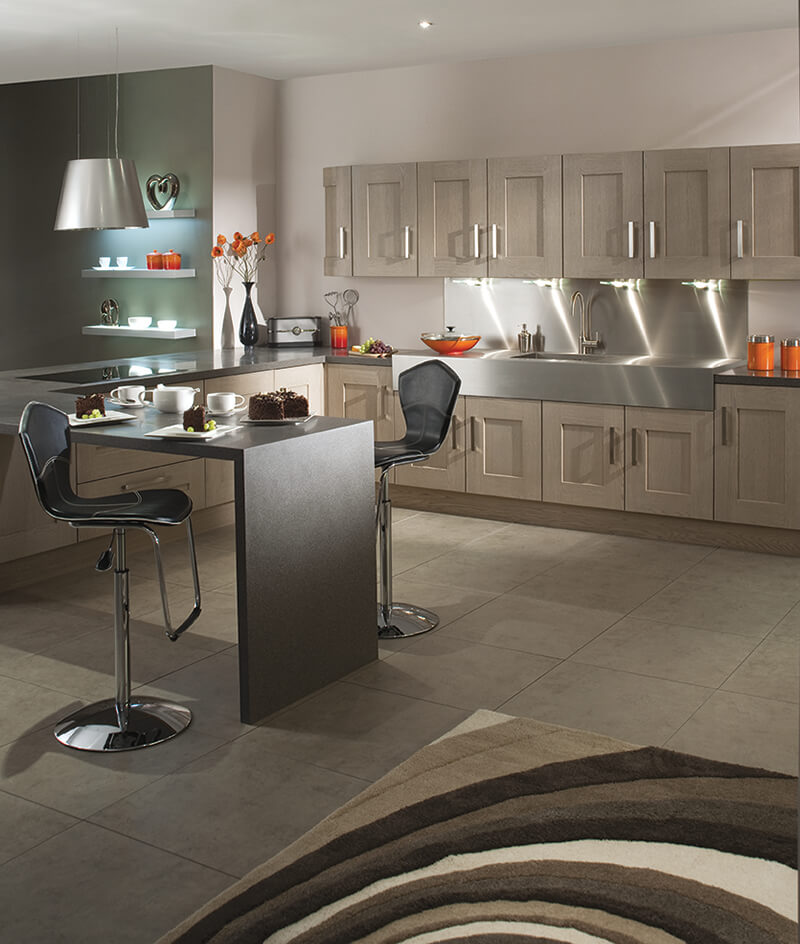 Even though the kitchen heats up considerably when you are cooking, you may still need an effective heating system for the cold winter months. With a lot of wall space taken up by units, work surfaces and a variety of different appliances, finding the perfect heating solution for your kitchen and deciding where to put it can be difficult.
Modern radiators come in all sorts of shapes, sizes and a variety of colours and materials that will help you to fit them into tight and tricky spaces often found in kitchens – where every last bit of space is precious.
If you have a little more space in your kitchen making a statement with a striking designer radiator could be the way to go as they are eye catching and have so much more to offer than a standard radiator.
Another option would be to look at underfloor heating which allows you to make the most of the space you have (which is a bonus in a smaller kitchen). You will also have overall heat emanating from the floor to give you an even temperature.
Kitchen Tiles: There are many stunning tile colours, designs and finishes to choose from and you need to ensure you choose the right tiles that compliment your kitchen. Today's kitchen is a space designed to multitask so getting the right wall tiles is important as you may spend many hours in this area especially if it is a family room also. Tiles are a great way of adding colour to the wall with features tiles also for the more adventurous.
Kitchen Splashbacks: Kitchen splashbacks are a perfect example of how kitchen planning and interior design have become intertwined. The primary role of the splashback is to protect the walls from any hob and sink splashes but it is also more than this… it is a statement piece with a choice of luxe materials along with the revival of some old favourites. It's quite often one of the first areas that get drawn to the eye when walking into a kitchen, so make it count & get it noticed…
Choose a smooth glossy surface if you have a modern kitchen. Consider acrylic, a material that is consistent throughout, UV resistant and available in a good choice of colours. Think carefully about colour. A splashback that looks great in a showroom many not appear the same under the lights you have at home. Discuss with your designer and request a sample to take home to view in your kitchen light.
To speak to Stewart about your design ideas call 01622 616065 to book a free no obligation design consultation.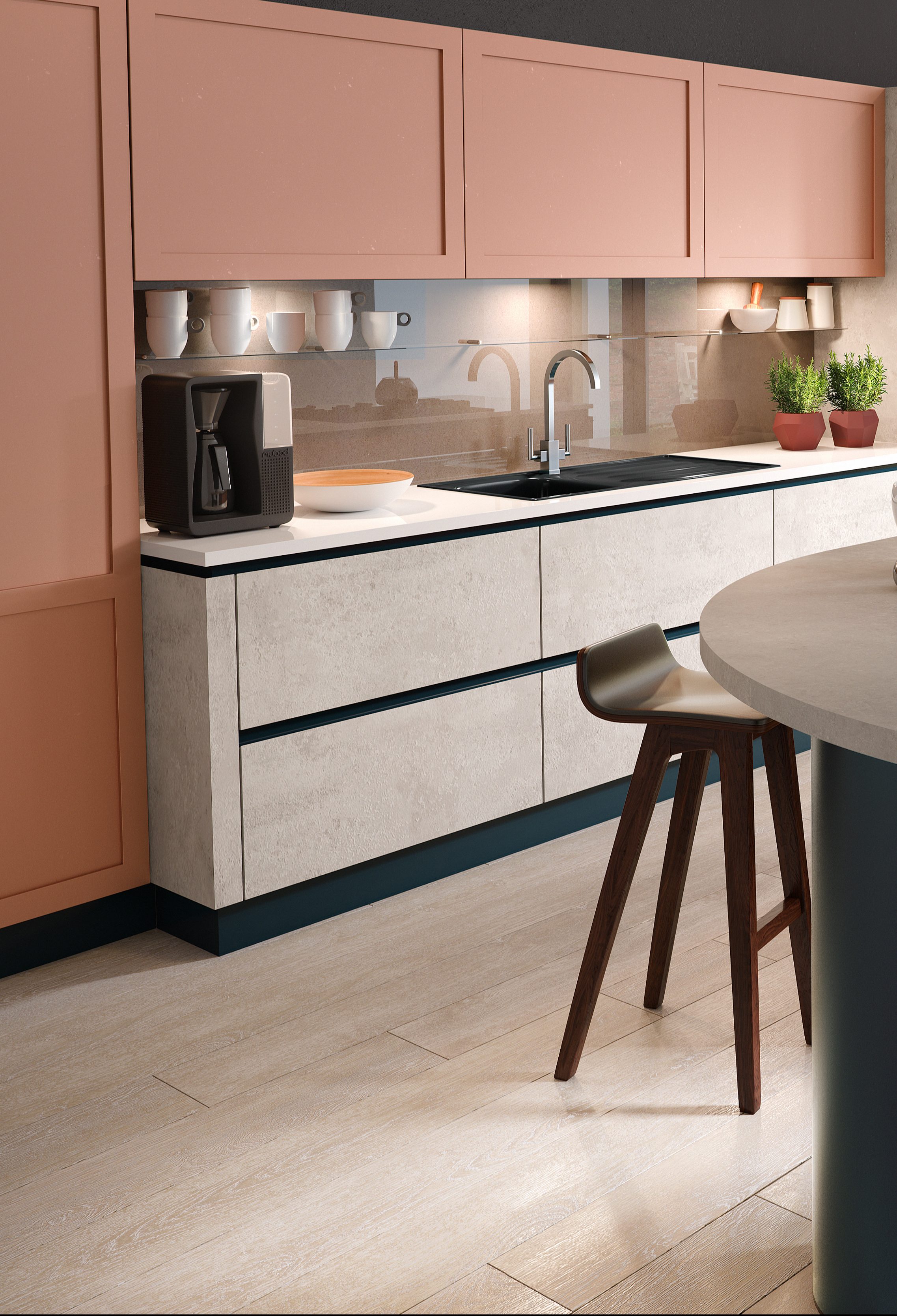 7 Essential Elements of a New Kitchen That Will Add Value to Your Home
Investing in a new kitchen in your home is one of the best ways to add value to your home.  As you'll know, a great-looking kitchen helps sell a property.
Even if you're not thinking about moving for a while, you can make simple choices about the design of your new kitchen that allows you to enjoy it AND maximise the value of the kitchen for the day when you do choose to sell.
Download this free guide to discover:
What brands of appliances are highly desirable and fashionable. Additionally, learn what type of hob and oven you should be putting into your new kitchen.
What colour schemes, materials and effects give an attractive finish to your kitchen that will appeal to most potential buyers of your home.
What type of worktop is the most durable and easiest to maintain, so that your worktops stay looking clean and new, yet still giving a 'wow' factor to your kitchen design.
PLUS even more, packed into a simple and quick-to-read eBook...
A home design project can transform your home.  Here at MBK we take great pride in bringing your dreams to life, from what was an idea in your head to a reality within your home.
We have transformed over 3000 plus homes (install & supply only) and our team work closely with you each step of the way to ensure your vision is achieved. We enjoy nothing more than seeing our customers satisfied.
Knowledge Centre
Please find below a number of Kitchen blogs which should answer some of your questions. We want to provide you with additional information about products and services that are available plus give you some useful tips to help you on your journey.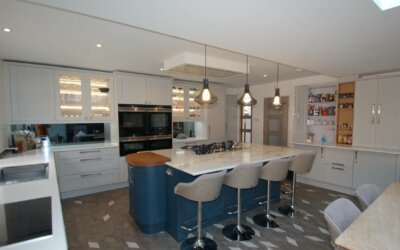 From concealed breakfast stations to playful pink hues... Pink kitchens, reeded glass cabinets and freestanding furniture are some of the biggest kitchen trends for 2023/2024. As the role of the kitchen continues to evolve, bespoke designs, colour preferences and a...