Worktops, Lighting & Kitchen Storage
by MBK Design Studio, Maidstone, Kent
From Granite, Laminate and Quartz worktops to lighting and storage we have got you covered. Scroll down for to read more information, our recommendations and considerations.

choosing your worktops & accessories
Granite is a natural igneous rock which is formed in the ground over millions of years. This is quarried out of the ground in blocks the size of a mini bus. It is then cut into large slabs approximately 3 meter by 1.9 meters. Finally it is polished using diamond tip polishing wheels and then shipped to the UK ready for the installation. Granite offers a more random veining and uneven colour patterns which is especially noticeable in light colours compared to a quartz worktop.
PROS
Second most durable worktop (after Quartz)
Natural look
Heat Resistant
Strong especially dark colours
CONS
Colour variations within the generic ranges (what you see in the shop may vary from what you receive as it is a natural product).
Porous especially in light colours but all colours must be treated by stain proof product.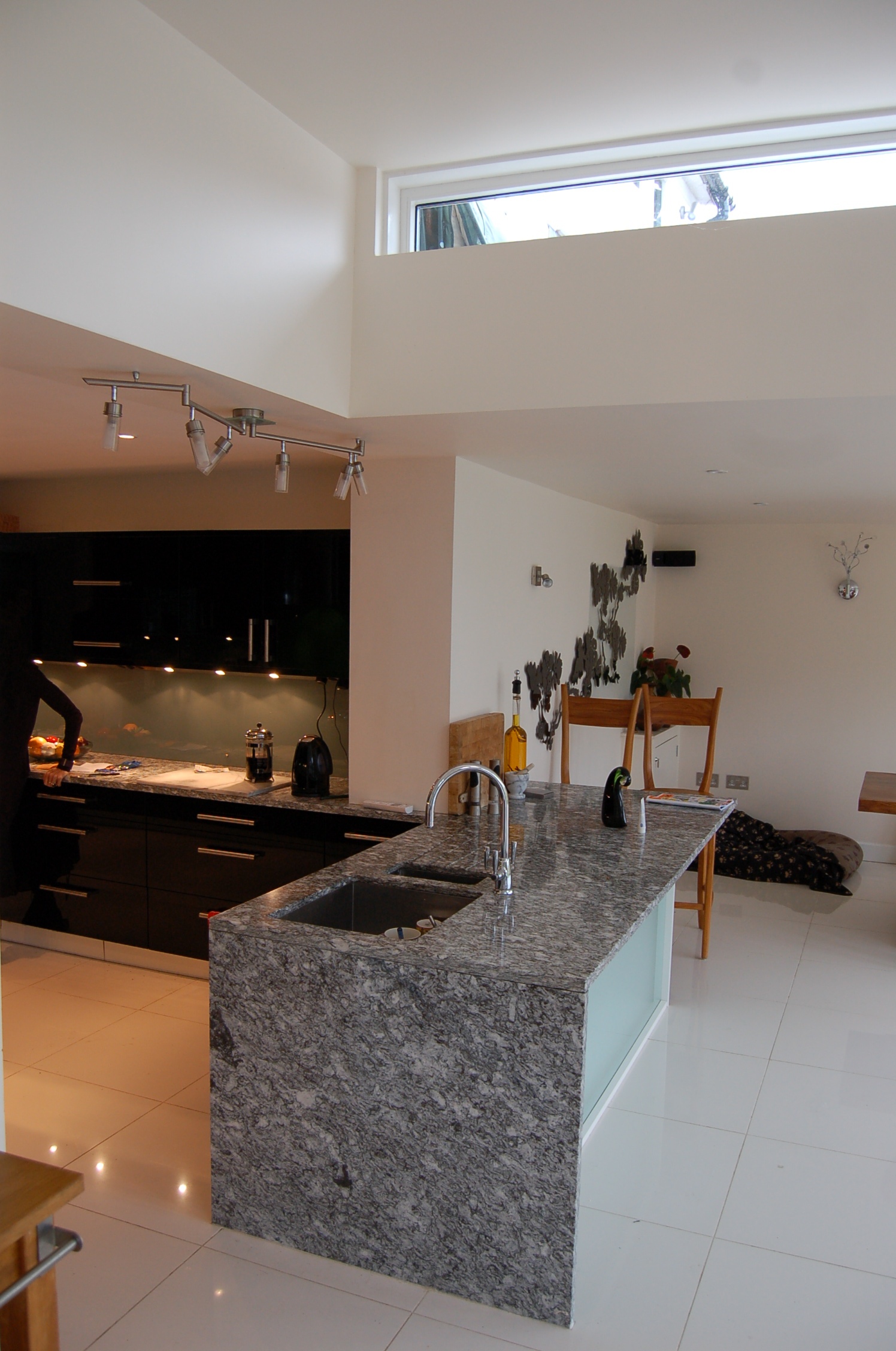 Laminate has long been considered the best budget option. Laminates are non-porous and offer easy maintenance and come in lots of designs and colour choices. Made by fusing multiple layers of impregnated paper under high pressure temperature, bonded to a substrate, they are resistant to impact, scratching and moisture.
They are resistant to most stains and chemicals, but not to heat or steam. They are not suitable as a cutting surface and for greater durability chose a thicker, high-pressure worktop. Flexibility and fitting Laminate is one of the few materials that can be cut and fitted by a DIY enthusiast rather than a kitchen professional.
PROS
Cost
Durability
Hygienic
Choice
Low Maintenance
CONS
Easy to damage (HEAT)
Does not give the WOW experience to your kitchen.
Quartz Worktops are a natural crystal which is mined from the ground and is one of the hardest stones in the world. It is then crushed into a fine sand and mixed with 3 to 7% polymer resin and other components and set into slabs which are approximately 3 meters by 1.4meters. These engineered slabs are then polished using diamond tip polishing wheels.
The finished worktops are then shipped to the UK for installation. In recent years Quartz has become more and more popular due to the fact it comes in a vast range of colours. Many Quartz manufacturers have started producing Quartz that look like marble, but with the additional properties of Quartz.
PROS
Heat Resistant (excluding very high temperatures)

Non-porous (98%)
Most durable worktop
Wide range of colour choice
Stain Resistant after treating with stain proof
Antibacterial
CONS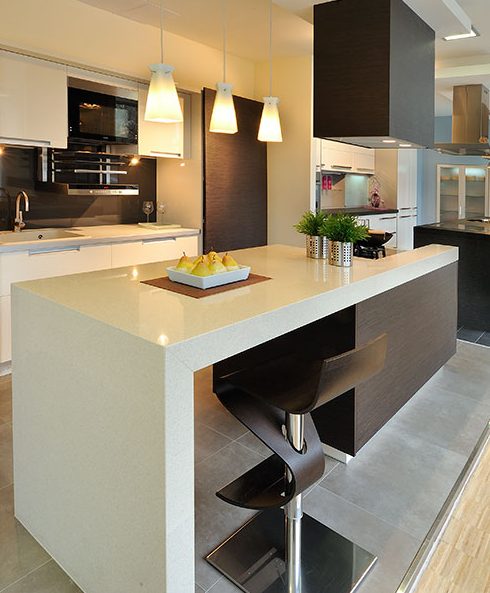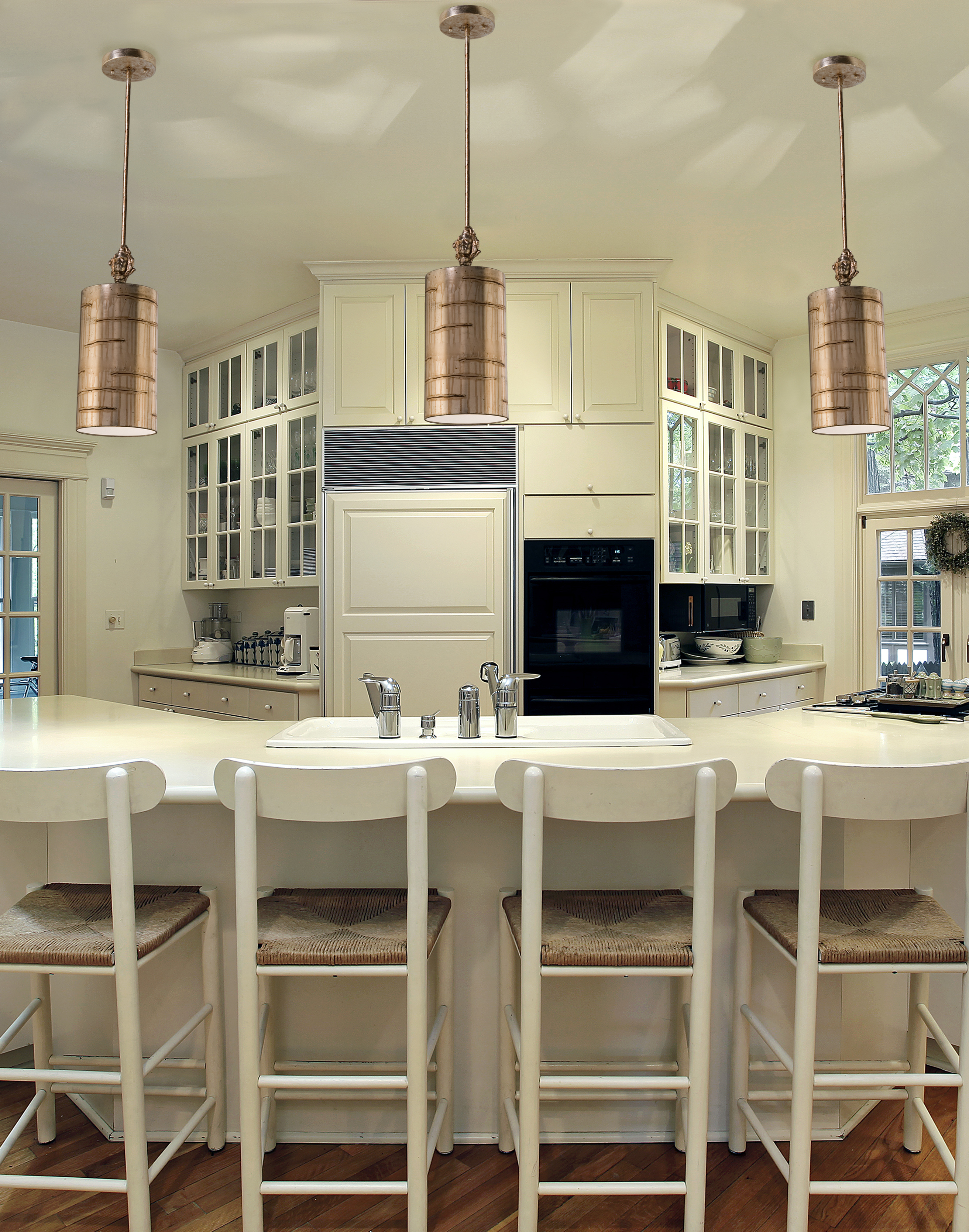 The main function of a kitchen may still be cooking, but it is increasingly becoming one of the main entertaining spaces in the home. The right lighting will make a small kitchen feel larger and it can change the mood and feel. You will need lighting that gives you the right lighting for performing kitchen tasks as well as creating the ideal ambience.
Kitchen lighting can often be the last consideration when it comes to designing your kitchen but for it to look and function well the area needs to be must be lit properly. Experts agree that the best time to decide on a new lighting scheme is at the planning stage, as you're signing off your kitchen drawings. Leave it until later, and it could become an afterthought, with limited possibilities.
A good kitchen lighting system needs at least two elements: bright, shadow-free task lighting for safe cooking and preparation, and atmospheric illumination to create mood, highlight architectural features and make the room feel more inviting.
Kitchen pull out units give you great flexibility when it comes to storing items in your kitchen. They are like a drawer with open sides that pull out from your units however it is designed vertically rather than horizontally. There is a large range of pull out larder units that are designed for storing bottles, spices, cleaning equipment plus you can choose ones which have different compartments for different types of food.
Perhaps the biggest plus point that this storage option has is that they are incredibly easy to access. Gone are the days when you put something in the back of your kitchen cupboard and forget about it only to find it months later and it has went out of date. With these storage units you can see everything that is stored there when you pull them out. Everything is on view with these units so you don't need to rummage through a lot of stuff at the back of your cupboard to find what you need.
For kitchens that aren't blessed with a whole lot of space these units are an excellent choice as they don't take up a lot of room. The doors are slim and work vertically rather than horizontally. Even one pull out larder unit in your kitchen will give you far more extra space than any other option.
Click here for more information on kitchen storage
To speak to Stewart about your design ideas call 01622 616065 to book a free no obligation design consultation.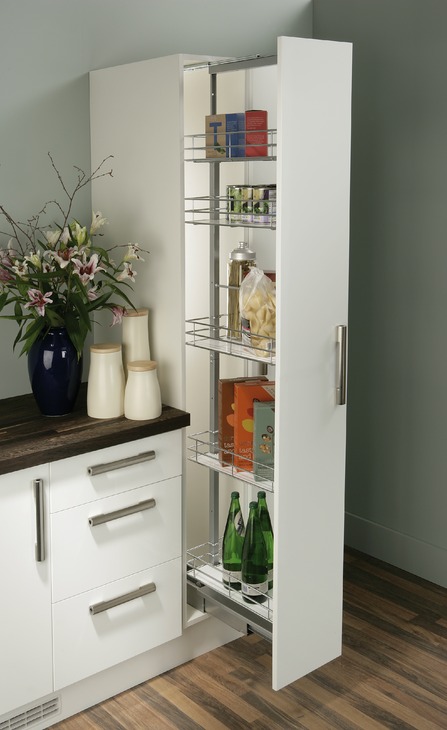 7 Essential Elements of a New Kitchen That Will Add Value to Your Home
Investing in a new kitchen in your home is one of the best ways to add value to your home.  As you'll know, a great-looking kitchen helps sell a property.
Even if you're not thinking about moving for a while, you can make simple choices about the design of your new kitchen that allows you to enjoy it AND maximise the value of the kitchen for the day when you do choose to sell.
Download this free guide to discover:
What brands of appliances are highly desirable and fashionable. Additionally, learn what type of hob and oven you should be putting into your new kitchen.
What colour schemes, materials and effects give an attractive finish to your kitchen that will appeal to most potential buyers of your home.
What type of worktop is the most durable and easiest to maintain, so that your worktops stay looking clean and new, yet still giving a 'wow' factor to your kitchen design.
PLUS even more, packed into a simple and quick-to-read eBook...
A home design project can transform your home.  Here at MBK we take great pride in bringing your dreams to life, from what was an idea in your head to a reality within your home.
We have transformed over 3000 plus homes (install & supply only) and our team work closely with you each step of the way to ensure your vision is achieved. We enjoy nothing more than seeing our customers satisfied.
Knowledge Centre
Please find below a number of Kitchen blogs which should answer some of your questions. We want to provide you with additional information about products and services that are available plus give you some useful tips to help you on your journey.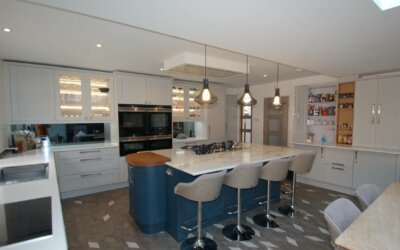 From concealed breakfast stations to playful pink hues... Pink kitchens, reeded glass cabinets and freestanding furniture are some of the biggest kitchen trends for 2023/2024. As the role of the kitchen continues to evolve, bespoke designs, colour preferences and a...