As the desire for staying at home as long as possibly to keep some independence is increasing in the elderly, we must think about the best way to keep our family members and those who assist them safe.
The bathroom is a room we all use every single day.  There are many adaptations that can be made to ensure our loved ones are kept safe whilst using this room.
From regulating the water temperature to considering a bath lift they are all ways we can help our loved ones.
What may not seem too hot for us may be scalding for the elderly, especially for those with sensory impairments, if they have reduced mobility or are unable to react quickly it may end with them becoming scaled so by just adjusting the water temperature so it does not to exceed 44c you could be helping them. Carers and those assisting our loved ones can set the water temperature, just right with the right controls. That means they don't have to waste time standing getting temperatures correct, they can be spending more time with your loved one.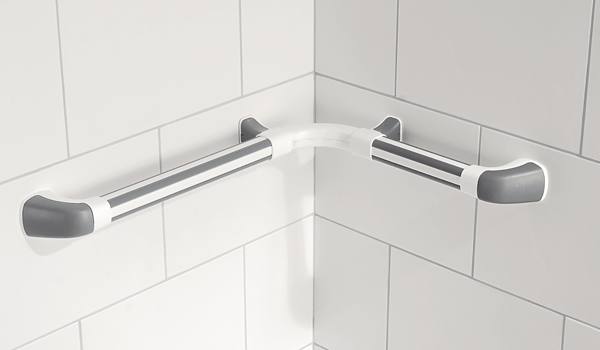 Grab rails may not look attractive but they are a good way to help your loved ones get in and out of the bath or shower with a bit ease, if you're relative has good upper body strength, they are best placed in a position where they need the support which then will enable them to maintain their own personal hygiene.
Reduced mobility, balance problems and even stiff joints can make stepping into a shower and bath difficult. The best solution for this is to change to a low level shower tray. But what if getting in the shower is ok for them? How long are they able to stand and wash without getting too tired to quick? You can get shower chairs with rubber tips on the legs to prevent them slipping or you can go for a fold down chair that is attached to the wall, so if you are short on space then this may be the best option for you.  Wet rooms are also a possibility, with no need to have a step up into the shower, however these are far more complicated to install. You can also get half height doors that go round the shower area they prevent water flowing across the room, it also keeps carers dry when assisting with personal care.
We all struggle once in a while with getting up, whether it's the sofa or the toilet, if it's the toilet then there are options available for you. Raised toilet seats are available in different heights and some also have arms attached to help you ease yourselves down and to assist you getting back up. There are also comfort height toilets which are available for the use of the whole family without adaptions.
Another room we use day in day out is our Kitchen. In my home it's the hive where all the family gathers. As a health care professional I've seen many of my service users shy away from their kitchen in fear of falls when they're in there. Or simply avoid it because they feel there is not much they can do in there any longer.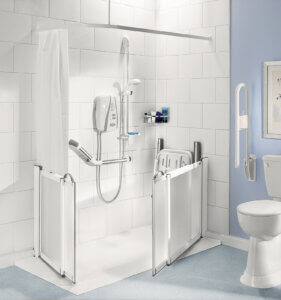 A simple thing such as Hand rails round the worktop can be put in place. This means those who struggle with mobility and balance have always have something to hold on to whilst waling round the kitchen without the worry of falling. Allowing them to use their kitchen like nothing has changed. This, paired with a perch stool means they can use their kitchens and even have a sit down whilst preparing veggies or making a cup of tea. Promoting independence and making them feel safe, which as a domiciliary carer is absolutely vital.
Kitchens can also be adapted for those who rely on a wheelchair. Lowered works tops and appliances means those in a wheelchair can get to everything they need so that they can cook meals and make drinks.
Appliances such as one pot boil kettles are extremely handy and very popular with those whom have assistance in their homes. They hold enough water for roughly 8 cups and can be adjusted with how much water is required. They also pour the water automatically so there is no need for anyone to be lifting a heavy boiling kettle, which most struggle with. You can also kettle a kettle pourer which is a cheaper option this takes the weight of the kettle.
Little handy tools can be used to assist, such as knob turners and perch stools for when someone needs to sit down when peeling veggies or making a cup of tea.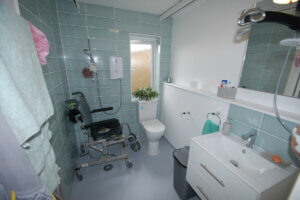 Some big changes that can be made include a slopped floor allows people to move with ease, no need for little steps that can cause trip and falls, it also means people with frames and walking sticks can continue moving without having to stop and lift their frame or stick up the steps. Or having a doorway widened to allow those in wheelchairs to gain access to their kitchens.
If you are confused on what you need, a community nurse and occupational therapist can come and do an assessment to see which adaptations you require in your home. This can range from the big things mentioned to simple appliances to make life easier and more accessible.
Prepared by Jackie Broad and Chloe Broad