Another of our series of Blogs called "Ask the Experts" and this one is by Susannah Hutchinson (Houzz Contributor)
Don't let multiple bottles of shampoo spoil the minimal vibe of a modern bathroom. Choose storage to suit your needs, from deep, under-basin drawers to tall cupboards and open shelving. Have a look at these stylish schemes for inspiration.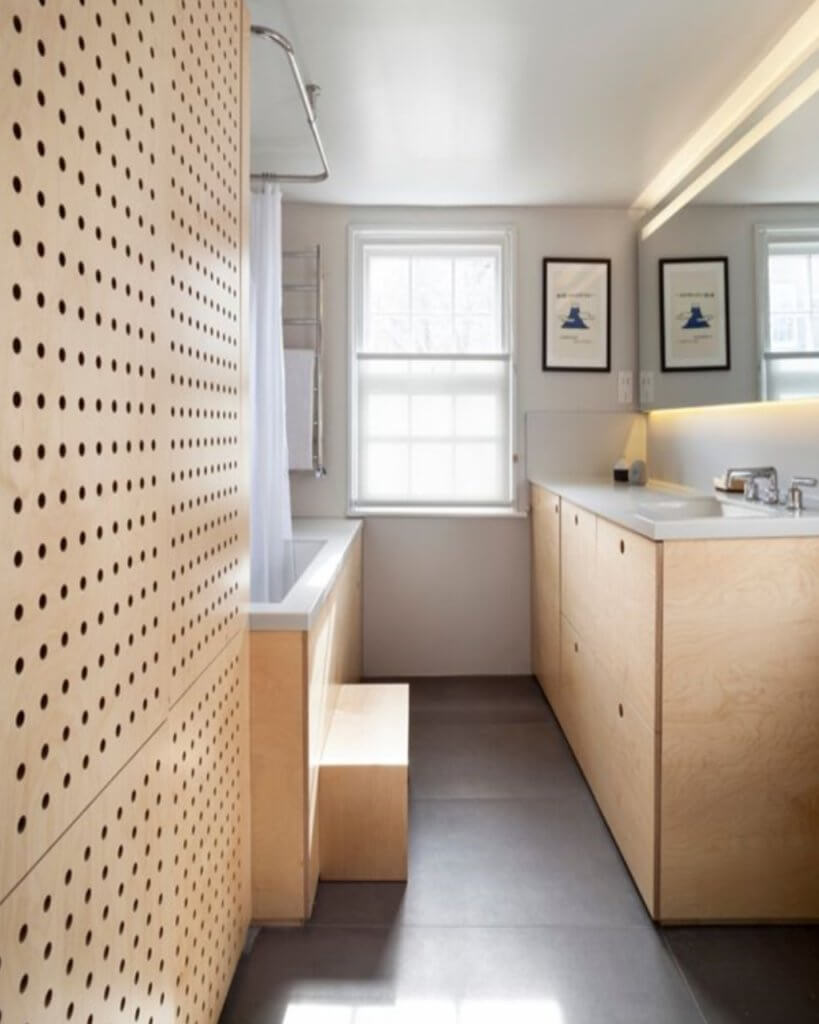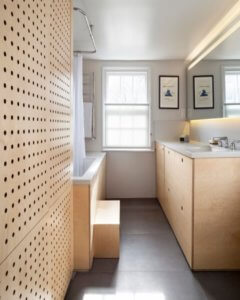 Try ply
Plywood kitchens have been on the style radar for a while, and now the material has made its way into the bathroom. These pared-back cabinets are made of pre-lacquered birch ply.
Simple finger holes in the vanity unit mean there's no need for handles, in keeping with the streamlined aesthetic. They're echoed by the decorative holes in the wall panels, which conceal an airing cupboard.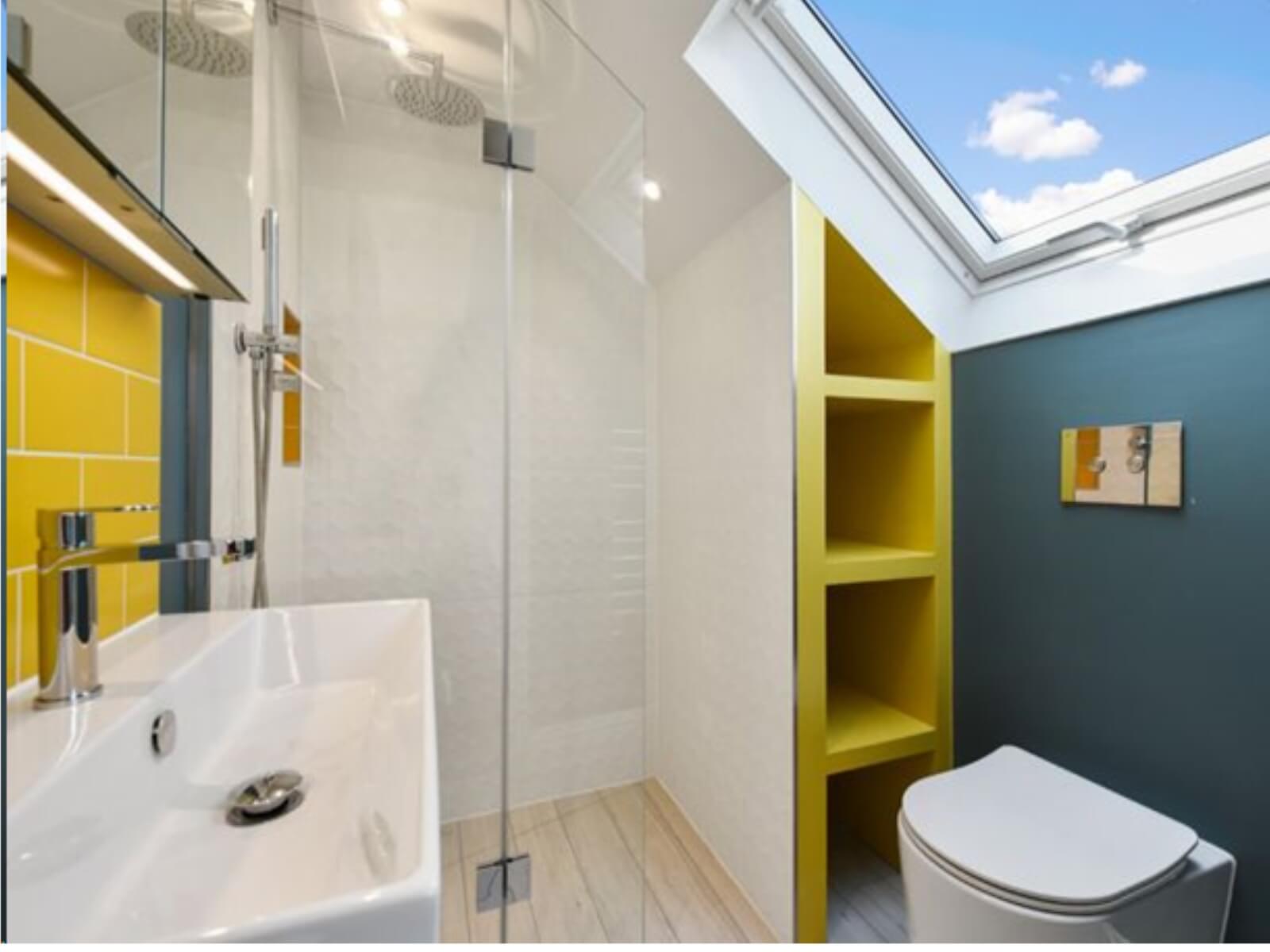 Slot in some shelves
Lots of bathrooms – especially those in loft conversions – have awkward nooks and crannies, but these slivers of space can make great places to squeeze in handy shelving.
In this loft bathroom, the chunky shelves tucked under the sloping roof add lots of storage without making the room feel more cramped.

Why not make a feature of your shelves and emphasise unusual angles by painting them in a bold colour? The bright yellow above stands out against the dark grey wall, and along with the splashback tiles this all adds up to a touch of sunshine in the room.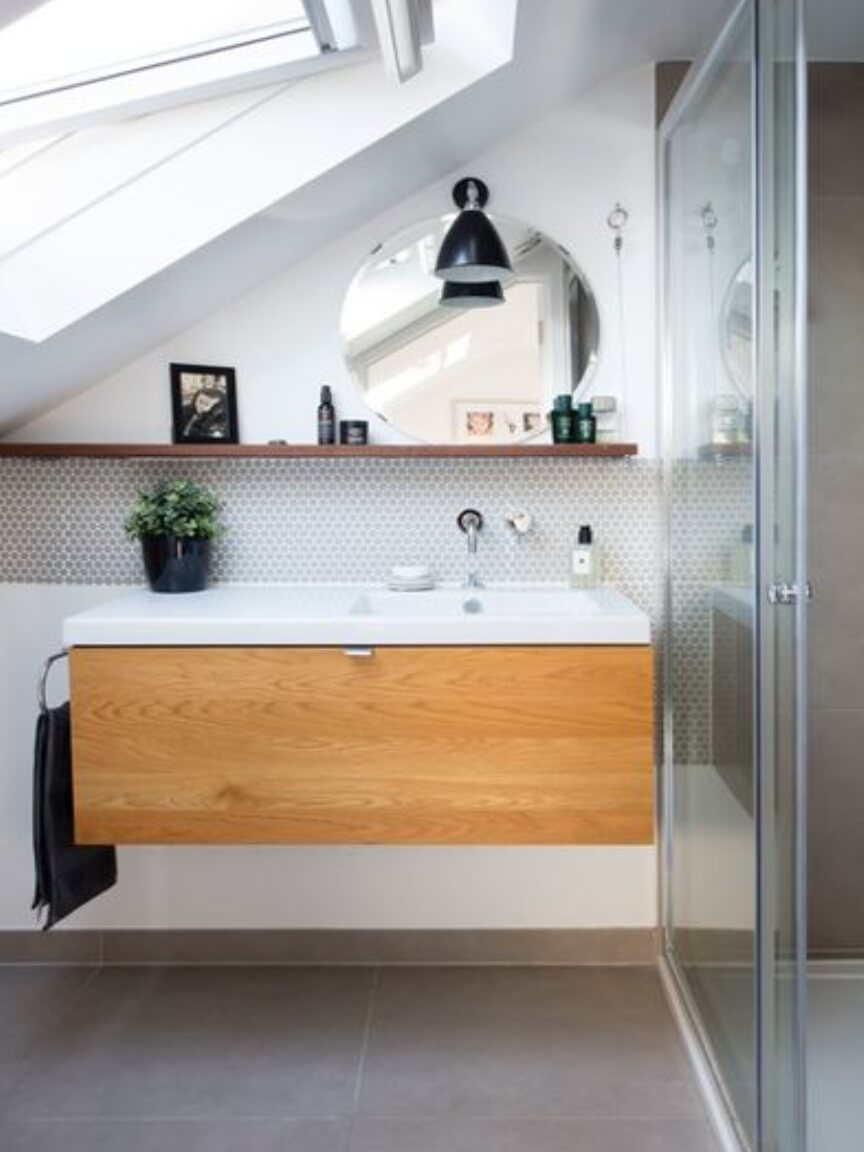 Float away
Keep a streamlined feel in your contemporary bathroom by choosing a wall-hung vanity unit. In this small space, the simple shape of the unit works well, as it prevents the area looking cluttered. Wall-hung furniture can also help a room to seem bigger, as you can see more of the floor.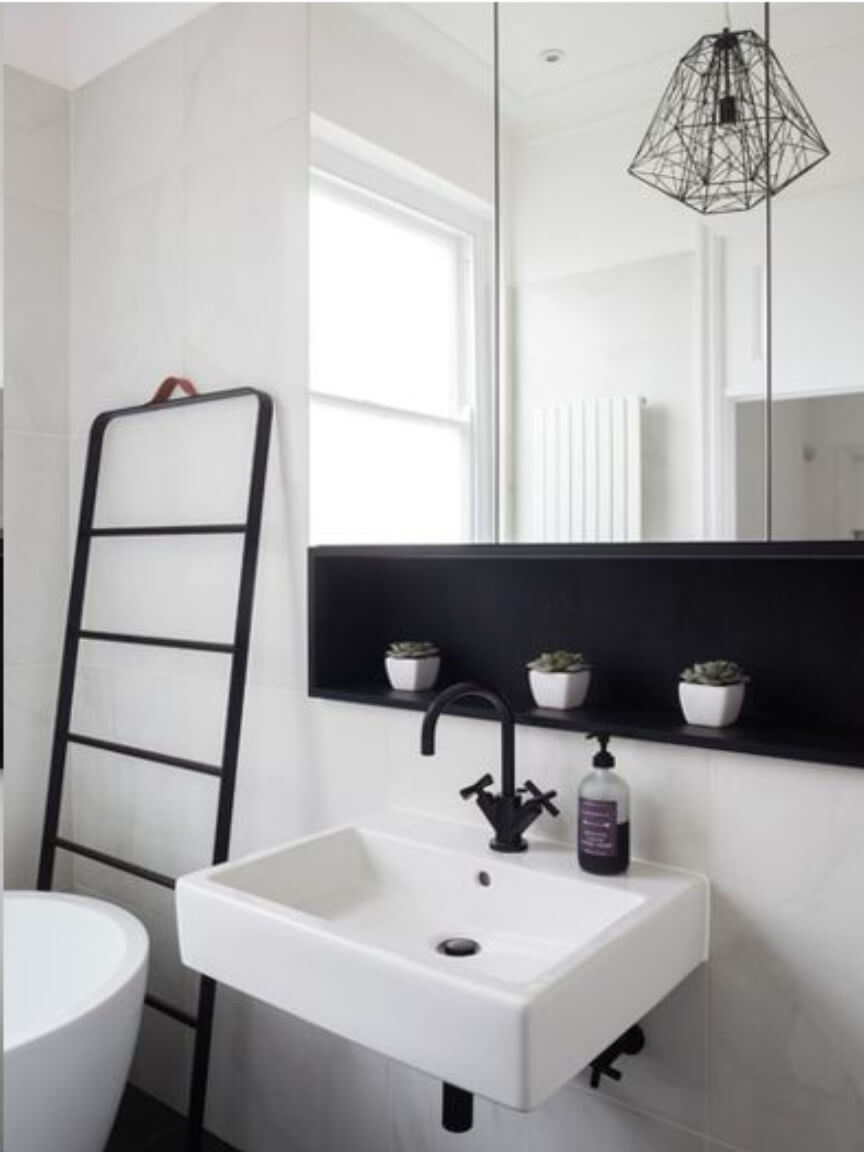 Stand free
If you don't have a towel radiator, consider a freestanding ladder to keep your towels tidy. The matt black finish on this one ties in with the taps and under-mirror niche for an ultra-contemporary look.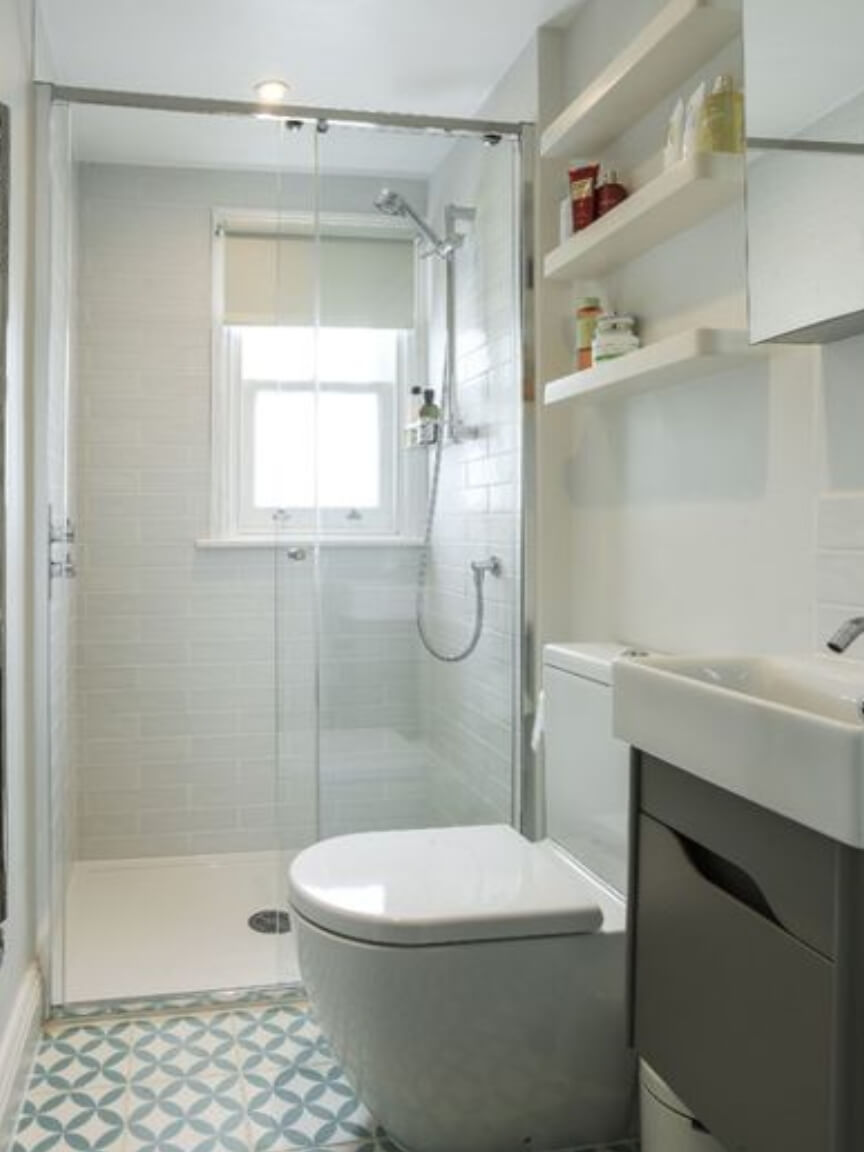 Say yes to slim line 
You don't need a deep area for storing toiletries, so in a contemporary space, slim floating shelves are a good choice.
Keep the look minimal by choosing a colour that blends in with the wall – these white ones almost disappear into the surface behind.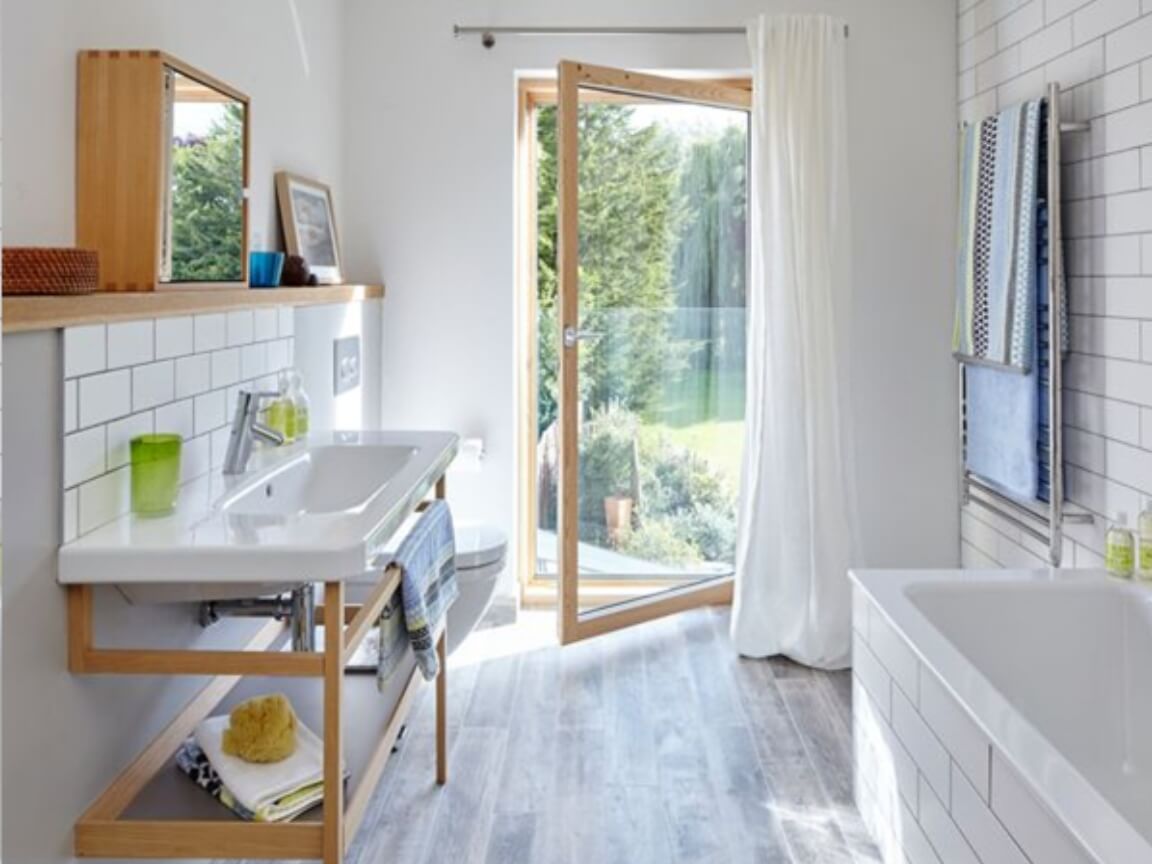 Open up
Don't like the idea of a built-in under-basin unit? A shelf system like this provides valuable storage, but its open aspect adds a lighter feel and makes the room feel more spacious.
Along with a good-sized shelf, this unit has rails that are ideal for hanging hand towels.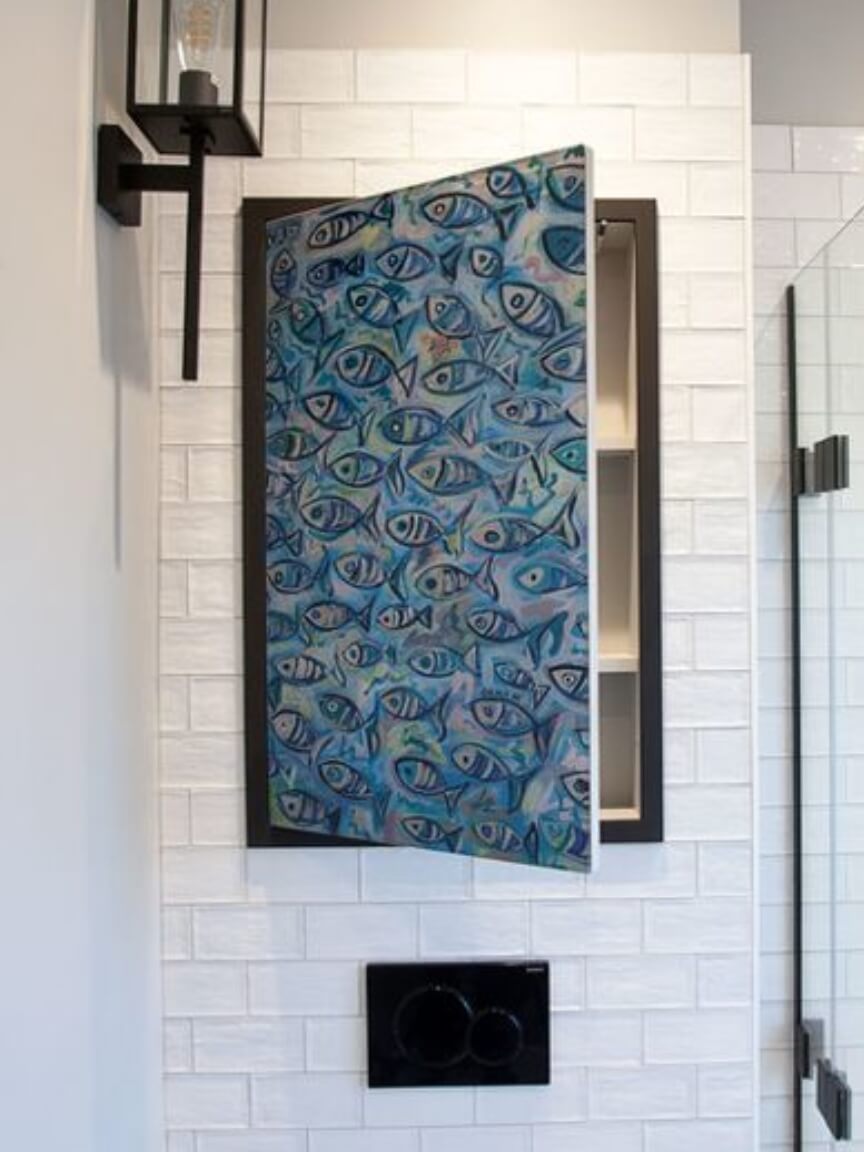 Conceal and reveal
If you've installed a false wall to accommodate a cistern or similar, make the most of dead space with a recessed cupboard. This one's been covered with a decorative panel that looks like an artwork when the door's closed.