Showers and shower enclosures come in a vast number of designs, shapes and functions so we will deal with showers first.
The most important consideration is the type of boiler you have, combination, gravity (hot and cold water tanks) or high pressure. The type of boiler you have determines the type of shower you can have and also the overall cost of the shower fitting, only if you intend using the hot water provided by your system, otherwise you will need to install an electric shower which heats the cold water supply on demand.
Shower fittings
If you have a gravity system, in the majority of cases, you will need a pump to enable you to get a good shower, that can be an integral pump, like the smart showers available, or a remote pump usually situated near the hot water cylinder. It is vitally important that these showers have their own dedicated supply feeds otherwise the warrantee will be invalid. These showers start from £400 and depending on the complexity can be over £2,000.
The combination and high pressure systems provide hot and cold water at a pressure that means that you don't need a pump and therefore you can fit very simple shower valves from as little as £80 and get a good controllable manual shower rising to £300 for a reasonable thermostatic valve, but again depending on what you want these can end up costing as much as the gravity system showers.
So you need to decide what you want from your shower and your designer should be able to advise you on the installation requirements of each variation and whether they are right for your project.
If you need an electric shower the most important thing you need to consider is the power required to run the shower. Electric showers are from 7KW to 10KW and you need a suitable cable to run from your consumer unit (fuse board) all the way to an isolating pull switch installed in the ceiling in the bathroom, this work can cost more that the electric shower and could even result in you needing a new consumer unit to comply with the regulations.
Shower trays
Shower trays come in many different sizes and shapes and a number of different materials, the vast majority are gloss or matt white and are made of a combination of resin, stone and capped with acrylic to give you a smooth finish. They are all considered to be slip resistant whereas there are a few white trays that are made with a specific non slip textured finish.
The other version is coloured trays, there are some companies that make any colour with the same materials as above, for matching and insurance work, however in a new installation the coloured trays come in a small number of colours but are available with different wastes & positions with a textured finish and have bespoke size options. All the above shower trays come in various thicknesses from 25mm to 45mm.
The third material used in shower tray manufacturer is steel this enables you to create a low profile tray as they are very strong but only 6.5mm thick.
You may want to dispense with a shower tray and create a wet room floor, these are called formers, and made in waterproofed materials, for either a tiled floor or specialist vinyl sheet flooring, and they come in many preformed sizes and also bespoke sizes.
But bear in mind all shower trays and formers can only be installed at a height that is allowed by the existing or altered waste plumbing.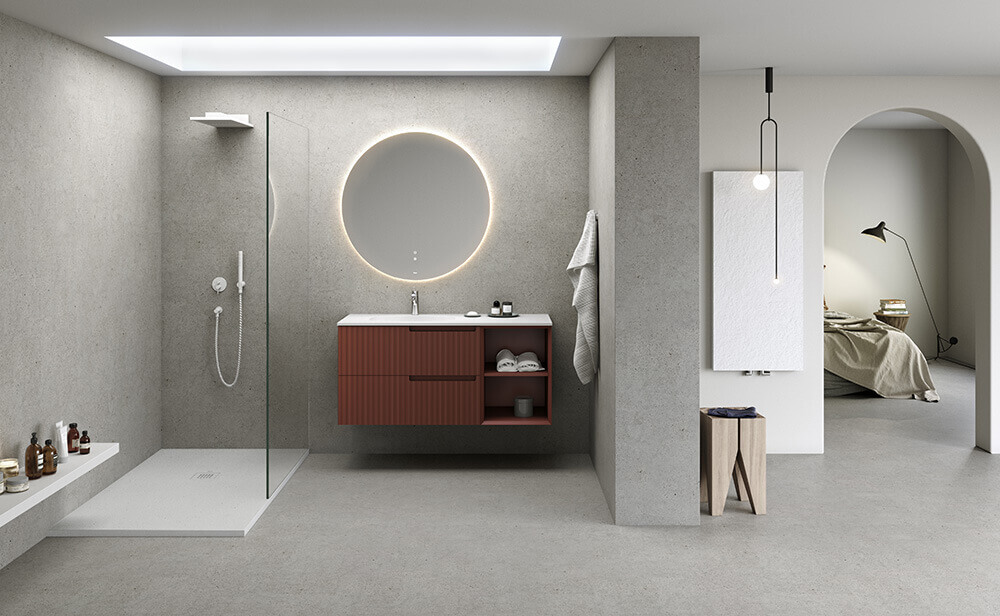 Shower enclosures
We shall only discuss glass enclosures, there are other alternatives but few and far between.
Glass enclosures come in 4mm, 6mm, 8mm and 10mm thick glass panels and the price relates to the thickness of the glass, as a general rule the thicker the glass the more robust the fittings are so the operation. The most shower manufacturers construct their enclosures at 1950 or 2000mm high but there are a number of manufacturers that even go down to 1800mm especially useful in low ceiling areas.
There are a number of different combinations of enclosures; panels, pivot, in-swing, sliding, hinged and bi-fold. Each door style has its merits and are specified depending on the space the enclosure takes up and the space around it. As a rule of thumb the less frame included in the enclosure the more expensive the enclosure.
There a number of manufacturers who also can offer bespoke sizes, including height and width alterations, together with angled cuts for sloping ceilings and odd dimensions to enable you to have enclosures in restricted spaces.
Panels are used when you are able to have a walk in shower and the panels are installed to minimise water spray.
Pivot doors are a cheaper option to the hinged door with a slightly smaller opening and tend to be available in a variety of widths and with the use of inline panels can be increased in size for 700 upwards.
In-Swing doors are not so common but are handy when space is limited around the enclosure as the doors do not open into the room.
Sliding doors come in sizes from 900mm to 1400mm as a standard stock item.
Hinged doors have the largest opening compared to their width.
Bi-fold doors once considered to be the ugliest doors in the ranges are now very popular due to better manufacturing and the easy of opening.
So we have covered the main points of supply although there are many other things to consider, lighting, flooring, decoration etc. but generally that will all become clearer as you move further down the design process.