So what type of bath do you want?
What are the merits of the different versions, which one should you pick and why? In practice there are three different baths, steel, acrylic and freestanding, which sometimes are also made of acrylic. What are the features and benefits of each one? The simplest one to explain is probably the most complicated; the freestanding bath comes in an incredible number of shapes from boat baths to rectangular baths, and a large number of materials from stone and cast iron to double skinned acrylic, and they all have to be connected to the waste outlet and this is where it becomes complicated, some of the baths sit on the floor meaning the waste must be under the floor , not always possible, others are either raised off the floor, traditional roll tops for example, or have the ability for the waste to exit out of the back of the bath. So the features of freestanding baths are the construction, style, elegance and the sheer presence they create in a design. The benefits of freestanding baths are the look, they are the Wow factor in any bathroom; they need the space to standout, to be the centre of attention but they have certain drawbacks usually they are quite high and also not particularly big and in the case of cast iron and stone baths very heavy and for you to benefit truly from a freestanding bath you need the space to display it. But why is there such a price difference between different manufacturers, simply it is the process in which they are made, in my opinion you need to spend at least £1000 to get a good quality freestanding bath, nothing wrong with the less expensive ones, but you will notice the difference.
Pressed steel baths are still a very popular bath, made in large numbers they are very inexpensive, a good one will cost about £140.00, and they provide in the standard size 1700 x 700, the largest bathing area for that size bath. They come in loads of shapes and sizes both in length and width and only when the thickness of the bath is increase, super steel, does the price increase dramatically.
But they are a great bath for a small bathroom and comfortable as well.
Downside they are porcelain enamel so drop something in them and you can chip the enamel, repairable but not always, and until the water warms the surface, lean back and the enamel is cold.
Acrylic baths probably outsell all the other baths, an acrylic sheet moulded into shape allowing the manufacturer to create a myriad of shapes and sizes and 20 years ago all the colours of the rainbow including classic Penthouse red and Avocado. Gone are those days and also the really thin and cheap acrylic baths, with the new regulations these acrylic baths are now fully encapsulated, wrapped in fibreglass, and their quality is second to none. There still is quite a divergence in prices, you can get a budget acrylic bath for under £100 but for a good bath you will pay £250 and for a super strong bath, especially the shower baths anything up to £500. Again choose the bath you like, discuss with your designer the merits of the different baths and choose the one that best suits your needs and budget.
There are no real downsides to acrylic baths installed correctly they will be as rigid as a steel bath but their different shapes make them more flexible in design.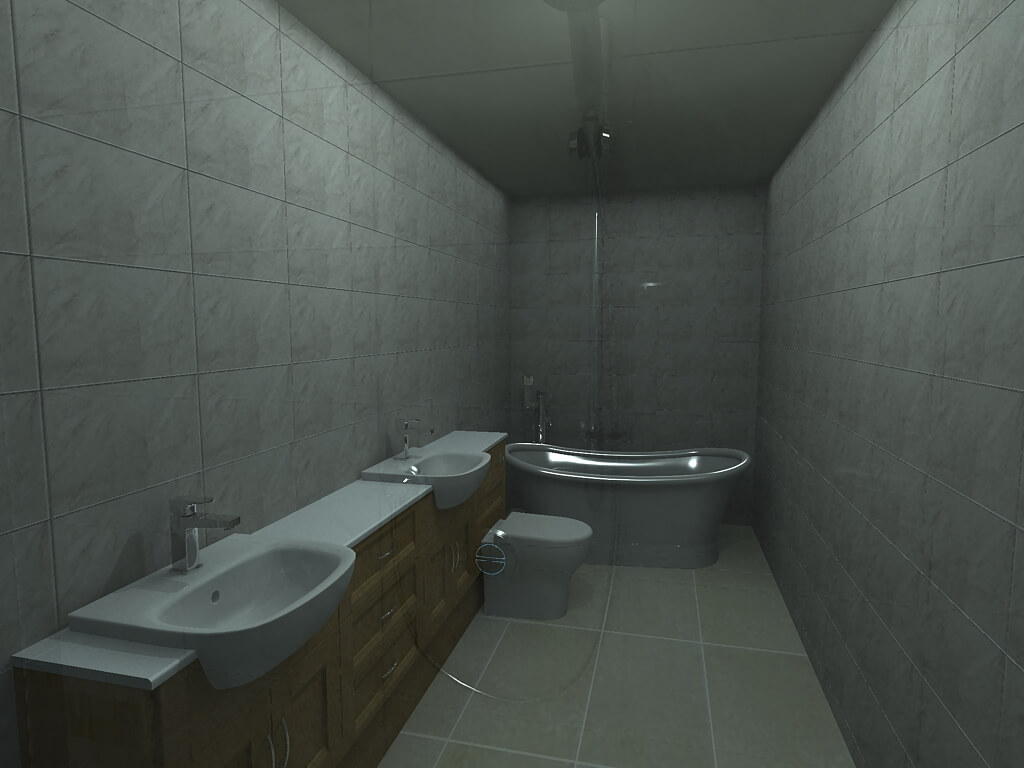 So what type of toilet do you want, low level, close coupled, one that includes a cistern, with an open back, close coupled fully back to the wall, back to the wall or wall hung, and what height? It's a minefield of pans and here is where you want the advice of the salesman or designer, they should be able to advise you what best suits your design and also suits your brief, but be aware of the difference in the measurements, because as a rule of thumb any close coupled pan has a smaller footprint than any pan that requires a concealed cistern, ie. back to wall and wall hung. But why are some toilets so much more expensive than others, you can buy a toilet complete with cistern and seat for as little as £80 and a toilet that performs the same function can cost in excess of £500. Again you pays your money and takes your choice, most sanitary ware will last for over 10 years, maybe some of the cheaper ones won't last that long, they attract the dirt, they are not the best looking toilets but they do exactly what is needed of them. As you pay more money you get better designed toilets, better systems of flushing, rimless instead of a box rim, making it easier to clean and then at the top end of the tree you get pans that have superior glaze and flushing methods which keep them much cleaner and are much quieter, like Catalano possibly one of the best manufacturers in the world for sustainability and quality of the glaze, but also some of the most expensive. But putting it into perspective if you pay £600 for a toilet and it lasts 25 years you would probably spend more on lattes in a couple of years, and you still have the toilet! So choose a toilet that suits your needs, whether it be comfort height or standard, and it's comfortable and you like how it looks as you will be looking at it for a long time!
So what type of basin do you want? Semi recessed in furniture, under mounted in furniture, complete with a pedestal, slab basin on freestanding furniture, stand alone on furniture, wall mounted with furniture or wall mounted on its own, in lots of different shapes and with many different tap configurations. You definitely need someone to help you here, someone to guide you through the choices and the different applications and methods of installation that may impact on your design and the price you will pay, again anything from £60 to £1600 including furniture.
I will touch on furniture before we go to Part 3 which I am giving over entirely to showers and enclosures.
Furniture comes in many different forms, depending on your design to can have semi recessed furniture, wall mounted furniture and freestanding furniture and the combinations of door styles and finishes are endless, from glass to solid oak. As a rule of thumb if you consider how difficult it would be to manufacture that's how much it will cost. There are many excellent furniture manufacturers who take pride in their products and there are also many manufacturers who mass make product in certain sizes and fulfil the price criteria and if that product suits your purpose then get it, it won't be as good as some of the furniture on the market but that's why it is less expensive.
Every piece of furniture has a different usage and so your designer should guide you through these choices and show how certain types of furniture will impact the design of your bathroom.
See Part 3 for Showers and enclosures.