Kitchen Renovation Case Study
The Brief
Our client is a pensioner whose kitchen is over 20 years old and now wants to modernise it to create a more airing feeling to her kitchen and to make the layout more functional. Her kitchen in a 1960's house in a commuter belt village, it is in an extension and is of a generous size and a complete new kitchen was outside her budget requirements and so she opted for a kitchen renovation.
The kitchen was very dated and dark, there were areas where the kitchen was no longer working effectively. The colours were old fashioned and the flooring hard and unforgiving. The laminate worktop was starting to wear, a testament to laminate that after all these years it was still serviceable just unfashionable.
The idea was to replace some of her appliances, supplying a few new appliances, fridge & freezer, keeping those that were still working well and provide her with a modern looking kitchen that would add value to her house and yet not spend too much of her savings. It needed to be far more functional for her change of circumstances meant she required easier access to items in her cupboards. The client wanted more worktop space and overall a much brighter, lighter kitchen.
The Problems
The kitchen cabinets were sound although they were not a standard size so the doors had to be made to measure, quite common, but the replacement cabinets had to be adjusted to suit the unusual size. The drawer boxes had run their course and were loose and needed replacing. On discussing with her the functionality of her existing kitchen it was decided that we could move a few units, alter some of the base units to provide more usable storage, by installing large drawers and create more worktop space by removing the tall fridge freezer and a larder unit. It was decided to replace all the doors but retain the end panels to create a gloss white and oak combination, saving costs in not adding additional end panels. The wall tiles were in keeping with the kitchen and needed to be removed and the kitchen had no real feature. The flooring was ceramic tiles and would be costly to remove, so an alternative needed to be considered.
The Solution
Some appliances needed replacing, so we upgraded the hob and provided a new built under freestanding fridge and freezer. The worktop and the sink and tap were replaced to provide a more up to date kitchen with an easy to clean ceramic sink and tall lever action tap.
We replaced the existing wall tiles with a modern tile and to provide a twist we chose a mosaic border and installed a coloured glass splash back behind the hob to create a centre piece. We installed a couple of new units and got rid of the two tray spaces that dominated the old kitchen with a large set of pan drawers with easy access and large storage capacity. We removed a larder unit and substituted it with a base unit from the other run and installed a new wall unit above adapted to suit. The floor had been tiled but due to the expense of removing the tiles and the mess it would cause we installed a self levelling latex screed to provide us with a smooth finish so that we could install a vinyl sheet flooring. Once we installed new laminate worktops and a new ceramic sink we completed the tiling and decorating.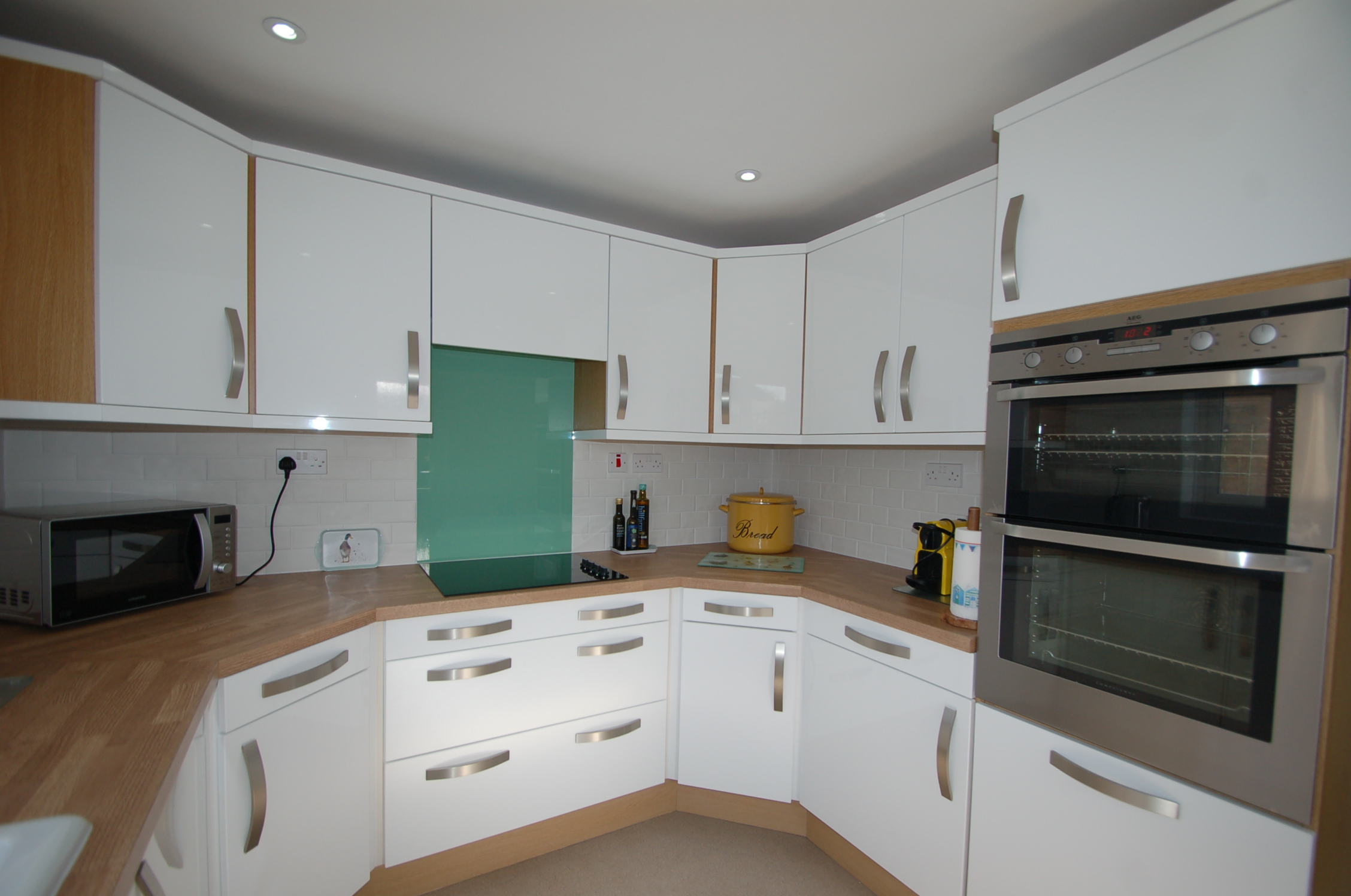 As part of the renovation we plastered the walls and ceilings installing new energy efficient LED downlights, new under wall lighting and we replaced an inefficient radiator and decorated the walls and ceiling
The project took 4 weeks for the majority of the work to be completed, however the new units we supplied had to be adapted as her original units were not standard, so there was a slight delay.
We replaced all the drawer boxes with the new metal sided drawer boxes and all the door hinges were replaced with soft close hinges.
The new flooring was completed and we installed new plinth to complete the works and the client ended up with a new kitchen. The whole project cost £11,800 supplied and installed. I think that you will agree that the finished transformation was impressive and the client was very happy.