This is one of the most commonly asked questions and for good reason! With so many brands of underfloor heating out there including Warm Up, Heat Mat, Thermosphere and Schluter, and different methods of heating like wet vs. electric underfloor heating, it can be difficult to find out what the best underfloor heating system for bathrooms really is.
So, to help you to make an informed decision for finding out the best underfloor heating system for bathrooms, we have created this simple guide.
Wet underfloor heating vs. electric underfloor heating
There are two types of heating a floor: either through hot water pipes laid into a screed, or electric heating elements in the floor build up. Both have benefits and drawbacks, so we'll highlight a few below.
You'll find that wet underfloor heating systems are installed more commonly in new builds because they are installed within the construction of the floor as it is being built. The pipework is installed in a much thicker (between 65mm & 75mm) layer of screed and the additional load the wet underfloor heating system creates needs to be factored into the design and specification of the boiler. The benefit of a wet UFH system in bathrooms is that it can be linked into the central heating system. However, one consideration is that there may not be sufficient height build up in a renovation project to install a wet UFH system.
When it comes to electric underfloor heating for bathrooms, these systems are ideal for renovation projects as well as new builds. There is minimal impact on floor height and can be installed in just a few hours (depending on the size of the room). Another benefit is that electric underfloor heating can heat up in 20-30mins, which helps dry wet bathroom floors and prevent mould and remove the slip risk. One potential consideration is that you will need your part P registered electrician to make the connections for you.
So, if you are simply renovating a bathroom, electric underfloor heating would be an ideal choice. In a new build, wet underfloor heating could be a good option, if designed into the floor build up at an early stage.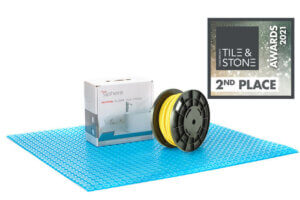 The best type of electric underfloor heating system
A tiled floor is the most common floor finish for bathrooms. However, a tiled floor can be susceptible to both cracking and gaps forming between tiles due to changes in temperature. Because of this vulnerability, we would recommend an electric underfloor heating system that combines heating and decoupling. Examples of these systems include Warm Up's DCM-Pro System, Schluter's DITRA-HEAT and Thermosphere's Membrane electric underfloor heating system, our preferred brand.
No matter what brand of decoupling and heating system you choose, they all provide a faster and easier way to install electric underfloor heating in bathrooms and help to prevent any cracking or tile delamination once the system is switched on.
Each of these electric underfloor heating systems provides great flexibility when it comes to heat output. The heating cable can be gently pressed into the mat in equal and parallel lines and the space between each run of cable can be increased or decreased depending on what heating output is required for the project. The higher the heating output, the faster the system will heat up. It is important to note that varying the width of the heating cable runs in a single installation is not recommended because you may experience hot and cold patches on your floor.
The quality of the heating cable is also very important. Ideally you want a heating cable that has a twisted construction because it minimises stress on the cable and reduces the risk of it breaking during installation. Also make sure that it comes with a lifetime guarantee
Choosing the right thermostat for your system
Not all thermostats work with an electric underfloor heating system. Some simply control central heating such as the NEST range but there are others out there that can do both. To achieve the best efficiency, choose an electric underfloor heating thermostat. There's no complication, it only controls your electric underfloor heating system and does it really well.
The type of thermostat you choose to control the electric heating in your bathroom really depends on you and your lifestyle.
Manual thermostats
If technology isn't your thing and you only want to control the heating in a room infrequently, then a manual thermostat is ideal. Just remember that it isn't Lot 20 compliant which means that you may not reach maximum efficiency of the electric underfloor heating system.
Programmable thermostats
If you are eager to reduce your energy consumption, and make a positive dent to your heating bills, then a programmable thermostat fits perfectly. It's EcoDesign Lot 20 compliant which means it's jam packed full of energy saving features that you will enjoy.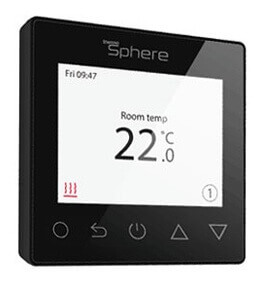 Smart thermostats
If you love gadgets and smart technology and already embracing it in your home, then a smart thermostat is a solid choice. It will monitor your energy consumption via an app, you can control your heating when you're not home and control it with your voice when you are. Smart thermostats offer everything a tech savvy user needs to make electric underfloor heating run efficiently.
As well as the electric heating thermostats listed above there are also alternatives such as dual control thermostats which allow you to control your underfloor heating and, as an example, an electric towel bar using the same thermostat.
Making your electric heating more efficient
One of the first to be removed from the electric underfloor heating shopping list is insulation board. Why? Because people are trying to reduce the height of the floor build up. However, removing the insulation board can cause a common problem of your bathroom not heating up as fast as you would like. By leaving out insulation boards, up to 50% of the heat generated by the heating cable will get lost through the subfloor. That's heat you are paying for and not enjoying.
Insulation boards come in different thicknesses and either coated or uncoated. What you choose is dependent on if the subfloor is concrete or timber. For concrete subfloors use uncoated boards and for timber subfloors use coated insulation boards. By including this additional layer, you'll help to increase the efficiency of your electric underfloor heating system in your bathroom by up to 50%! This means you can enjoy all the warmth you are paying for, and your system will heat up to your desired comfort level faster.
How much you can expect to pay to run your electric underfloor heating in your bathroom?
The average bathroom in the UK is 2.5m2 and in a well-insulated bathroom you can expect to pay 14p for 3 hours per day. So if you wanted to have your electric underfloor heating on in your bathroom for the colder months (150 days), the estimated cost would be £21 for a whole year..
Key points to take away
The best underfloor heating system for bathrooms is a decoupling and heating system but dependent on if the project is a new build or a simple renovation. There are lots of electric underfloor heating brands to choose from because they all do a very similar thing and do it well. Just remember the quality of the heating cable is key. To get the most efficiency out of your electric underfloor heating system in your bathroom, don't scrimp on insulation and buy a thermostat most suited to your lifestyle.
If you still have any questions, simply ring MBK.
Article supplied by Thermosphere