The top 8 things you need to consider when planning your new Bathroom
Like anything in life when you have a plan a project goes far more smoothly. If you're considering getting a new bathroom then the planning is one of the more important areas to look at. This is especially true for complete overhauls or if you're changing the way your bathroom's laid out.
Here's our guide to the main issues that will affect your new bathroom. This will help you avoid the main mistakes that people make with a bathroom renovation.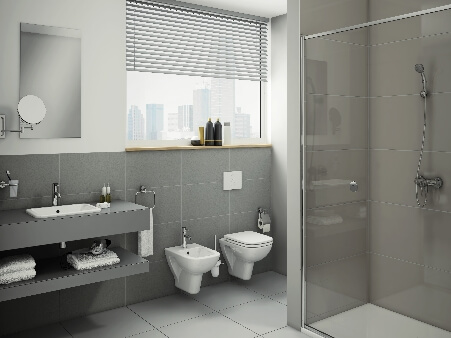 1. What do you want from your new bathroom?
This is one of the first questions we ask our customers. Often we're met with the same sort of answers but sometimes people don't really know.
Think about your bathroom and how it is now and then think about how you want it to be. Consider how you use the bathroom and how many people you have in your home. Think about bathrooms you've used and loved and also consider your daily habits. All the things you do in your bathroom should impact on your planning if you get it right. Work your bathroom around you!
Here are some ideas to think about:
General improvement on the current one

More modern look and feel

More user-friendly

More space

The size (what will and won't fit)

Storage (now and in the future)

Daily routine

Your favourite bathrooms
2. What will affect the price of your new bathroom?
The suite isn't the main culprit
Many people are often surprised to hear that the suite or furniture you choose is not the main expenditure in a bathroom renovation.
If you choose a cheaper suite or a less expensive toilet for example, the labour will still be the same. It's the same job to fit a toilet whether it's a top end designer pan or a budget WC.
The cost of labour will still be the same. The cost is obviously affected if you choose to have a wall-hung toilet though, as they're more difficult and more labour intensive to fit – which will add to your costs.
Our advice is to choose a suite that suits your needs and if budget is an issue then consider just replacing the existing function and layout to save on labour.
The layout
The layout of your bathroom is a big factor in your bathroom's budget. If you're simply replacing the suite for a new one – and the new toilet, shower, bath and sink will be in the same position – then your costs will be lower.
That said, for a 5 – 10% increase in your spend on a new bathroom fitting you'll get a far better bathroom as a result. We like to call this 'intelligent spending.
If you're planning a complete change and moving items around to make better use of your space, then you should plan for a larger budget. Once you start changing how your bathroom is laid out you're moving into the area of plumbing reworks and that can range from just a little extra on top to a sizeable increase. It's good to move your suite around to better suit your space but beware of the extra cost impact this will have.
You're often faced with the 'domino affect' when you start to move the bath or the sink as it impacts on the rest of the room. Before you know it, you'll be re-plastering sections that need to be tiled and tunnelling out walls and floors. Again, it's often a great plan but the costs will rise because if it, so this is something to bear in mind.
3. How long will it take to fit a new bathroom?
On average a full bath or shower room renovation takes up to one and half to two weeks (or longer for major overhauls).
The size of your bathroom will affect your bathroom refit's timescale. You'd be surprised how easily the time will build-up when you have a few extra metres of wall. That will mean a few extra metres of tiles to take off, a few extra metres more to re-plaster a few metres more to re-tile, and so on.
Generally, it's easy to say that that larger bathrooms take longer but of course a large bathroom with a simple upgrade to the suite will be quicker than a small bathroom with a complete overhaul.
4. What style or type of lighting should you choose?
The most popular style by a long way are spotlights as they're modern and give a very good light, as well as a crisp and expensive feel to any bathroom.
LED bulbs are becoming more and more popular though. LED bulbs are initially more expensive to buy, but because of the low temperature that they operate at they use less energy and last longer, so will save you money in the long run.
You could also consider using low energy bulbs, but they're not as popular because of the poor light they give off. The less said about that the better!
5. Consider your drainage!
Understanding your drainage and what you can and can't do will impact on your design. You should work from the ground up with your design if you're planning on a big change. Knowing how your drainage is laid out can restrict you or open up new avenues. 
6. Get clever with your storage
We've blogged before about clever storage in bathrooms. There are loads of places you can make the most of space. You'll be amazed how much better your bathroom works for you when you plan the storage better. You can keep your new towels, beauty products, spare toilet roll and anything you need – on hand.
Think about using the 'dead space' below the sink, mirrored cupboards that give you a mirror and storage, and consider a tall cupboard too. Tall cupboards are becoming very popular and the clever use of space higher up is one of the reasons. Often the area of your bathroom above head height is not used for storage. If you can reach up high then get some tall storage in your bathroom to really make use of the space and add some height to your design. 
7. Consider building regulations
Most additions or renovations to your home will be affected by building regulations. To be on the safe side we make sure than anything that we do at Alan Heath and Sons is OK by the powers that be. You don't want to find that you've not conformed to a regulation when you're too far down the line to change it easily.
It's not often a big factor but you should cover your back and be careful to stay legal all the same.
8. Common hidden problems with a new bathroom fitting
As with any major work in your home they will always be something waiting to surprise you once you scrape the surface. Here are the most common things that we come across that you should try to plan for in your emergency overflow budget:
Re-plastering: It's very common for old plaster to come away when tiles are being removed. It might not be possible to predict what condition the plaster is in until you start removing the tiles. A contingency budget for plastering is always a good idea.

Does the pipework need replacing? Old plumbing may need to be looked at once the old suite is removed.

Bathroom floor joists. When you start pulling up baths and sinks you can find that the joists below may need attention. Not often, but it's certainly a possibility.

Electrics: Old electrics may need to be upgraded to cope with new lighting or simply to bring it into line with new regulations. We are Part P registered for electrics and we're more than happy to give our six-year warranty on any work carried out.
So there you go………
……. a few things to think about. Planning is everything and we like to think from the ground up. Work out what you have to work with. Think about size, plumbing, use, style and budget and keep changing it until you're happy, your budget fits and of course that the bathroom suits your needs (now and in the future).