Another of our series of Blogs called "Ask the Experts" and this one is by Wet Room Materials.
As we head into the spring and summer months, we look forward to the lighter and brighter nights this time of the year brings with it. But the aim is to simulate this lovely lighting in a wet room all year round. Lighting is often overlooked when it comes to designing a wetroom, it's easy to become preoccupied with bath, shower and tile choices. But to get a beautiful and highly functional wet room, it's important to think about it right from the beginning of the project. There is so much choice out there, so making sure you choose the right lighting to suit a client's overall style and need for functionality is key. Spark off your imagination by taking a read of some of the bright ideas below that may help you choose the right lighting for your wetroom.
Size of the Room
Evaluating the size of the room, vs the natural light available is key to choosing the right lighting in a wet room. Naturally, the larger the size of the room, the more lighting it will require. However, how bright the wet room will be is really a personal choice, some prefer a really bright light whereas others will prefer a more ambient feeling. It's important to gain a good understanding of the overall mood and feel your client likes, and balance this with providing enough light in the room to meet these needs.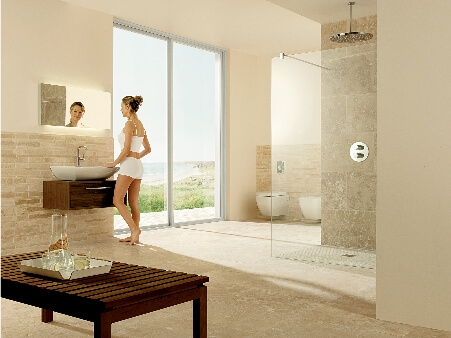 Natural Lighting
When working on installing a wet room, it's really important to assess the levels of natural light available in the room. More often than not, bathrooms do not get as much access to natural light as other rooms within the room, so getting the lighting right here is key. From a design point of view, you can use mirrors to your advantage by putting them in places which naturally reflect light throughout the space, then use artificial lighting to support.
Focus installing lighting in areas which require extra attention, a great example is within the shower; nobody wants to shower in the dark! By installing lights just above the showering area, you're able to provide light from a functionality point of view as well as an aesthetic one; lighting flowing down on a shower area has a really beautiful effect. Alternatively, spotlights are brilliant when it comes to highlighting areas which need extra light. This way, the client can choose the areas that they want to be bright, and can also change this later down the line should they want to. Down lighting, on the other hand, is fixed, so if the layout of the wetroom was to change in any way, the lighting would need to also.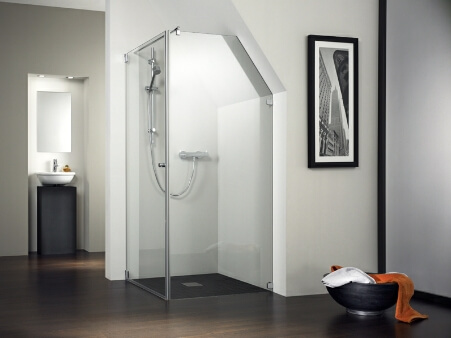 Style
Both the functionality and the overall aesthetics of the lighting you choose for a wetroom will be highly dependent on your personal style of wet room. If you want to achieve an uber-modern and high tech finish, then there is a range of lighting and smart tech you can choose from. How about making a splash with installing a shower head with lights? Or embrace their inner Hollywood with mirror lighting, or through installing bathroom cabinet with lights. A really popular choice in 2019 is to install led strip lighting, this can be suited to any style and personality.
Alternatively, if you prefer a more classic or vintage style then you can opt for lighting that meets your needs from a functionality point of view, with your chosen hardware and accessories to accentuate your personal style.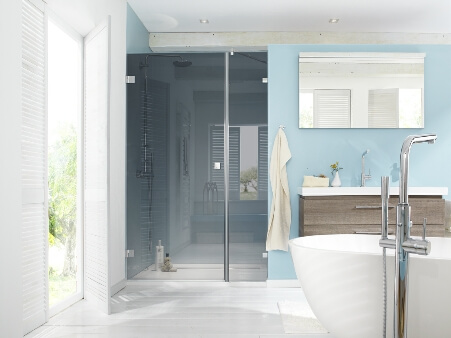 Wetroom Use & Functionality
Upon deciding what lighting to opt for within a wet room, it's important to assess how and when the wet room will be used, so that you can make smart choices to accommodate this. For example, if a key area of the wet room is a beautiful bath consider installing mood lighting, or options to create more ambient lighting to create a relaxed and subdued feel in the space. On the other hand, if the shower is key highlight this with the correct lighting such as in the shower head or as a spotlight above. Perhaps you would prefer floor or accent lighting so that when it's placed under fixtures it not only shows off the furniture but also allows an individual to use the wet room without switching the main light on.