Another of our series of Blogs called "Ask the Experts" and this one is by Amanda Pollard a Houzz contributor.
Ensure your kitchen works for your whole family by including these handy additions in the design
When you're planning a kitchen, the layout, appliances and style are your first ports of call, but if you want to make sure the space is practical for a family, too, it's worth thinking about some useful extras. Take a look at these tips to find out how to design a space that's comfortable and functional for all of you.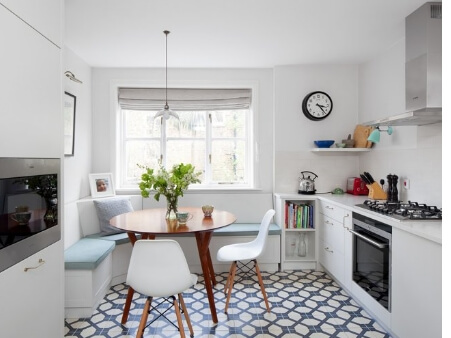 Squeeze in a table
If you can find the space, it's useful to fit a table into your kitchen. Family mealtimes, of course, work better around a table, but that's probably not all you'll use it for. A clear surface will provide an area for kids to do arts, crafts, Lego and homework while you get on with the cooking.
A space-saving option is to build in some banquette seating, which will allow everyone to fit around the table comfortably.
It also pays not to be too precious about your table, as paint splashes, scuffs and stains are hard to avoid with children around. Alternatively, cover the surface with an oilcloth to keep it as protected as possible.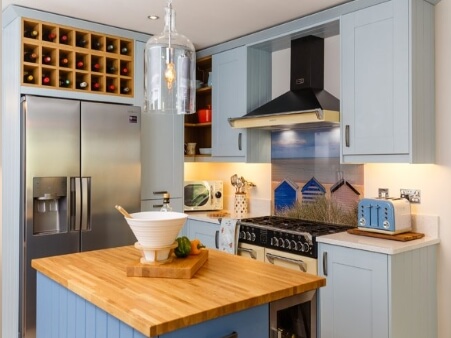 Protect the walls
It's not just your table that's going to endure knocks and spills in a family kitchen. In any cook space, it's important to protect the walls from splashes, and in a busy household you'll be grateful for a surface that's quick and easy to keep clean.
Choose easy-wipe materials, such as glazed tiles, Perspex or glass, for your splashback. In this kitchen, the designer used a durable quartz worktop that continues vertically as an upstand. The walls are then covered in a wipeable paint, with an acrylic panel behind the hob, making it easy to keep the whole area clean.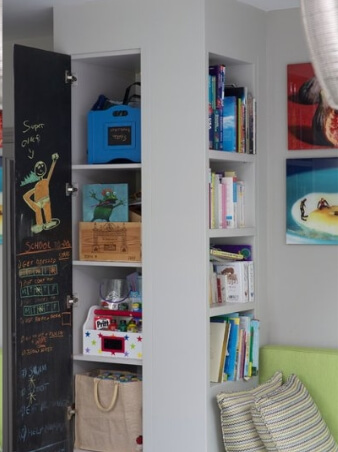 Encourage tidiness
If your children frequently bring toys, books and craft items into the kitchen, it's worth including some easy-access storage in the space. Designate a couple of low shelves or a cupboard for all those things they like to play with, and use boxes and baskets to keep small items together.
It's important to locate this somewhere the kids can access, so they can easily takes things out and, most importantly, tidy them away again.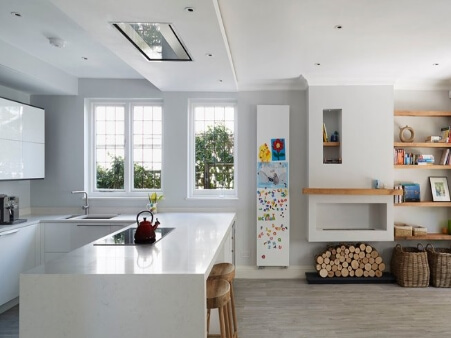 Work in a display area
For many of us, the fridge becomes the designated spot for securing artwork, certificates, photos and notices with magnets. But what if you have a low-level fridge, an integrated model, or simply not enough space to display everything?
The easy alternative is to buy a cork board or magnetic noticeboard. Or, for a sleeker look, you could cover a section of wall with magnetic paint, making it easy to stick things up – and take them down again when they've had their turn.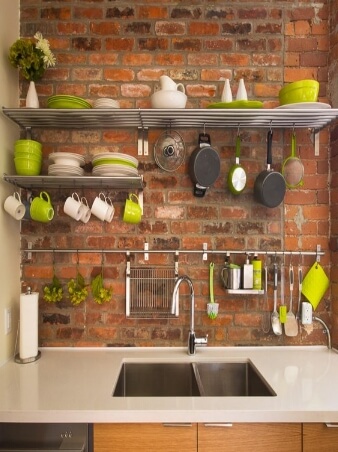 Clear the decks
To encourage your little ones to help out in the kitchen, make sure there's enough room to share the space. Of course, it helps if your room is large, but, in fact, the key is often how you design the space.
A small work surface can be made a lot more functional if you can find a way to clear the clutter. A wall storage system like this one is a great way to free up space on the worktop and make room for children and grown-ups to cook together.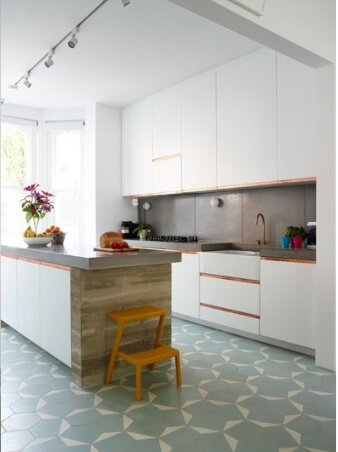 Give them a step up
When you're planning the space for family cooking, don't forget those little legs. Make it easy for a small child to gain access to the work surface by providing a boost.
If you have an island or peninsula, children can sit up on bar stools to help with food preparation. However, a versatile option for both big and small spaces is a small step stool like this one.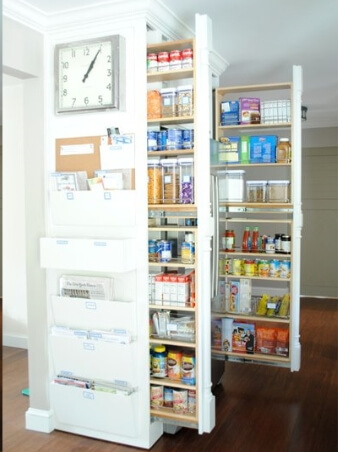 Create an organisation station
If you're finding that your worktop is less of a cooking area and more of a place to dump paperwork, you're not alone. For many of us, the kitchen is where we offload school work, post, notices and all sorts of other bits and pieces.
Cull the clutter by incorporating a useful 'command centre' in your kitchen. Hang magazine racks along the wall to use as in-trays, and include a notepad for writing shopping lists and errands. You could also incorporate a family calendar, so everyone can see the weekly schedule at a glance.