Another of our series of Blogs called "Ask the Experts" and this one is by Sarah Preece a Houzz contributor.
Metallics are definitely having their moment. From stainless steel to copper to brass, metallic finishes have been elevated to luxe status. Metallic finishes can be warm or cool, perfect for any style from quirky to sleek, and traditional. But how do you add metal without going overboard? We've got some inspiration for those who want a touch of shine in their kitchen.
Add a metallic worktop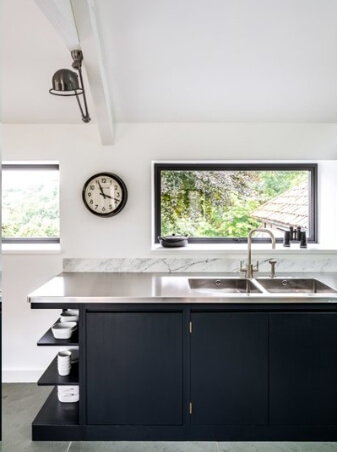 Stainless steel has recently moved from the commercial sphere into our homes. Besides its hygienic properties, stainless steel is also easy to clean and heat resistant. If you love the industrial aesthetic, adding a stainless steel worktop is an easy win. If you don't want all of your worktops to be stainless steel consider adding it just to the area where you prep your food. For most this will be around the sink but can also be added to an island. Other metallic worktop materials can include copper, brass and zinc.
Choose appliances with a metallic finish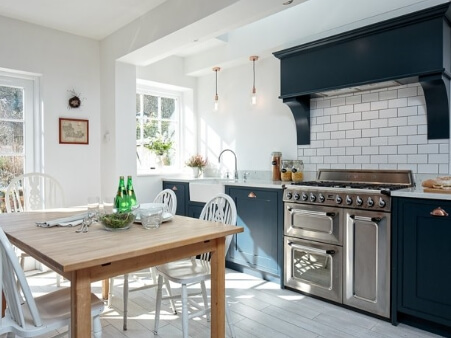 It's hard to deny the beauty of stainless steel appliances. From a range cooker, as pictured here, to refrigerators and small appliances such as kettles, metal reigns supreme. Recently copper has become an increasingly popular choice as a finish for small appliances. If you want to try this style without worrying about it dating, add a couple of copper appliances to your kitchen (or simpler still, display your copper pots, as seen below) rather than swapping everything over.


Get creative with a hanging rail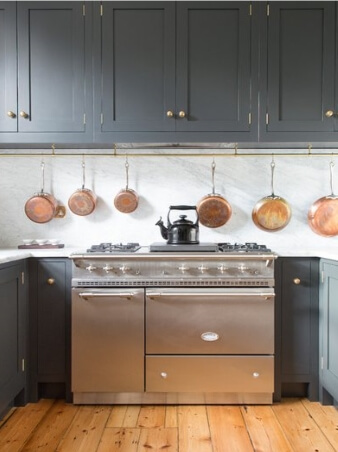 Hanging rails are not just functional they can add subtle flair to any kitchen. Normally they're a plain stainless steel – more for utility rather than style. So, why not change it up and add a metallic gold or copper rail? This adds instant interest to the space without overwhelming it. For even extra character, use it to hang some copper pots.
Upgrade your splashback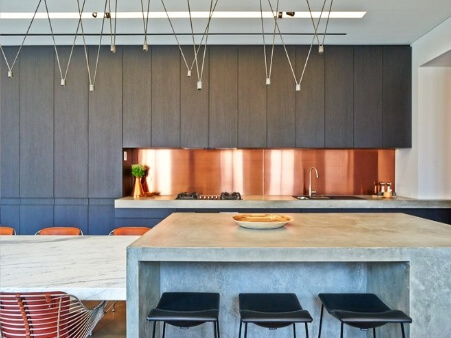 Above all else splashbacks need to be easy to clean, so why not try a copper or brass splashback? If the shine puts you off you can try textured copper (see the sink at the end for an idea of how this looks) or antiqued brass, which give a darker more lived-in aesthetic. Beware that copper and brass tend to develop a characterful patina so if you want a pristine look stainless steel is your best bet.
Insert an inlay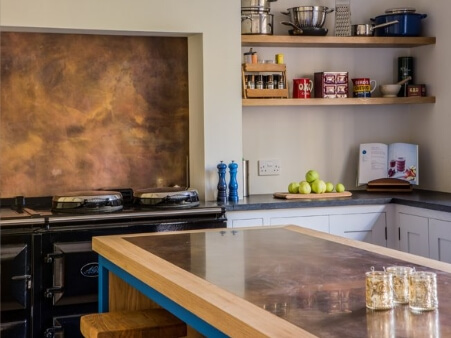 Adding a metallic inlay to your island creates a unique feature. This works on a dining room table as well and is a great way to tie the kitchen and dining room together if they are in separate spaces. As mentioned before, brass is notorious for developing a patina. But if you're not bothered about different colours this can become a great talking point in your kitchen.
Clad your cabinetry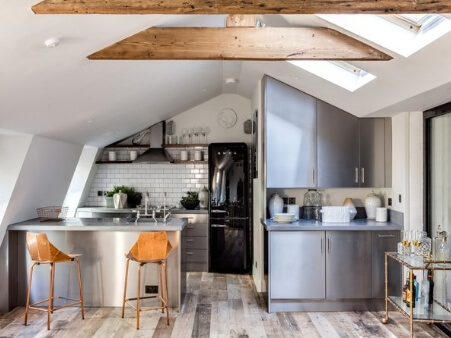 This trend isn't for the faint-hearted. Metal clad cabinetry can look stunning if done right as evidenced by this photo. The most popular choice is stainless steel as it's easy to clean and looks stunning. It's a great choice for small spaces as the reflective nature of the material allows light to bounce around. Another option is to have metal clad base cabinets and traditional wall cabinets or open shelving.
Spice up your hardware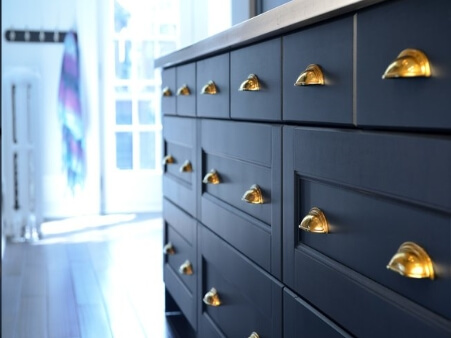 Hardware choices can take a kitchen from just nice to stunning. There are so many options for different finishes including antiqued, brushed, polished, and aged. Rather than the standard polished chrome why not try antiqued brass or bronze? This can elevate the kitchen and give it a luxe look.
Light bright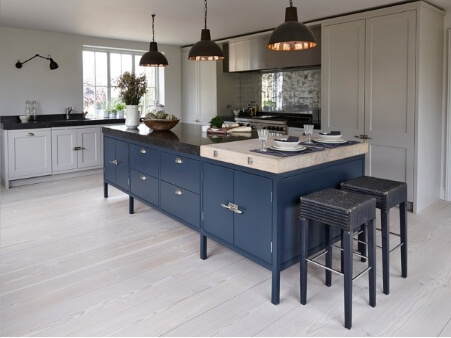 The current trend in kitchen lighting is hanging pendant lights. These are especially popular over an island or breakfast bar. Copper hanging pendant lights are everywhere at the moment but the trend might be too much for some people. For those who want a more understated look, consider a pendant light that has a matt outside but a metallic inside. It's an unexpected detail that will add a bit of shine to the kitchen.
Tap out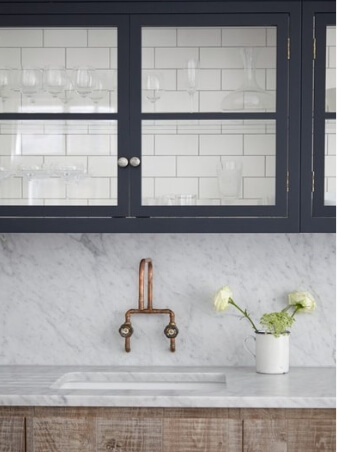 Unique tap finishes are on the rise, watch out stainless steel! If your kitchen has a muted palette throughout, one way to add some interest is with a gorgeous tap. Use copper if you want to create warmth, and brass or bronze for an industrial look. If you are an experienced DIY-er you can buy copper piping and make your own tap for a rustic feature, as seen here.
Sink into it

We have all seen stainless steel sinks but what's growing in popularity is textured metallic sinks. As pictured here, a textured sink automatically becomes the focal point of the kitchen. If you want to try this look pair it with neutral colours so it can really shine. Make sure that you don't use too many other competing textures.