Whatever the size of your bathroom – or budget – we will help you plan the bathroom you've always dreamt of, here we discuss;
Bathroom décor ideas, Inclusive bathroom adaptations, Bathroom colour ideas, Bathroom paint, Bathroom wallpaper, Bathroom wall panels and cladding, Bathroom flooring and tiles, Bathroom design inspiration.
Your bathroom or shower room needs to be functional and practical, but good design can also turn it into a haven where you can relax and unwind.
See how to strike the right balance and find out the average cost of a new bathroom.
Whether your bathroom is spacious or bijoux, you'll want to get the best for your money. We will give you all the guidance you will need during the planning process.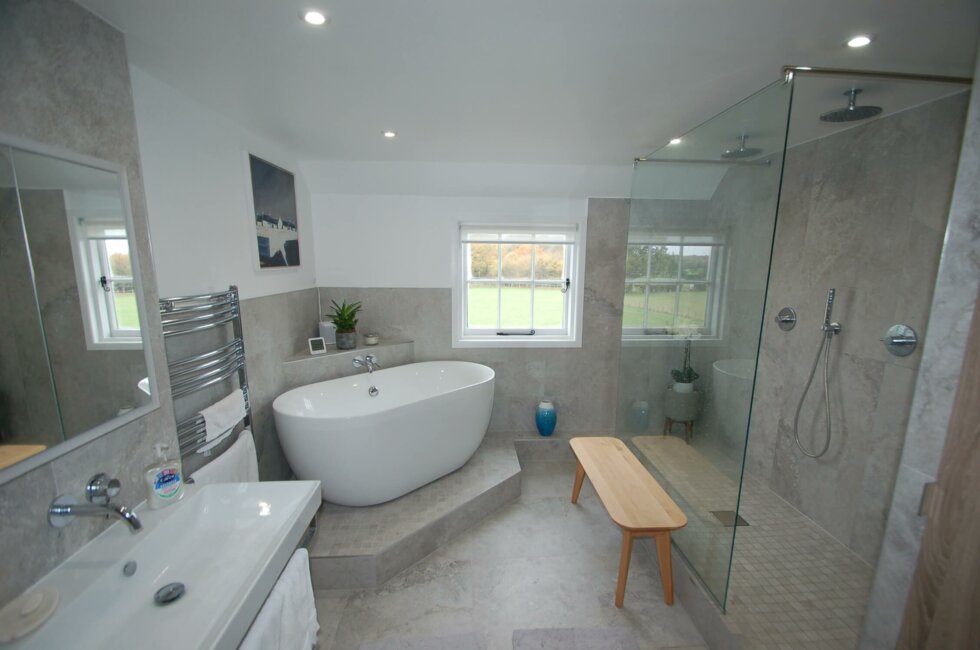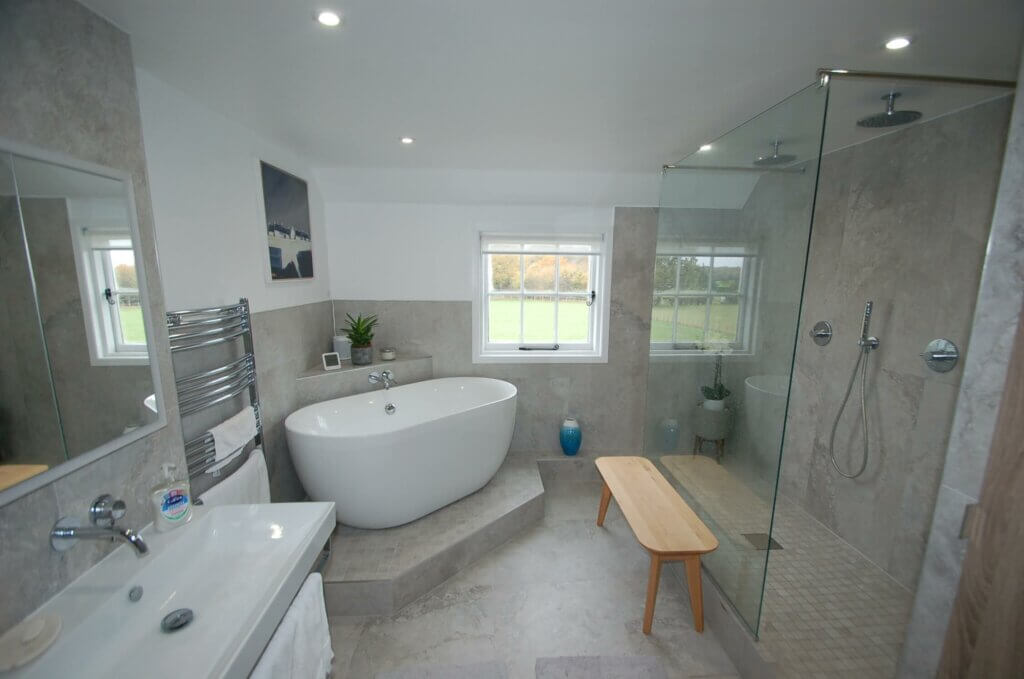 Bathroom décor ideas
Bathrooms come in all shapes and sizes, as do the budgets to create them. Whether you're putting together an en suite from scratch, or revamping a wet room, first and foremost think about who will use the bathroom and how, as this will affect how you design it.
Choosing between a bath or a shower can often be the toughest decision in bathroom design as the shower or bath is the focal point of the whole room. We're seeing wetrooms becoming increasingly popular, as property owners shower more and want facilities that will suit all generations. Showering is part of our daily routines, whereas baths are increasingly seen as a luxury, associated with relaxation and indulgence.
When designing a new bathroom, most people want to create the illusion of space. Wall hung products with hidden pipework, additional storage and sleek design also create a minimalist, elegant look.
If you have an en suite bathroom, here are some ways you can make the most of a small space:
If a bath would be too big for the room, shower enclosures come in a range of sizes. If even that will be a squeeze, a wet room might be a good option.
Storage is particularly important in a small en suite as you'll want to make use of every inch of space. A vanity unit wrapped around a sink and toilet could make use of otherwise dead space.
Use walls for storage, such as shelves with baskets, or rails and hooks.
Lighting is key in a smaller and potentially darker space. Look into different options, such as lights around a mirror or multiple wall or ceiling lights.
Think about ventilation, especially given en suites open directly onto bedrooms, to avoid damp. If you have windows, open them regularly; consider adding an extractor fan or window vent.
Large and luxury bathrooms, if you're lucky enough to have masses of space, and you want to add a luxurious feel to your bathroom, these tips will help you create a spa-like feel:
Consider getting a freestanding bath for a luxurious feel, with storage for candles and reading material close to hand.
If you prefer to shower, opt for a super-sized shower cubicle separate to your bath. There's also a huge choice of multiple-option showers and shower heads on the market.
Adding a double basin, if you're a couple sharing a bathroom.
If adding a chaise lounge or seating area, make sure you think about the practicality of the fabrics/materials you opt for.
Opt for high-end tiles – for the walls and floor – and splashbacks. Feature areas and zones with small collections of tiles, rather than covering the entire room, can keep costs down.
Accessories are relatively inexpensive and the can lift a plain or basic bathroom up to luxury standards. Touches of gold, such as a mirror, soap dish or taps, add instant luxury.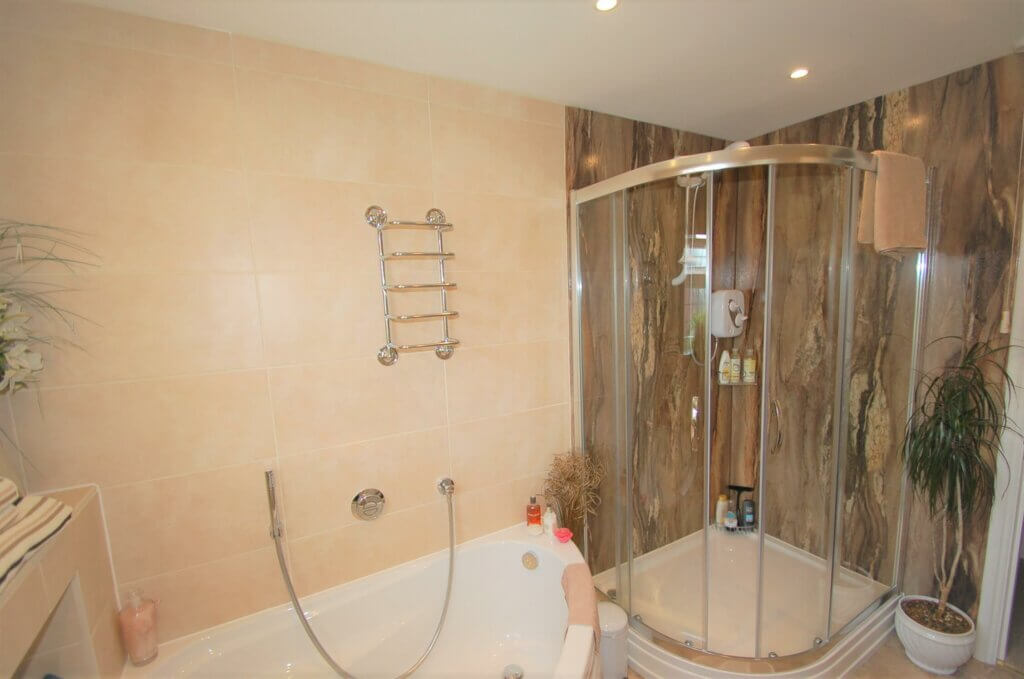 Modern bathrooms, if your style is more modern, there are lots of contemporary bathroom ideas that will help you to create the look without it becoming clichéd. White and light greys are obvious choices for a modern bathroom. But think about using different shades of both (you would be surprised at how many whites there are) to stop it seeming clinical or stereotypically modern.
Make use of fixtures by choosing distinctive designs that will stand out. For example, opt for a radiator that almost doubles up as a piece of art.
Adding in and mixing different materials – particularly metals, woods and concrete – will create interest and stop anything from being overpowering.
To ensure your bathroom doesn't feel cold, use textures, such as exposed brick and rugs or bath mats.
Modern doesn't necessarily have to mean a muted palette. Dark colours and deep shades are particularly luxurious, and pops of bright colours will add impact. Be bold and paint the entire room, or choose specific areas to draw the eye, such as the wall where the bath sits
A bold floor pattern that is crisp and clean will give your bathroom the contemporary edge.
Stand-out taps will add the wow-factor. For example, consider a waterfall tap for your sink, depending on the limescale in your water, or different finishes for a distinctive look.
Traditional bathrooms, if a classic look is more your thing, there are some simple and more extensive things you can do to bring a traditional feel to your bathroom.
Wood panelling can create a traditional look instantly. Consider flooring that harks back to bygone eras, such as patterned or black and white tiles. Classic colours, such as sage green, rich purple and deep grey, can create a traditional feel. Find decorative fixtures and fittings, such as cross-head taps, metalwork toilet roll holders, a roll-top bath and a high-level toilet where the cistern sits up above the toilet.
Bathroom suites with exposed pipework are reminiscent of the Victorian era and will add instant old-style glamour to your bathroom. Add touches of silver, brass or gold to create a sumptuous feel .
Shaker furniture will make your bathroom feel classic. Add mouldings around your bathroom ceiling, door and window frames and around a chandelier if that's an option, depending on its suitability.
Consider shutters or patterned blinds, and even sash windows, if you can.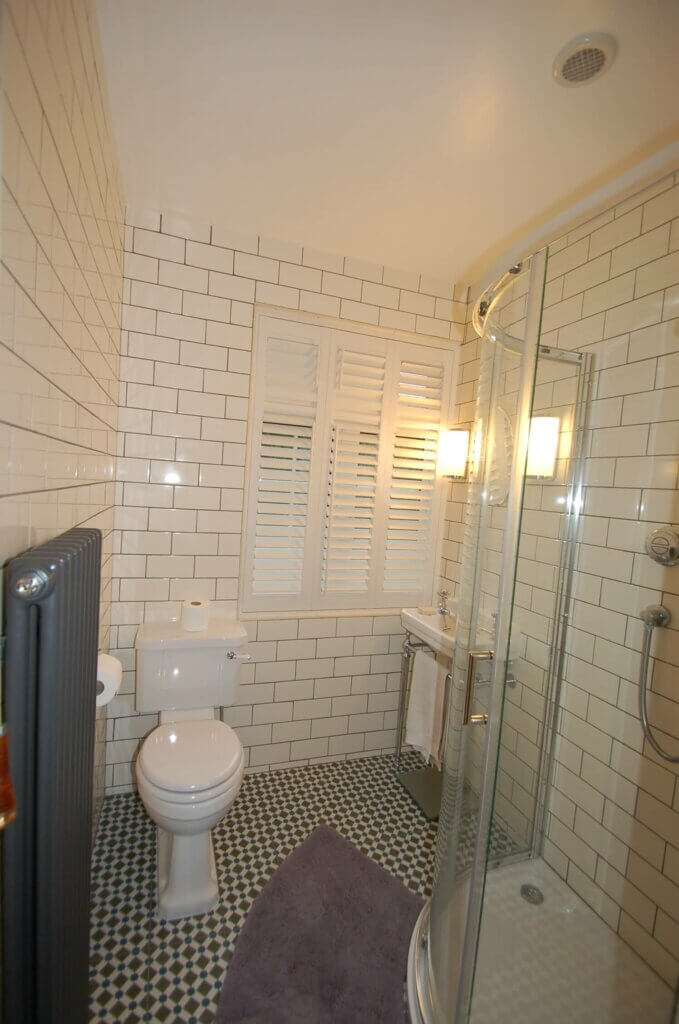 Family bathrooms
If you're planning on renovating your family bathroom there are multiple things you'll need to factor in:
1. Storage and layout
How do you want to use your bathroom? Think about what tasks you'll have to do, such as drying or changing your child. This will help determine the layout.
Lots of storage space is essential to keep a bathroom tidy and organised. What will you need to store? Toys, kids' toiletries, changing mats etc? How often will you need each item and therefore where will it need to be stored for easy access?
If children might need steps up to the sink, bath or toilet, think about what space you have for these when in and out of use. The same goes for potty and toilet-training equipment.
2. Cleaning
There's no getting round it – children make a mess. Going for options that are simple to clean will make your life easier. Steer away from an all-white bathroom and include patterns and deeper colours.
If you're painting your bathroom, choose paint that's easy to wipe clean as well as being generally bathroom-friendly. The same goes for tiles; textures, for example, can make cleaning trickier.
3. Safety
Think about safety – choose non-slip flooring and/or use mats, consider curvy designs instead of harsh corners and make sure there is room for you to move around safely
If you have a blind, make sure it's a child-friendly one, as pull cords can be dangerous for small children
Electrical shaver power points should be out of reach of young children
A pull-cord light is advisable so that light switches don't get touched by wet fingers. Think about the length of this – will you want your child to be able to turn the light on and off themselves when they're old enough to use the bathroom on their own?
Think about the positioning of other items, such as mirrors, to ensure children can reach what they need to and can't access anything shouldn't be able to.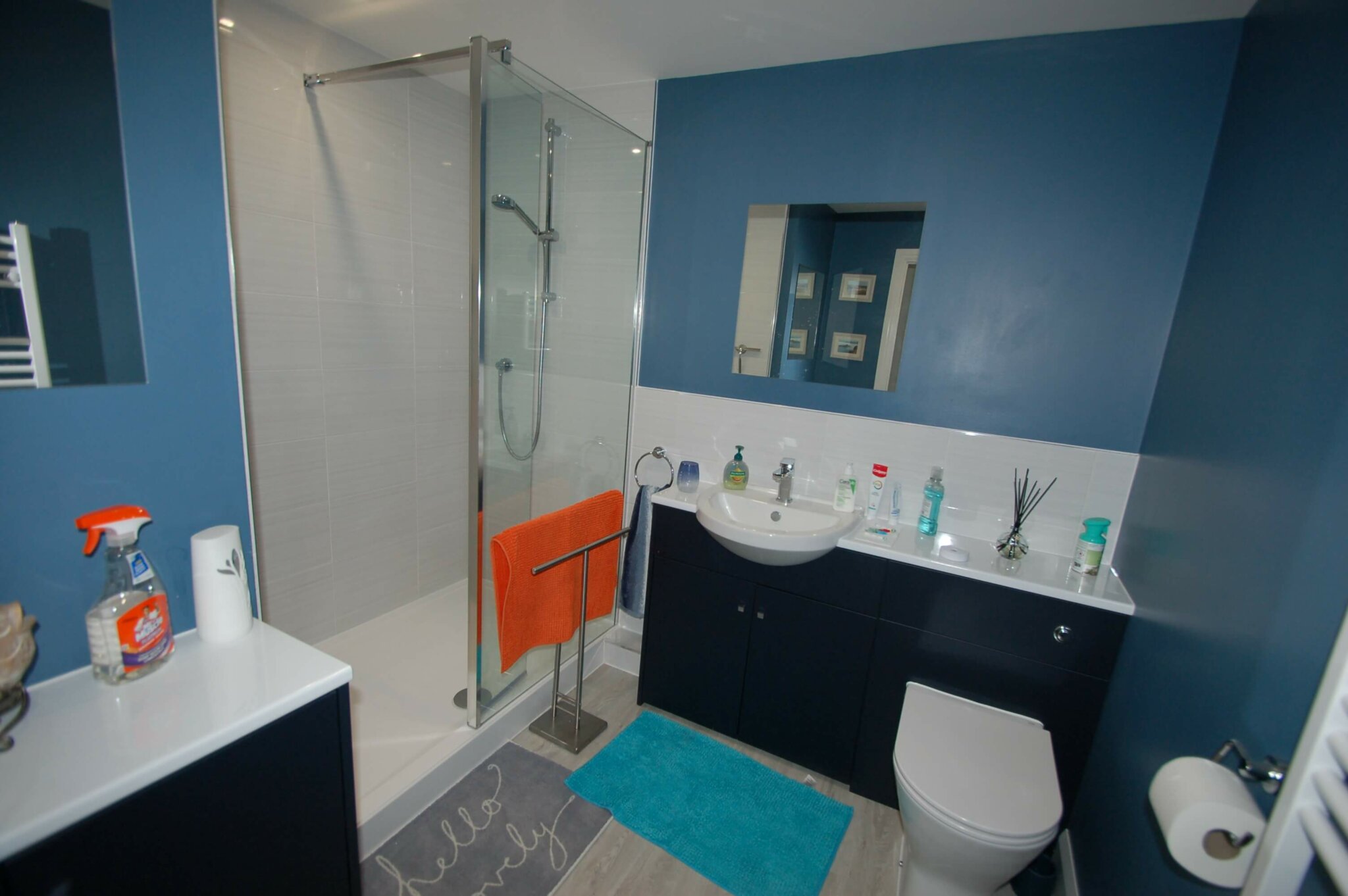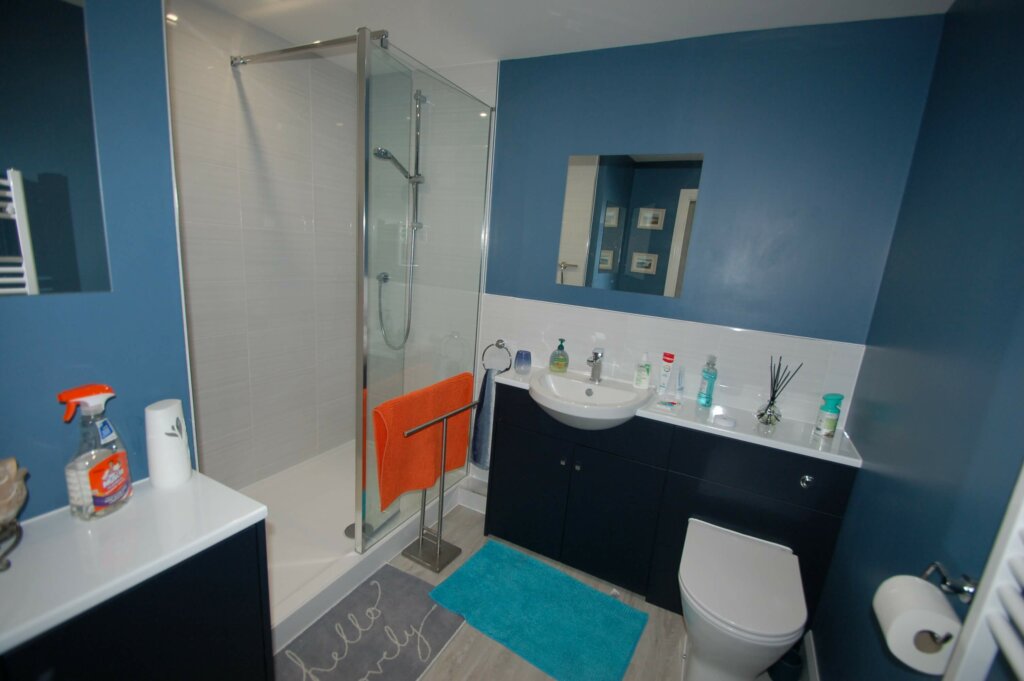 Inclusive bathroom adaptations
Bathrooms adaptions can help make life easier for anyone who is elderly, disabled or has reduced mobility, who will be using the bathroom. Inclusive bathroom products are a key consideration for both consumers and manufacturers, as some time in our lives, chances are we'll need a little support in the bathroom. Conventional taps and shower controls can be replaced with lever-operated controls for ease of use, along with remotely operated thermostatic control to decrease the risk of scalding. For those with a visual impairment, shower controls with touch buttons, tactile coding or illuminated controls are available. Manufacturers are creating bathroom products that are beautiful and functional, ensuring the bathroom meets the needs of all the family, regardless of age or ability.
Other bathroom adaptations to consider are body driers, long-handled washing aids and wall mounted soap dispensers.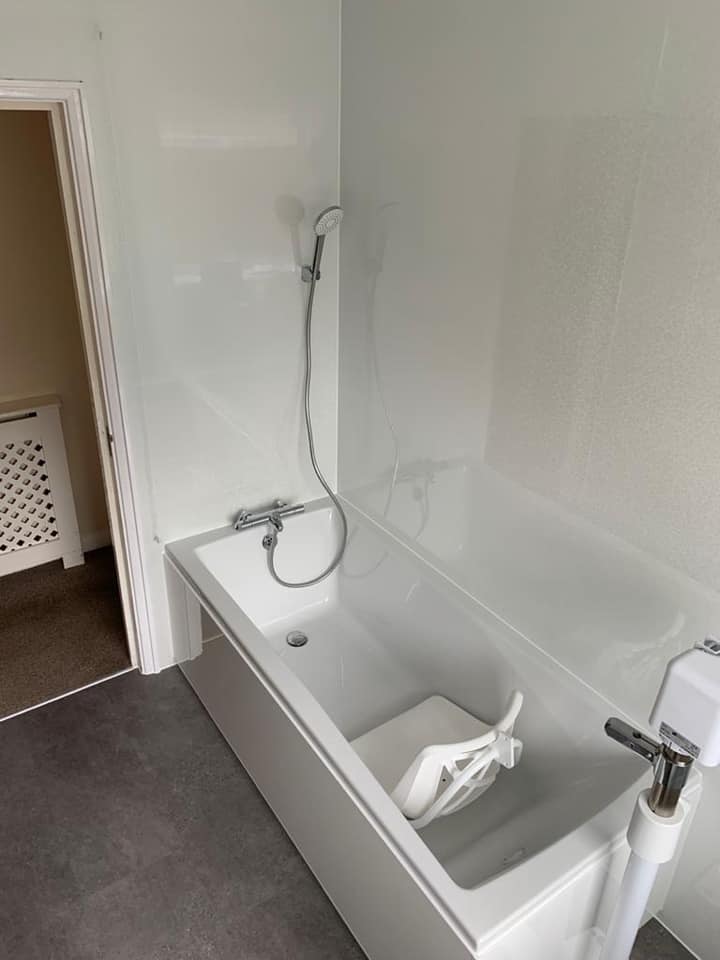 Bathroom colour ideas
There are no fixed rules for colours in a bathroom, bold or muted it is down to your personal taste.
Don't assume that adding colour to a bathroom means buying a pot of paint. You can evoke the colour you want with furniture, tiles, the suite or any other material.
Colour also doesn't always have to mean punchy hues: greys, soft pastels and even black can be just as eye-catching.
Tiles and vinyl flooring are an easy way to create a black and white bathroom. For an all-black look, a mixture of tiles and paint to add drama.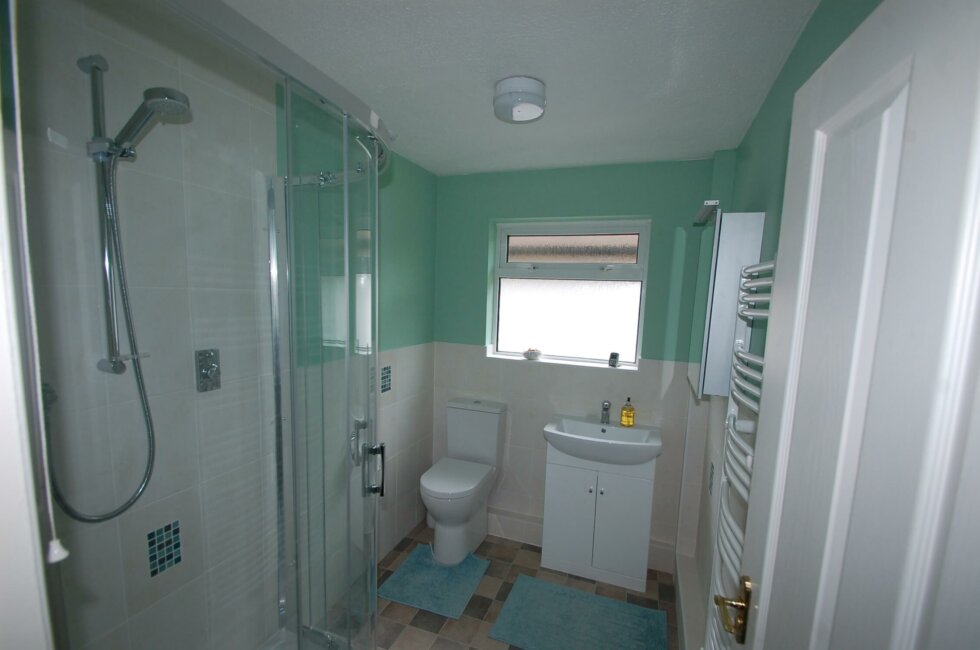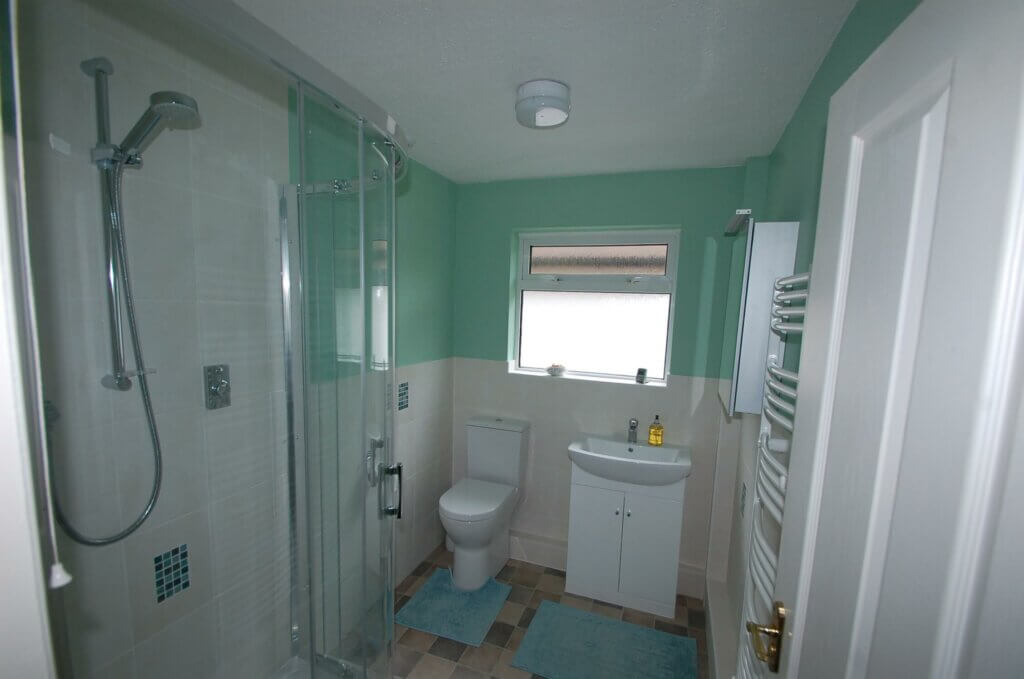 Bathroom paint ideas
Rather than painting a wall in the typical way, you could play with effects for example stippling/textured using a sponge, rag, end of a brush or roughed-up roller, for a unique look each time.
Ombre – where the colour goes from deep to light
Wood-effect – there are specialist tools that can create this look
Splashed – a fun but messy option
Mosaic/patchwork – using blocks of different colours
Patterned – using masking tape to make all manner of designs
Stencilling – there are a huge range of options available, or you could create your own.
Bathroom paint
Paint is a simple and cheap way to create the mood you want in your bathroom. But you'll need to make sure you get the right kind of paint. First and foremost, it needs to be moisture and steam resistant. Also useful is the ability for it to stop mould and mildew growth. Many paints claim to do this, but some list guarantees and the length of time this will last for – the longer the better.
It also needs to be durable and wipe clean, especially if you have children. If the paint is also said to be grease and stain proof, it should help minimise any lasting damage from wear and tear.
If you don't like the look of any anti-mould paints – or have been put off by the usually higher cost – a semi-gloss or high-gloss paint is a good alternative as these will still repel moisture and enable you to wipe away any mould that appears. However, these paints tend to be more suited to small areas, such as window and door frames, as opposed to entire walls.
You could also try an acrylic eggshell or satin paint, but these are better suited to low-moisture bathrooms and should only be used in low-traffic areas.
Other things to watch out for are drying times so that you're aware of how long it will take for your bathroom to be usable.
How much coverage a tin will give you: consider whether you'll need more than one coat, say to cover something up or ensure a colour is rich.
It's best not to use paint with high levels of VOC if you have children, pets or can't ventilate the room well.
Check whether you will need to use a primer beforehand or whether you can paint straight onto the surface, once it's clean.
Bathroom ceiling paint
Because heat rises, your bathroom ceiling is the greatest hotspot for mould in your bathroom, particularly if it is on the top floor and the ceiling isn't well insulated.
The same rules apply as with bathroom wall paint, but we'd highly recommend opting for an anti-mould paint with fungicide in it as opposed to trying one of the other types of paint, such as satin or gloss. Lastly, remember that, like all other areas of the bathroom, there's no reason why you can't get creative too and see your ceiling as another canvas to paint.
Most mould-resistant paints are brilliant white, but you can find off-whites or even shades of grey. You could also consider using a high-gloss coloured paint on top of a specialist one, although it would be best to go for a dark colour to more easily hide any mildew growth that appears.
Bathroom wallpaper
Bathroom wallpaper with a white background and different shapes of colour on a bathroom wall with two pink sinks and a pale green bathroom vanity unit
Wallpaper in a bathroom might seem like a bonkers idea, but there is a huge range of bathroom wallpapers that will take your bathroom from standard to stunning.
In addition, wallpaper is a great way to cover up uneven surfaces or unsightly marks that paint would simply highlight. It's also often cheaper than tiles.
But you need to get the right wallpaper, one that will withstand the moisture in your bathroom. Don't even contemplate using a general wallpaper: it needs to be a bathroom-specific one, ideally with a thick vinyl coating. This will stop it from absorbing moisture and make it wipe able.
However, as good as bathroom wallpapers can be, don't use it anywhere it will get splashed regularly, such as around a sink or shower. Instead, use it on a feature wall or on the upper part of the wall around the room. Again, if you're feeling brave, there is no reason why you can't go bold with the design you choose. Just remember that it's a small space, so some patterns might not work as they would in the average-sized room. Bathroom wallpapers are usually around 50cm wide by 10 metres long. Before hanging it, make sure your bathroom has been aired fully and is dry, otherwise you may have problems with peeling from the get-go.
Otherwise, bathroom wallpapers can be hung in the same way as any other wallpaper using the right glue (it differs depending on what the wallpaper is made of), a brush, wallpaper table and good blade knife. Make sure you check how much glue to apply, as this varies too.
Bathroom wall panels and cladding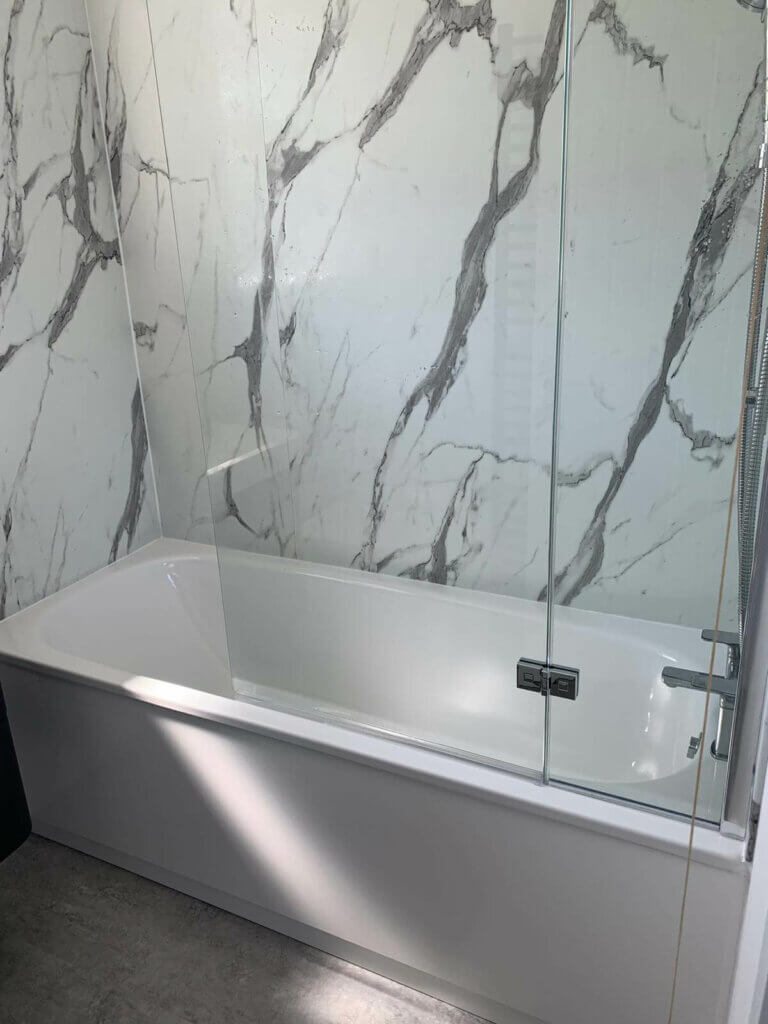 Bathroom wall panels or cladding can add a traditional feel to your bathroom. That is if you go for raised wooden mouldings.
But wall panels aren't limited to this style. You can have flat wall panels mimicking almost anything: metal, stone, concrete or all types of wood.
They're a great alternative to tiles, wallpaper or paint and can add the wow-factor to your bathroom in a unique way. You can use them in a dedicated area, around the room on the lower part or across all walls, floor-to-ceiling.
Because of their size they can be cheaper than tiles once you include the labour, depending on what sort of panels you purchase. You also won't have issues with grout discolouring.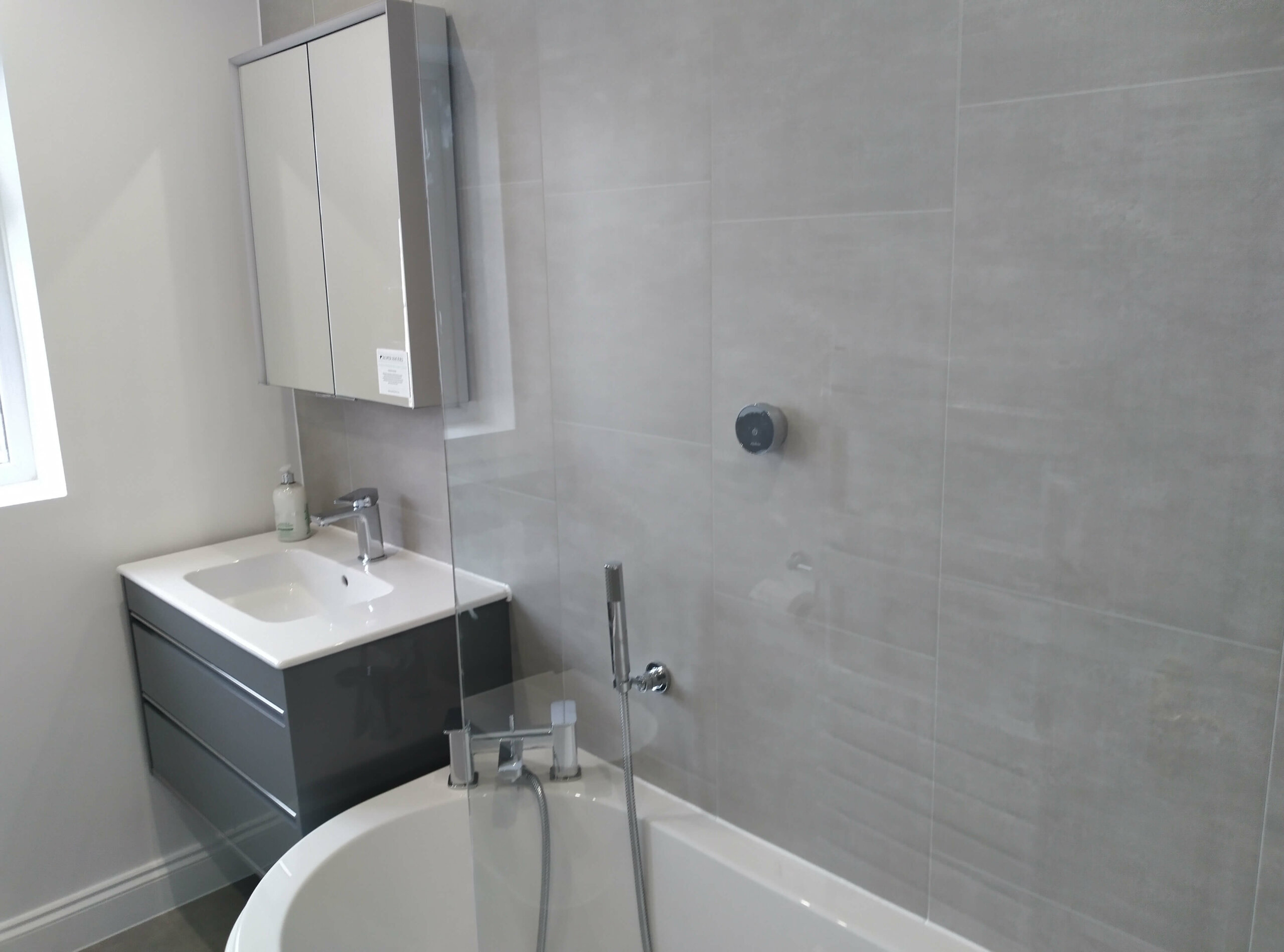 Make sure you choose ones that are waterproof having been treated to withstand the conditions in your bathroom, and check where they'll be suitable – not all will be OK around your shower or sink, for example.
If you do favour traditional T & G wood panelling but would like to update it, painting it in an up-to-date colour, matching it with contemporary furniture and suites and accessorising in the right way will bring them into the 21st century.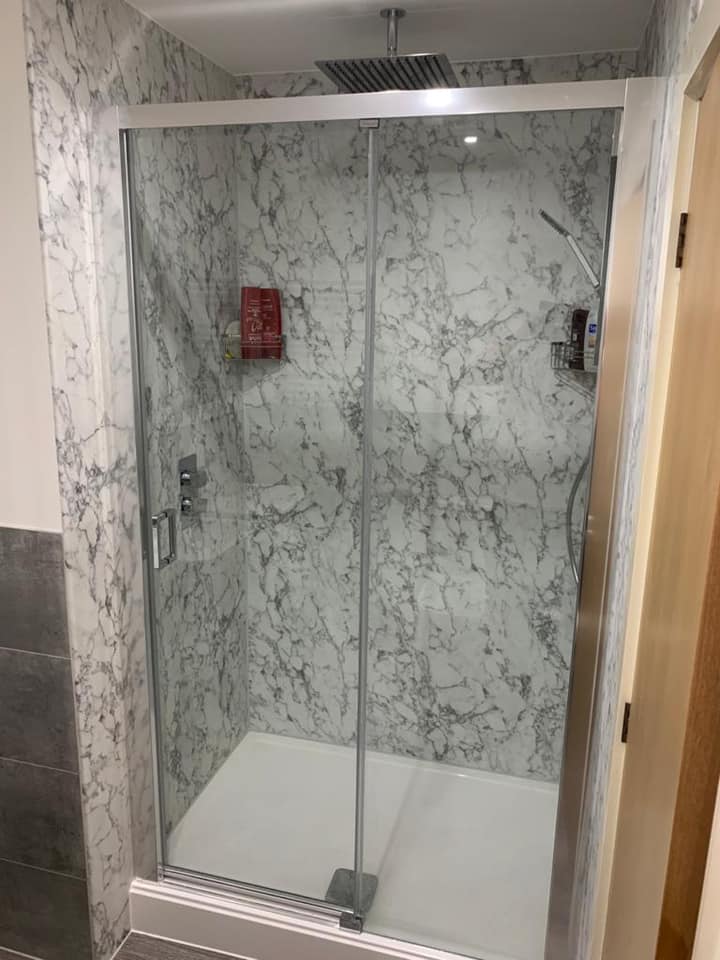 Bathroom flooring and tiles
Choosing the right flooring and/or tiles for your bathroom can be one of the most important things to consider when planning a bathroom.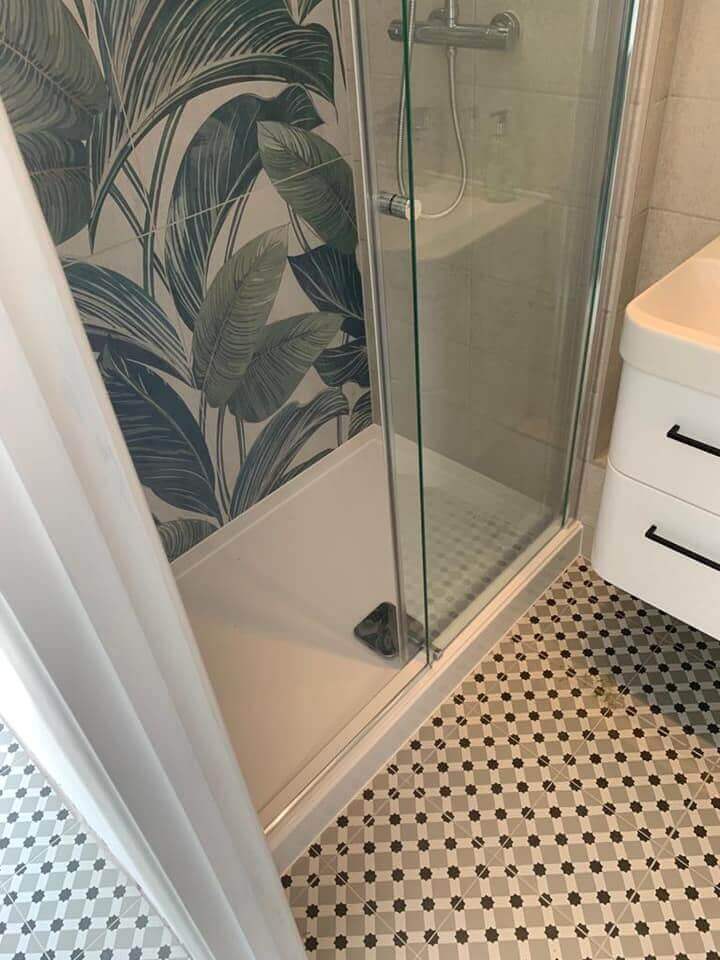 Bathroom flooring ideas
You can use pretty much anything for your bathroom floor as long as it's waterproof and won't get too slippery when wet.
These days, most people choose tiles (ceramic, porcelain, natural stone or granite), sheeted, Luxury Vinyl tile or stick down vinyl or wood-effect laminate (Not so good in a wet area as rarely waterproof).
For an ultra-modern and very practical effect, you could even use concrete.
It's also possible to have a hardwood floor, but you'll need to treat it and make sure you don't leave it wet. Another popular alternative is wood-effect porcelain tiles.
Underfloor heating adds a really cosy touch – as well as helping to dry the bathroom, and prevent damp and mould from forming – if you have hard floors.
Bathroom tile ideas
Tiles on the walls around the shower or bath should be added after these fixtures are fitted. You can get the same tiles for your bathroom walls and floor if you want a streamlined look.
Options for wall-tile types include glass, porcelain, ceramic or natural stone. There are matt or gloss tiles in all shapes and sizes; mosaic tiles can add a bit of glitz to small areas, while large tiles can make a space-limited bathroom feel larger.
Natural stone tiles are very expensive to install (on walls or floors) and can be difficult to look after. Ceramic & Porcelain tiles that imitate stone are less expensive.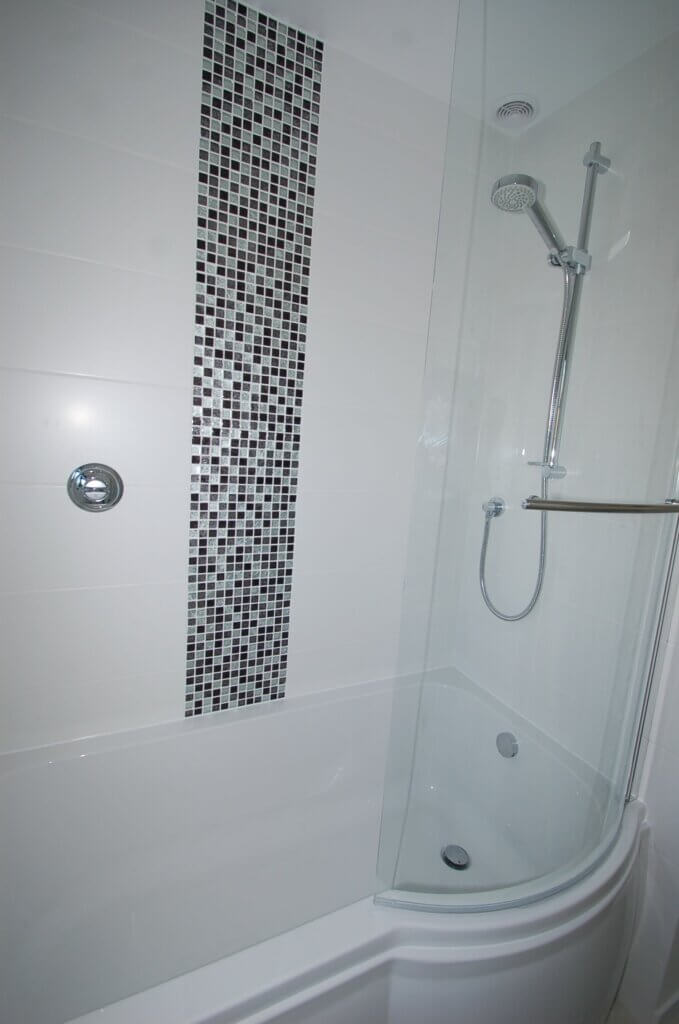 Tiles can also be used to make a statement. Bold colours, different finishes and interesting shapes can have a big impact. You don't have to splash out on the whole room if statement tiles are pricey. Consider using them just around a shower, or in a strip running through cheaper plain white tiles, to keep costs down. Tiling your bathroom, rather than leaving large areas painted, can make it easier to clean. Plus, tiles are less likely to develop mould or damp. Make sure you use an moisture resistant tile grout.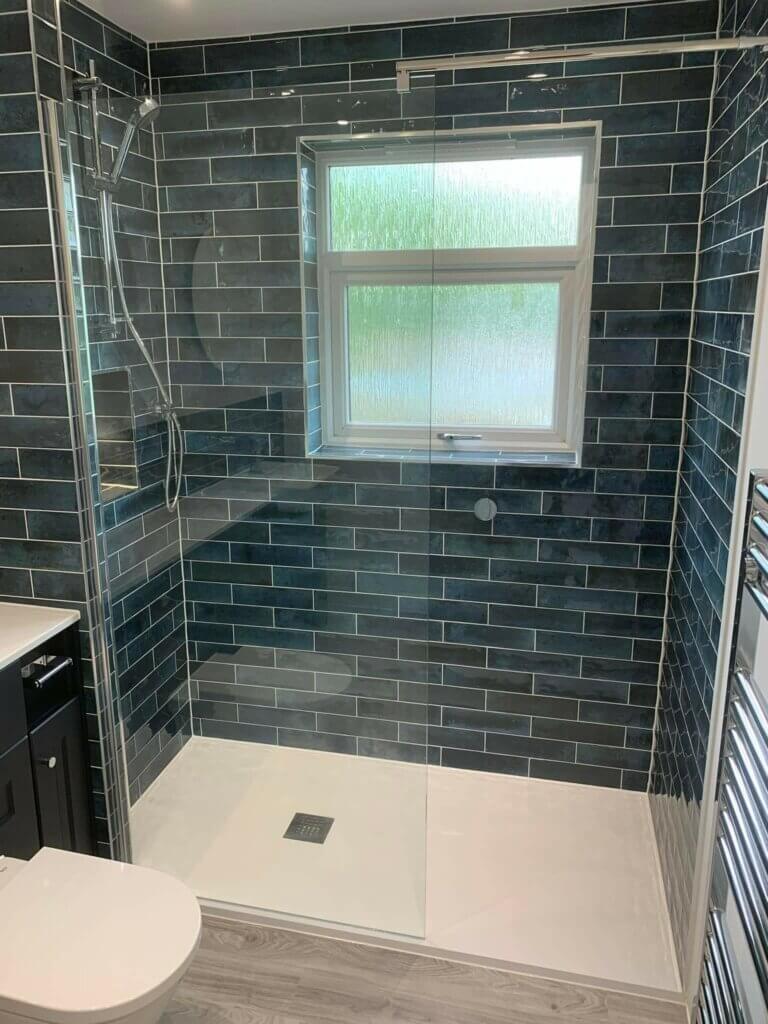 Bathroom Design inspiration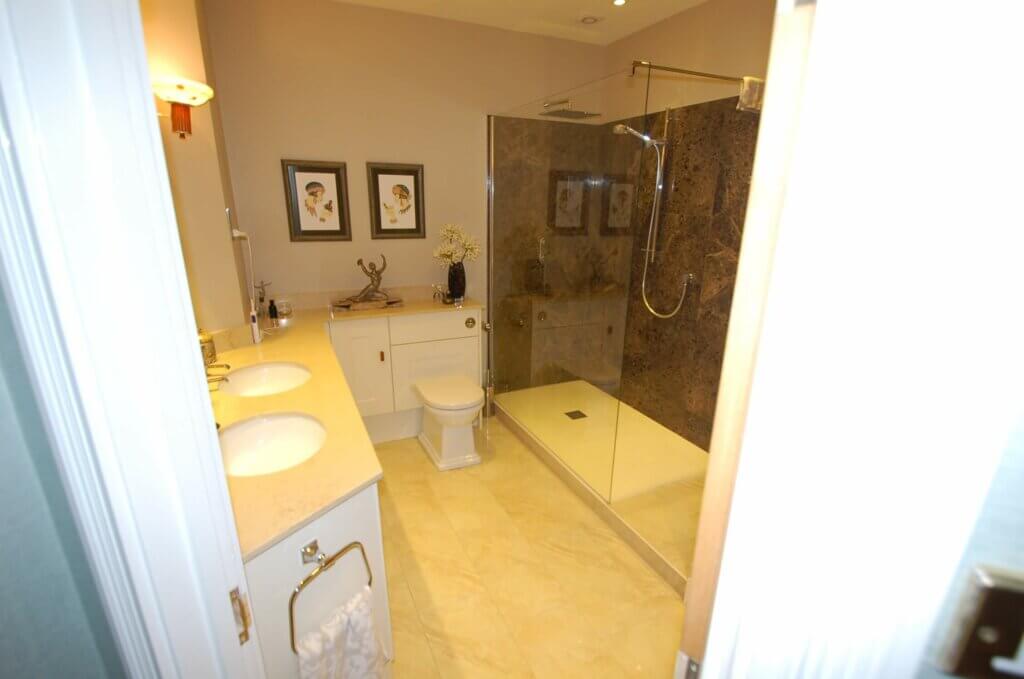 Be bold with your design
Don't shy away from bold colours and designs. Gold and black are a perfect combination for a glamorous and eye-popping look. For maximum impact, how about a coloured bath or suite?
Use colour to create an atmosphere, colour can evoke a desired feeling in your bathroom – blue tones, for example, can create a sense of calm. Use coloured tiles, paint or accessories to accentuate a feature or create zones. Add wood for warmth and texture, different woods can add texture and pattern to a minimal bathroom, creating the feeling of warmth. Consider using wood on a variety of surfaces, from countertops to flooring, or even walls. Just make sure it's treated and suitable for a bathroom. Play with shapes and patterns, combine patterns and shapes to create a striking look. Using one similar shape on a range of features will be particularly effective. A mirror in a different form will bring a focus to the idea and add another dimension.
Marry different textures, materials and patterns can form an intriguing yet still cohesive look if you stick to a small palette of similar tones to avoid overloading the look. Freestanding furniture and open shelving will also create a clean and modern feel.
Make a statement with lighting. Don't forget lighting – hanging pendant lights will take a bathroom from standard to stunning. They can also be a good way to create a focal point.
Bring the outdoors in, plants can be calming and add a luscious feel to your bathroom. Teamed with textured walls and wooden furniture, your bathroom will echo the rustic outdoors. Consider adding a statement too with a coloured bath.