These common kitchen design mistakes offer food for thought if you're wondering why your cook space isn't serving you well…
If you're looking to cook up a storm, avoid these kitchen design mistakes. After all, your kitchen isn't just a place to make or heat food. As we spend more time in our homes, it's a place to create gastronomical theatre, shake up your hosting with a few handcrafted cocktails, and let guests pour from the living room to the dinner prep space.
While most spaces are designed with the family and purpose in mind, even your most well-thought-out kitchen ideas may be working against you. Not only that, they could even pose a health and safety risk to your loved ones too.
We're all for letting your creative juices flow, and adding a bit of spice to this room, but when these plans don't function, your vision could turn sour. However, there's no need to feel salty, these common kitchen design mistakes are made by many. Thankfully, after over 35 years designing kitchens I can share the recipe for success.
1. FILLING ALL THE AVAILABLE SPACE WITH CABINETS
In an attempt to maximize storage, you fill every wall with cabinets, high and low, in one colour. For uniformity right? What you have just done, is essentially created a new wall, cabinet's depth from the perimeter.
A sure-fire way to make your kitchen feel smaller and claustrophobic is by having too many wall units; especially if you have a smaller kitchen.
If you don't have a larger space or taller ceilings, focus more on the bottom units and make sure to add a variety as too many cupboards can sometimes look busy. Mix up cupboards and drawers depending on your lifestyle and storage preference, it'll make a world of a difference to the overall look of your kitchen.
Rather than throw shade at uniform units, it would be better to find a good example of subtle variation. This Kitchen from the Caledonia range features nature-inspired texture on some of the base the cupboards and a contrasting colour and texture on the tall units, with open storage to showcase your prized possessions gives it a glam, gallery-like feel. Add some warm LED strip lights under the wall units to highlight items of particular interest.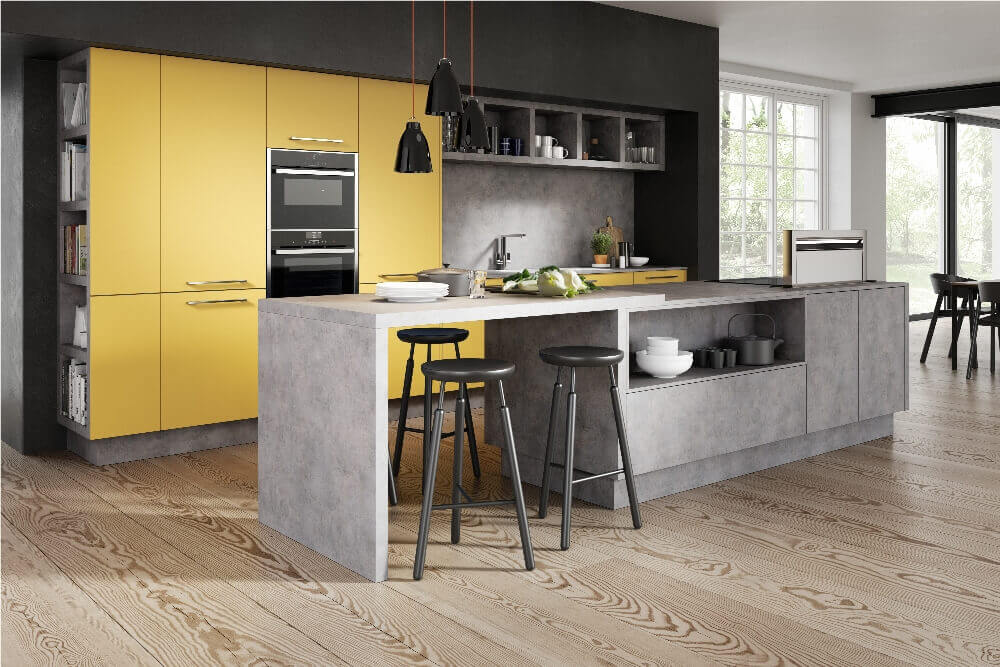 2. YOUR KITCHEN IS STYLE OVER SUBSTANCE
We all love spotting trends on Pinterest and Instagram. But while social media has become a platform for design where we can all dream and make up our mood boards, there is far too much out there any many designs are not attainable and you can end up with a sensory overload.
Sometimes you need to consider function over form.
Incorporating too many kitchen trends can overwhelm your space, and be counterproductive to your cooking, cleaning, and prep needs. Be real about the size of your space and your own family's requirements. Most influential figures have idyllic setups, not to mention professional help, like a cleaner, nanny, or in-house chef. Every high-maintenance fixture, finish and surface is probably wiped down 20 times a day. Do you have time for that?
One of the worst things you can do when designing a kitchen is focusing solely on what it will look like rather than taking into consideration your lifestyle and functionality of the space, but you will come to resent it once you start to find problems in how you work in it. Consider things like workflow, is the sink a little too far away from your kitchen bin? Is there enough counter space and kitchen storage? Have I chosen a kitchen worktop material that will stain easily and does this suit my lifestyle? Is there enough ventilation?
Do you tend to splash about at the sink, is a wooden worktop realistic? These may seem more boring than choosing a kitchen colour scheme and handles but are very important in the design process.
Don't make big decisions based on fleeting kitchen trends and other people's opinions! The best way to go about designing your kitchen is by following your gut feeling. If you don't love it, it's not for you!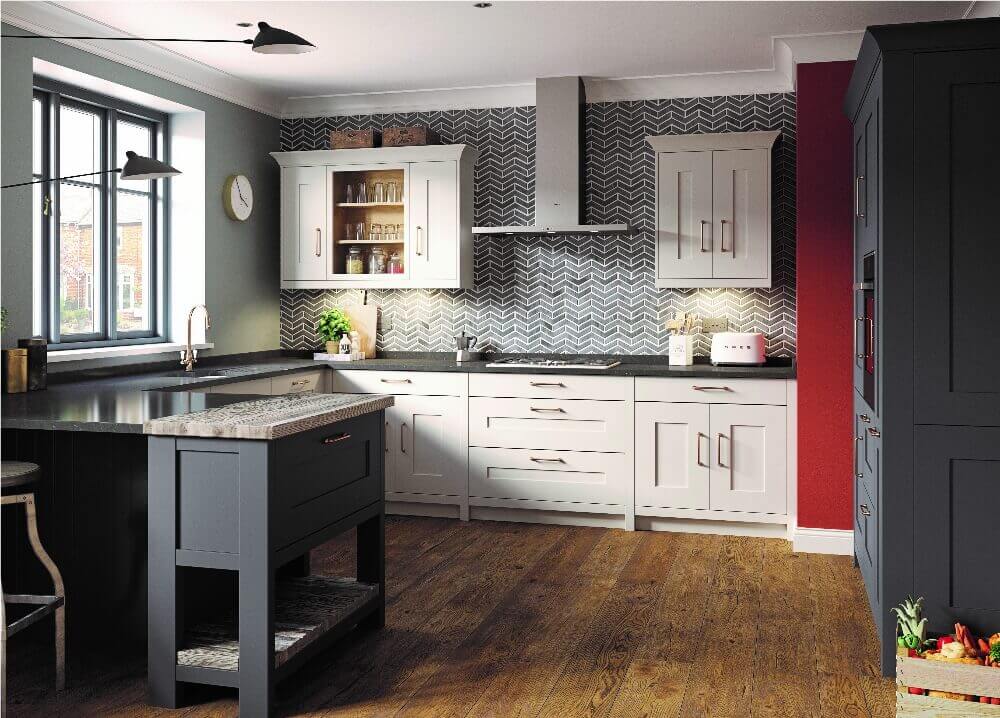 3. YOU'RE LACKING AMPLE LIGHT
Getting the light right is so important in your cook space. If your kitchen also spills out into a dining area, or your guests enjoy sitting on your bar stools while watching you cook, bad lighting can ruin the ambiance. As well as positioning, consider the warmth of your lit areas, and how this will make your home feel. Low-level 'yellow' bulbs are an easy way to create an intimate atmosphere ideal for date night.
Lighting is so important when it comes to any space and variation is key! Too many or all spotlights may be a little too bright and solely under unit light strips or lamps won't provide you with enough light to cook safely in, a few different kitchen lighting ideas keep things interesting and are suitable for different times of day and moods!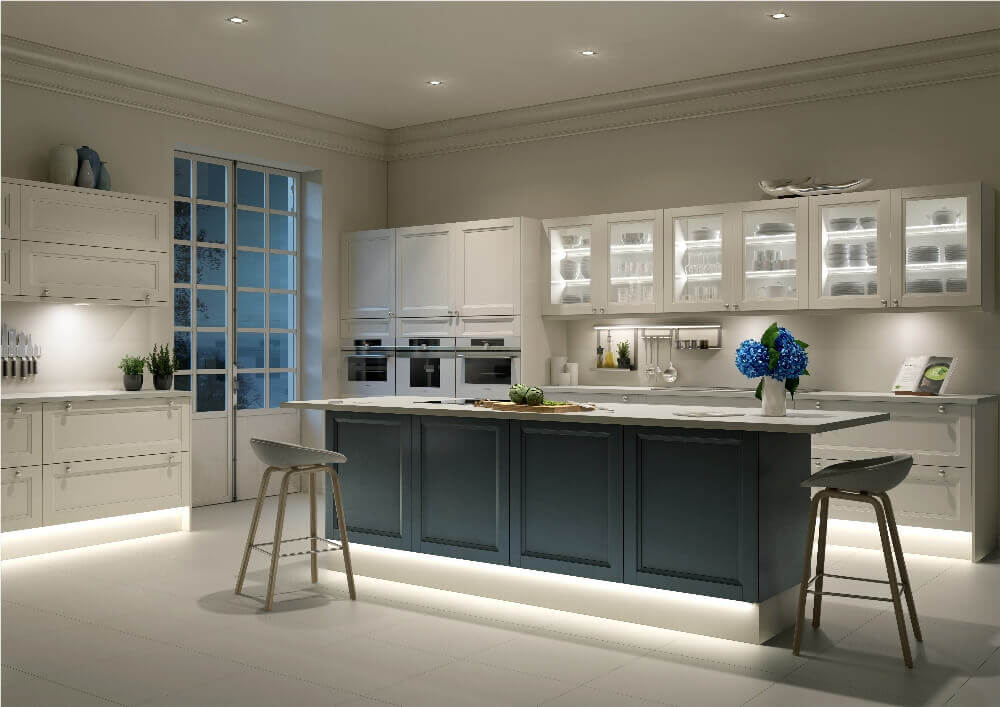 4. YOUR ISLAND HAS NOTHING HANGING OVER IT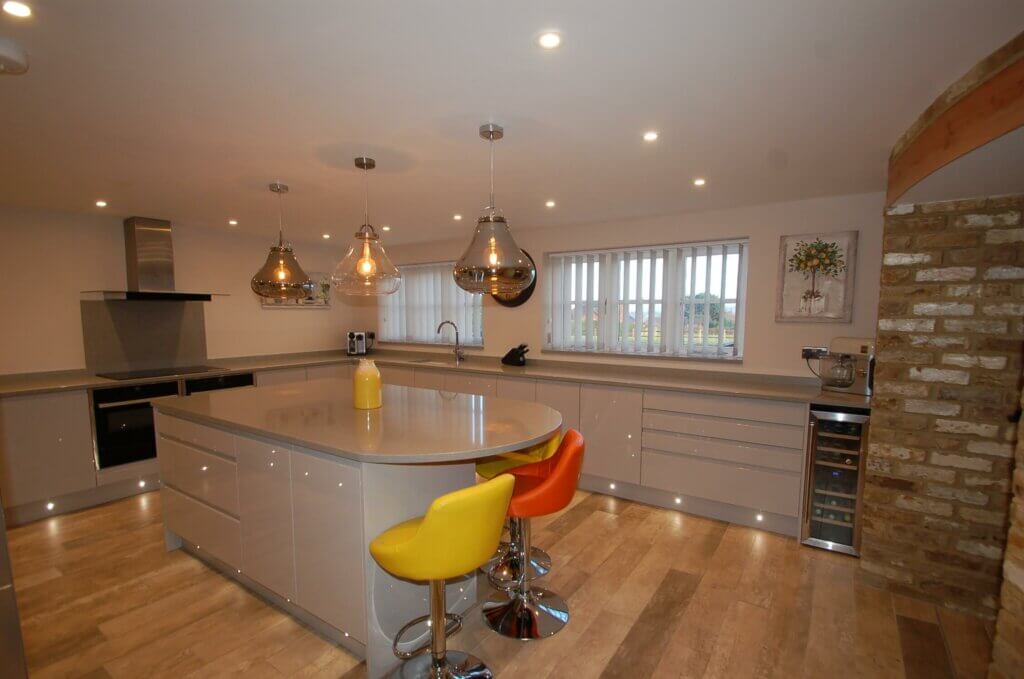 We're not sure about you, but the freestanding cabinet in the centre of the space is where the party happens! So add interest and drama with a tangible focal point. In a smaller scheme, this will draw the eye upwards, and to the middle of the room so you'll be less fixated on the corners of the room.
When it comes to ideas for kitchen islands and peninsulas, they generally work best with something hanging over them,
When it comes to kitchen island lighting ideas, you could go for a selection of pendant lights (three always look best) or if you have lower ceilings, maybe an overhead kitchen shelf design to display cookbooks, plants, and styling pieces.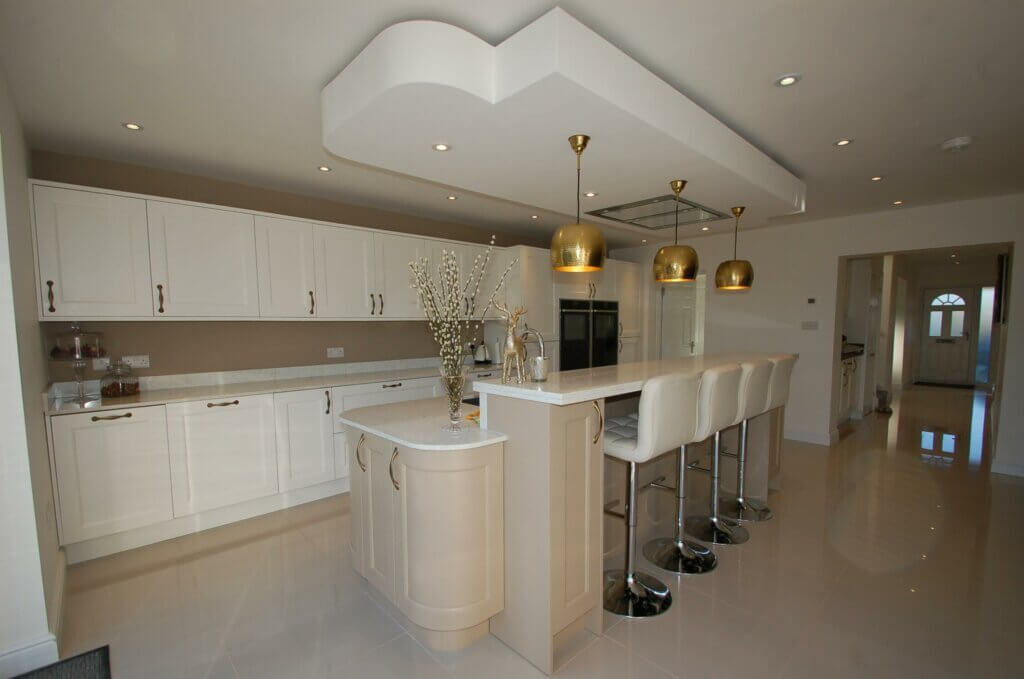 5. YOU DON'T HAVE ENOUGH DRAWERS
There's nothing worse than trying to open or close a cupboard, only for your stuff to topple out and attempt to attack you! And not having enough space is one of our top kitchen mistakes that drives us up the wall!
So if you're getting stressed over a kitchen cabinet design that isn't fit for purpose, or playing pot and pan Jenga, here are some kitchen storage ideas.
Drawers are in many ways more versatile than cupboards and now you can get super strong ones for your cookware. It's worth including one more bank than you think you need.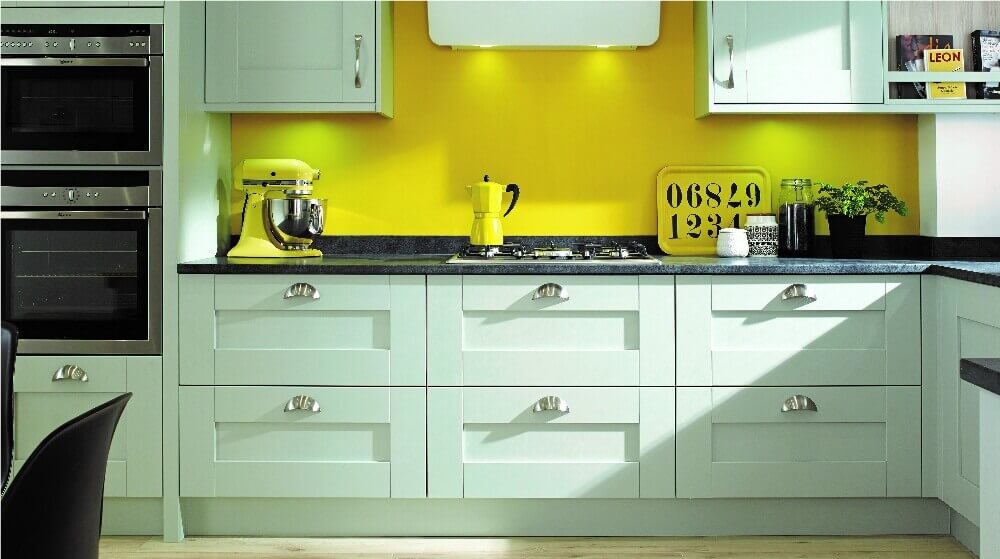 However, if you are restricted on space then look at tall storage options with loads of space for either goods or even your washing machine and tumble dryer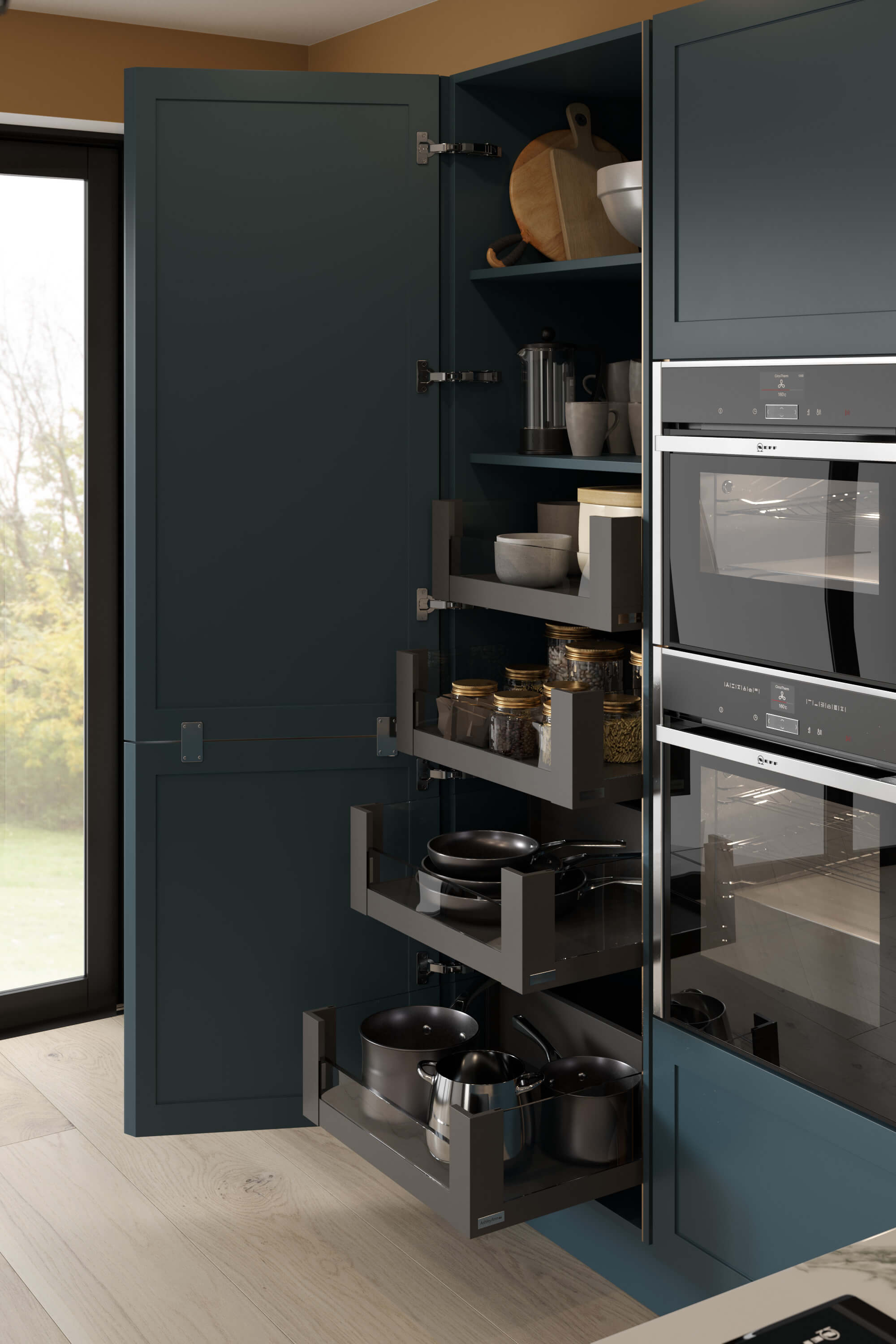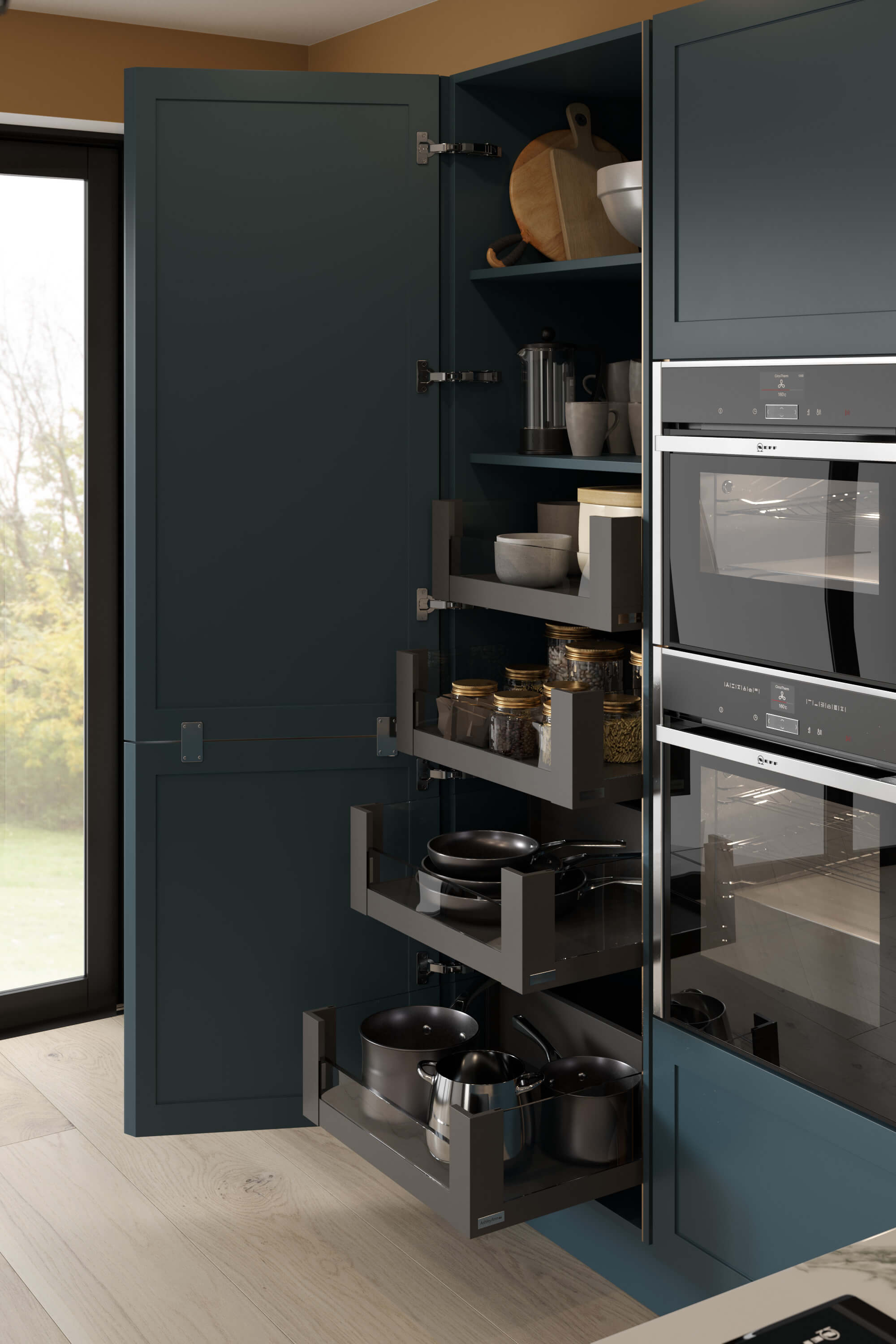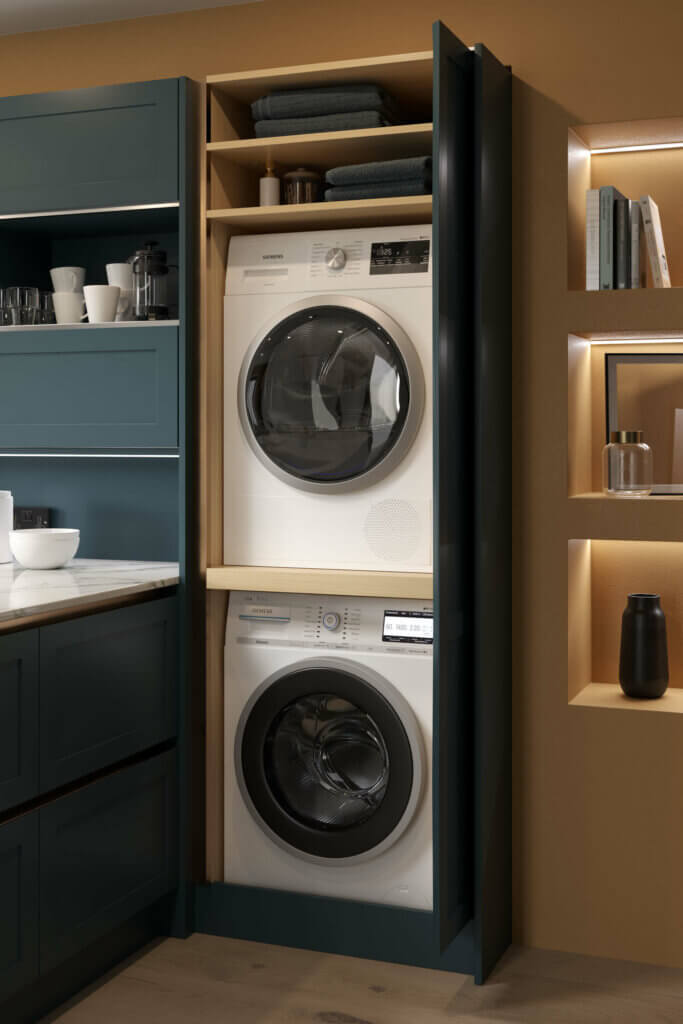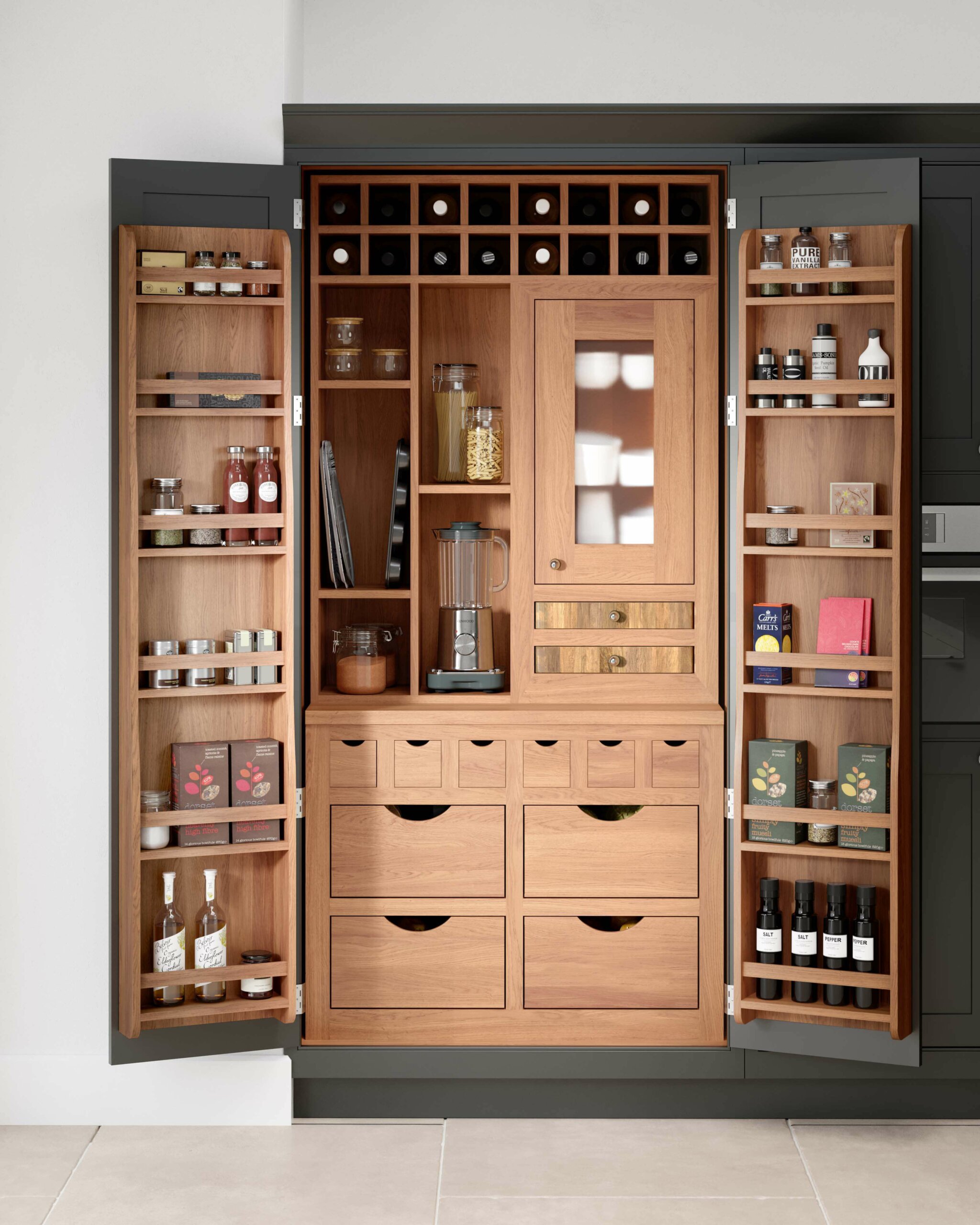 6. YOU'VE PICKED TOO MANY ORNATE FINISHES
Got everything but and the kitchen sink in your scheme? This is a space where less, really is more. Things like overly fussy architraves and kitchen doors that are hard to clean, fiddly grooves and mouldings, and in an area where oil splatters and orange splatters are near-inevitable, you don't want to spend hours removing stains.
Ditto, going OTT on your ideas for kitchen tile mortar might look nice (at first), but trust us, you'll be spending more time cleaning grout than fine-tuning your signature dishes.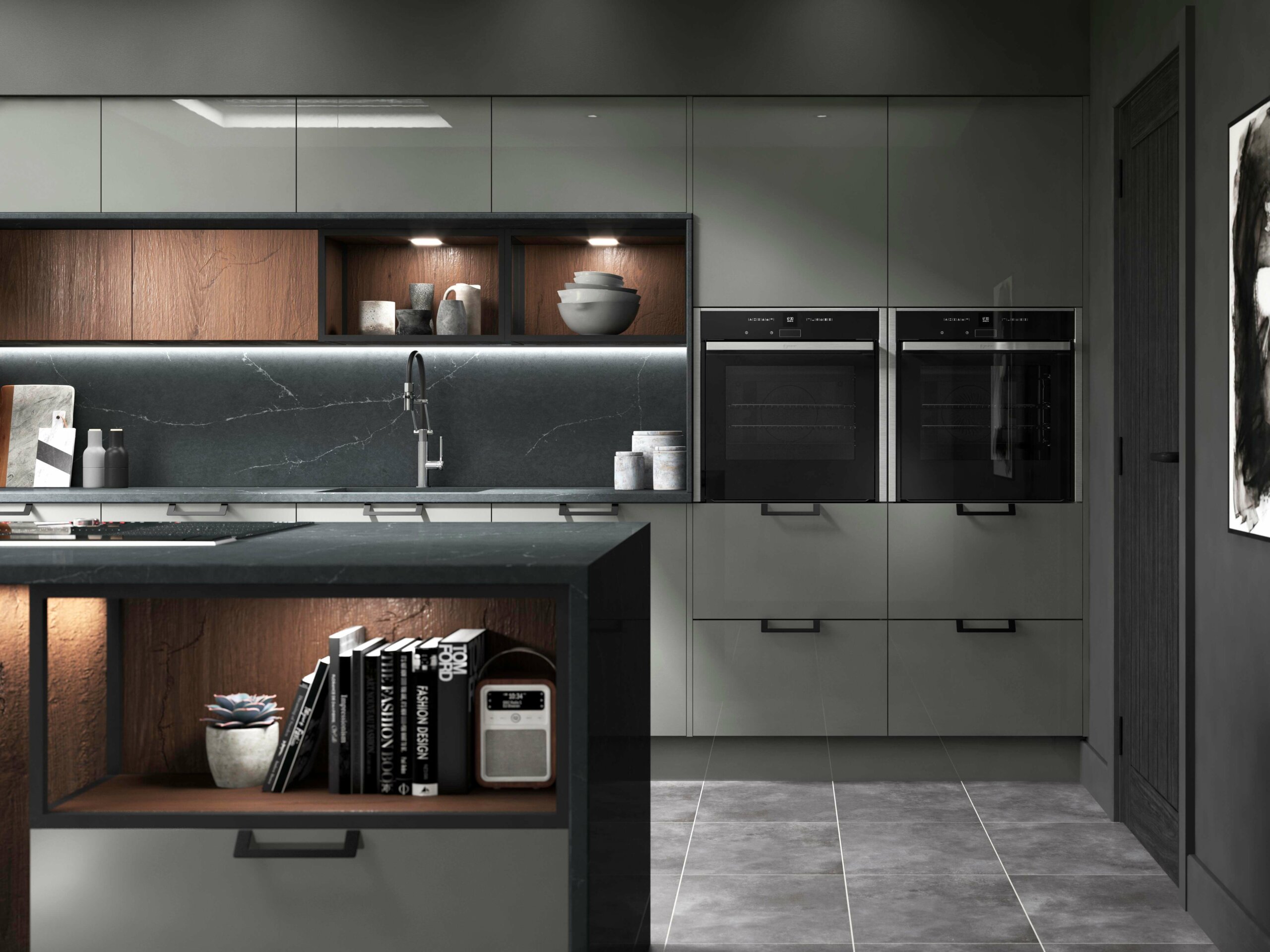 7. YOUR FLOOR IS A SLIP HAZARD
There's no need to cry over spilled milk (or cooking oil)… unless of course if this loose liquid has caused you to have an accident in the kitchen. But while many of us see sharp knives, hot hobs, and ovens as the main risks in the space, your choice of kitchen flooring may be the real threat.
Before selecting a type of kitchen flooring, first, take the time to consider the space you are looking to update to avoid mistakes. This will help determine suitability and style.
There are three main things to consider: safety, durability, and ease of cleaning. Kitchens usually see a lot of traffic, so it's best to opt for high-quality, durable flooring that is low maintenance and will stand the test of time. Luxury Vinyl tile flooring and natural stone, ceramic & porcelain are a durable and cost-effective solution for kitchens; each with its own specific features and benefits.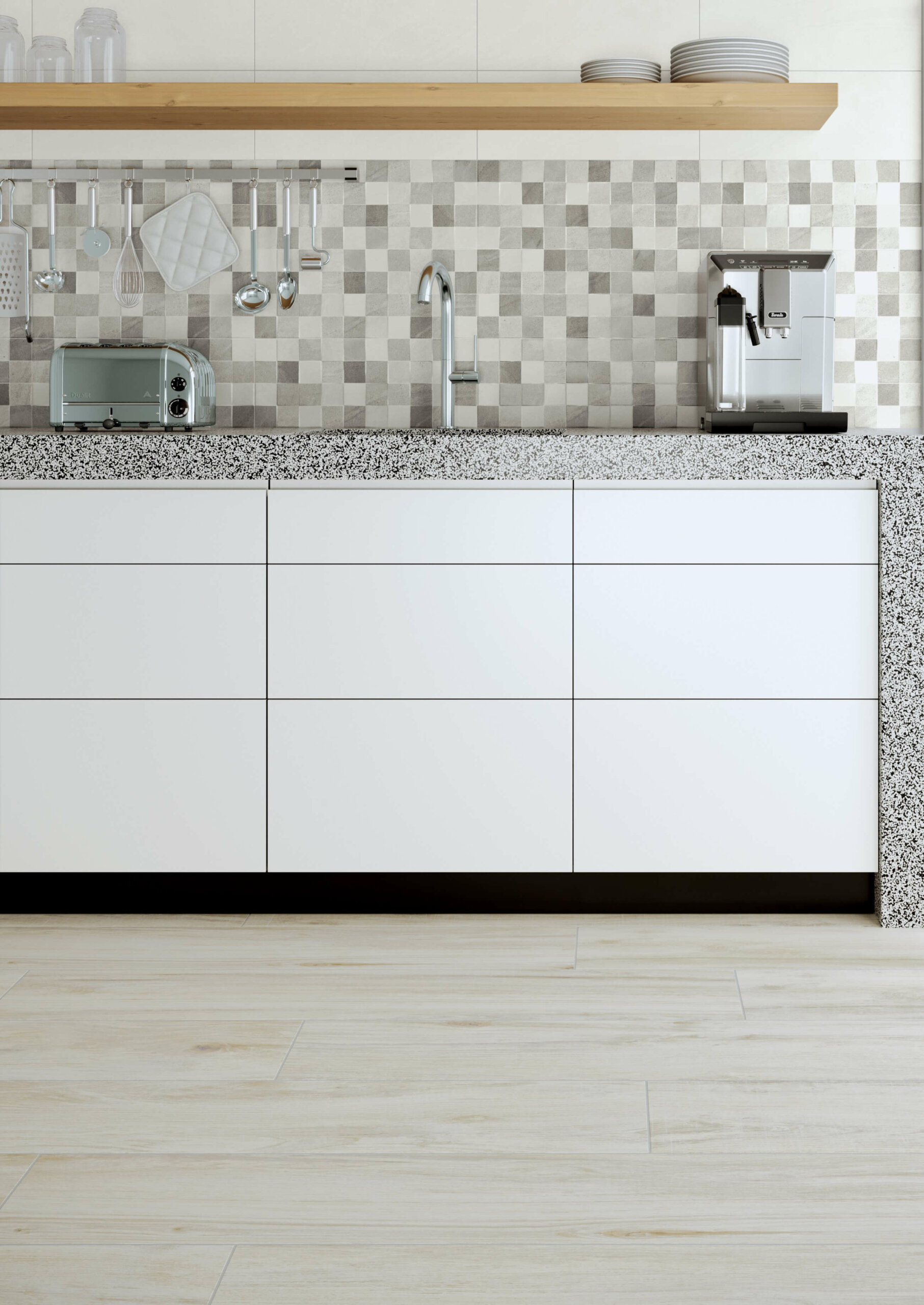 WHAT SHOULD YOU NOT DO WHEN DESIGNING A KITCHEN?
It is important to not overlook the flow of your kitchen layout and kitchen storage, especially if you love to entertain, when you're considering the size of your island, look to maximize the internal and worktop space but don't be tempted to make the overall dimensions too big as it could dominate or restrict movement around the kitchen, when planning a kitchen, homeowners can often prioritize aesthetic over practicality, however, innovative storage solutions mean it is no longer necessary to compromise space for style, clutter-free kitchens that are easy to clean are essential for homeowners who love to entertain. Consider disguising appliances, small electricals, and prep areas to create a streamlined finish without impacting the style and hide away messy stations until guests have departed