Another of our series of Blogs called "Ask the Experts" and this one is by Jennifer Chong (Houzz Contributor)
Revamping your wash space?
Get a clear idea of what you want to achieve by thinking about these essentials first. A bathroom can be one of the trickiest rooms to design in a home. Not only does it need to look stunning, it has to function practically as well, and the technical aspects can be mind-boggling. If your head is brimming with questions about how to approach your project, here are some answers to help you get started.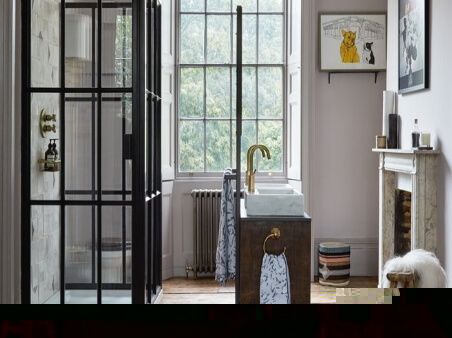 Where do I begin when it comes to planning my layout?
Start by considering your existing layout and note what works and what doesn't. Look at where existing pipework and electrics come in and go out, as this will help to determine the best position for each item. Think about everything from the obvious toilet, basin and shower/bath fittings to additional accessories such as radiators, hooks and towel rails.
If you're blessed with a larger space, feel free to use the middle of the room as well as the walls to make the most of it. This stunning bathroom features a large double basin unit in the centre with a towel ring fixed conveniently to the side.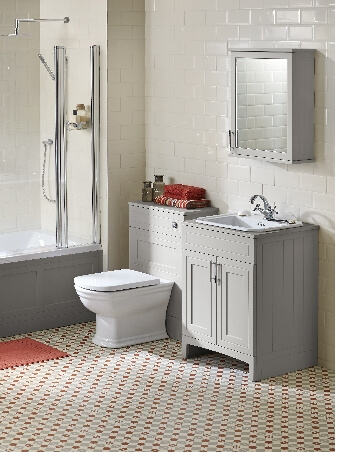 How much space do I need?
You can actually fit quite a lot into a small room. Having said that, you do want it to work practically. As a guide, 76cm is a comfortable width for a toilet, but there are compact toilets as small as 36cm wide. Similarly, you should leave at least 60cm clear in front of any fixtures (basin, toilet, etc) for passage, and don't forget to account for doors and shower screens being able to open freely.
In a small room, an inward opening door can significantly restrict the space around the entrance to the room. If possible, rehang the door to open outwards to give more usable space within the bathroom.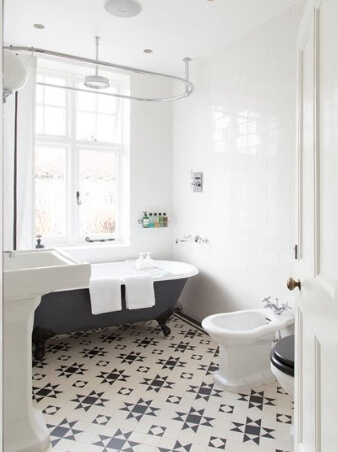 Should I have a bath or shower?
A common piece of advice is that it's essential to have at least one bath in your home if you plan to resell in the future. This is definitely true if your property will appeal to families with small children and a suitable-style bath with shower fitted above can be a good compromise. However, if you aren't in this position then a luxurious shower can be a good alternative. Perhaps the area you live in is not popular with young families? Or maybe you have no intention of selling (in which case, do whatever you want!).
A low bath is a great way to utilise the space under a window. On the other hand, showers can take up a smaller footprint if space is tight. The key is to go for what is right for your room and your lifestyle.
How do I keep costs down?
Keeping to a tight budget doesn't mean you need to compromise on design – it's all in the planning. Take time to work out a smart, functional layout and use space-saving tricks such as boxing in pipework and incorporating built-in shelves and storage to achieve a bespoke look without adding too much to the cost.
Don't be tempted to cut corners on labour. Instead, get clever with aesthetics and source bargains by shopping around. This stylish bathroom uses simple white tiles, but the vertical layout and dark grout gives an industrial-chic effect. The boxed-in pipework and cistern create a ledge for a handy shelf, while splashes of dark blue and mustard paint bring the whole design to life.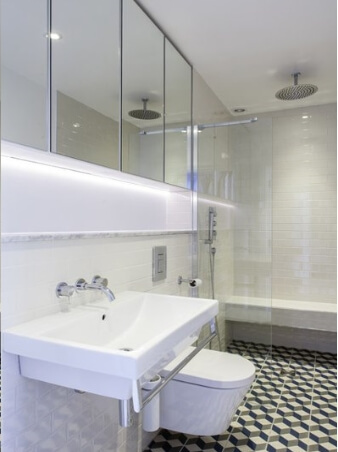 What steps should I take to ensure my new bathroom is easy to maintain?
It is all well and good creating a beautiful new bathroom, but how to make sure it stays that way? 
Boxing in pipework and cisterns not only looks sleek, it also avoids annoying nooks and crannies that are difficult to clean around. Wall-hung fixtures, such as this toilet and basin, also make floor cleaning a breeze. Tiles are easy to maintain but pale grout can be a nightmare, so consider a darker or coloured grout, particularly on floors. Porcelain tiles are more hard-wearing than ceramic ones, so are less prone to chip. They also allow for tighter spacing so there's less grout to clean. With shower screens, spending a little more on an easy-clean coating will reduce limescale build-up and fixed frameless panels are much easier to maintain than enclosures with moving parts.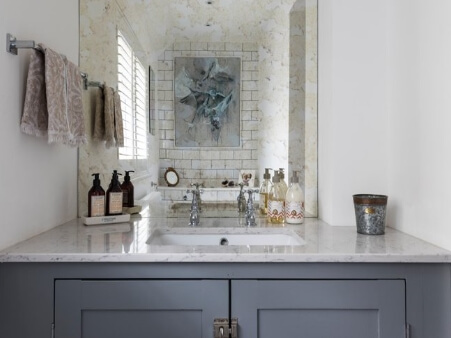 How do I create a feeling of space?
Mirrors are a tried-and-tested way to increase the feeling of space, and even if the room is small the reflection from a large mirror will help to make the space feel bigger. Frameless designs fitted wall to wall, or even-floor-to-ceiling styles, look great and maximise this space-enhancing effect, while of course being practical too.
Other tricks to try include using the same paint colour on walls, woodwork and the ceiling. And, no, it doesn't have to be white! The absence of contrasting colours disguises the points where surfaces change, making the room feel larger and the ceiling taller. A natural light source also helps, along with good storage so the room is clear and uncluttered.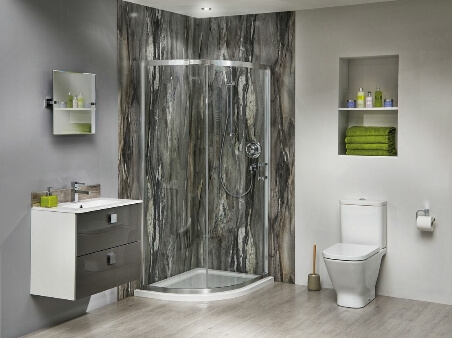 Do I have to use tiles on my walls? 
Not a fan of tiles?
That's OK! There are plenty of great alternatives. Wet areas, such as within a shower enclosure, require a completely waterproof wallcovering (for obvious reasons). Tiles are the go-to product of choice, but glass is a stylish alternative with an endless choice of colours and designs. Elsewhere, consider simply using a hard-wearing, water-resistant paint in any splash zones. This could be applied directly to the wall or onto water-resistant panelling, as shown here. There is no need to tile floor-to-ceiling (which can be expensive) and a suitable paint or wallcovering will work perfectly well provided the room is well-ventilated. Even with tiles, good ventilation is essential as high levels of condensation aren't good news for any surface. Fit trickle vents onto windows and install a powerful extractor fan to expel excess steam.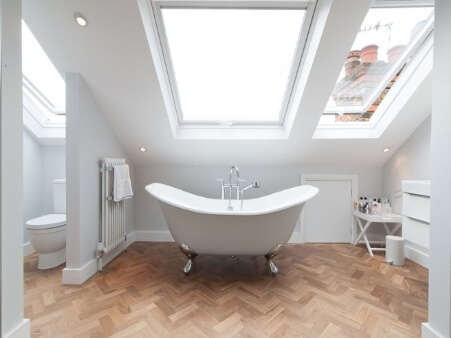 What type of flooring can I use?
While looks are important, practicality is key here. While the occasional person may bravely opt to lay carpet, the most popular bathroom styles tend to be hard-wearing, easy to keep clean and moisture-resistant.
Tiles are an obvious choice and with such an array of styles available there is something to suit any interior. If opting for natural stone, research cleaning and maintenance instructions, and go for a textured surface as it's safer when wet. Alternatively, you can use sheet flooring such as lino, vinyl or rubber. No joins means puddles aren't a problem and cleaning is super easy. These options are also a little warmer and softer underfoot than tiles.
Natural wood flooring is highly desirable, but solid wood does require maintenance to prevent water damage. For a slightly easier life, consider engineered wood with a lacquered finish or try a wood alternative such as wood-effect vinyl or porcelain tiles.